45 Quick and Easy Free Knitting Patterns and Beginner Help
Don't miss out: these free knitting patterns for beginners will become your new obsession.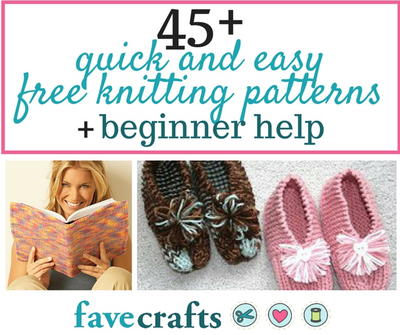 Peruse this collection of quick and easy free knitting patterns when you are first learning how to knit. Create an easy scarf, dishcloth or even a felted coffee cozy. There are even free knitting patterns for babies and kids.

Don't be nervous about tackling bigger projects. Take a look and these easy knitting patterns - you'll discover just how many great patterns there are for you to try. Whether you're a beginner or just want to make a project fast, you'll surely find something that will catch your eye. These are also great knit handmade gift ideas, so save this collection for the holiday season.

----------
If you love these projects, be sure to subscribe to our newsletter to get amazing craft projects like these delivered to your inbox every day!
----------
BONUS!
Are you a
visual learner
? Start with the basics and learn
how to knit the garter stitch
.
Easy Dishcloth Knitting Patterns
A dishcloth is the best beginner project because they're small and quadrangular. Dishcloths are also so useful! Knitting a dishcloth is a great way to get familiar with your tension and practice an easy pattern. We have so many easy knitting patterns on the site, so don't miss your opportunity to take up a fantastic new skill! The Cotton Stripes Knit Dishcloth is the ultimate beginner pattern and the perfect starting point for the complete novice.

Easy Scarf Knitting Patterns for Beginners
Free scarf knitting patterns are a reliable starting point for most beginning knitters Try your hand at one of these beginner free knitting patterns for scarves. Start with a small project and, once you've tested your skills, move on to other free easy knitting patterns. Before you know it, you'll be a knitting expert with an arsenal of handmade items to give to friends and family members.
Easy Knit Infinity Scarf Patterns and Cowls for Beginners
I prefer infinity scarves to traditional scarves! The convenience of wrapping it and going without having to worry about those flailing ends is not to be beat. Cowls are convenient too because you just slip them over your head---no wrapping required! Give one of these stunning projects a try and keep that neck warm against chilly weather.
Knit Ponchos, Vests and Other Wearables
If free knitting patterns for scarves aren't your thing, make a poncho, vest, or wrap! Wraps are some of the loveliest knitting projects to work on. Cuddling under what feels like a mini blanket in the cooler months is one of the best feelings. Find more projects for knit wraps and scarves below! 
Easy Free Knit Hat Patterns
Create a gorgeous knit hat with any of the patterns in this collection! Scarves are great starting projects since they're often worked flat, but hats are a natural next project to progress to. Give one of these hats a try as you hone your newly acquired knitting skills!
Easy Knit Afghan Patterns
Make a stunning knit afghan that's beginner-friendly. Knit blankets are some of the best gifts in the world. There's nothing better than snuggling under a blanket on a chilly day with a hot beverage, and a person can never have too many blankets in my opinion! Enjoy one of these gorgeous knit afghan patterns today.
A knit afghan pattern may seem complicated, but this collection is filled with a wide variety of projects you won't find intimidating. Pick a pattern and get to work today:
More Easy Knitting Patterns for Beginners
You can never have too many free easy knitting patterns, so we've rounded up some reader favorites for you to enjoy. Make knitted slippers, coffee cozies, and so much more. These simple knitting patterns for beginners make great gifts too, so be sure to revisit this list during the holiday season. Who wouldn't want to receive a warm pair of knitted footies? Be sure to try a couple different projects - it's a great way to stretch your skills.
Common Questions about Simple Knitting Patterns
Don't be embarrassed if you are new to knitting - there is so much to learn and take in! Gather up a few free knitting patterns for beginners, secure your needle and yarn and gather up your list of questions. While you're seeking out your free easy knitting patterns, keep these questions and answers as a resource and refer to them when you need some extra help as you look for more free knitting patterns for hats, scarves and more.
Knitting Beginner Help

We answered many of your common knitting questions above. If you have other areas to troubleshoot, check out these questions and answers.

How do I knit a scarf?

Fantastic question! View our popular collection of knit scarf patterns to learn how to start knitting a scarf.

How to knit for kids:

We have one lovely tutorial from our friends at AllFreeKidsCrafts.com about knitting for kids: Easy Knitting With Straws.

How do you make a slip knot in knitting?

There are a few ways to do this! Check out our short article on AllFreeKnitting about How to Make a Slip Knot, or visit YouTube to get a helpful video tutorial.

What is the difference between a knit and purl?

This is super important! A knit stitch enters through the back of a stitch, and a purl stitch enters in front. This video on how to do the seed stitch is a great representation for what the difference looks like.

How do I bind off knitting?

There are many popular ways to both cast on and bind off in knitting. View our infographic to learn about the different methods, choose your favorite, and consult AllFreeKnitting.com or even YouTube for video tutorials.
Readers have fallen in love with this collection of scarf knitting patterns and now you can, too. Check out 59 Free Scarf Knitting Patterns and discover fun ways to create a comfy and cozy scarf. This collection features easy knitting projects for men, women and children. There are also patterns for all skill levels, so whether you're new to knitting or consider yourself and expert, you'll find a pattern to try. These scarf knitting patterns will surely impress everyone and lead to some requests for more. Get the collection: 68 Free Scarf Knitting Patterns
Comment Below & Fill In the Blank: The Best Item I Ever Knitted Was ...
Your Recently Viewed Projects
Join our community of 5 million crafters!
Get free craft projects, exclusive partner offers, and more.
Thank You for Signing Up!
There was an issue signing you up. Please check your email address, and try again.