54 Recycled Crafts for Kids
These craft ideas for kids with waste material will keep them busy and keep items out of the recycling bin!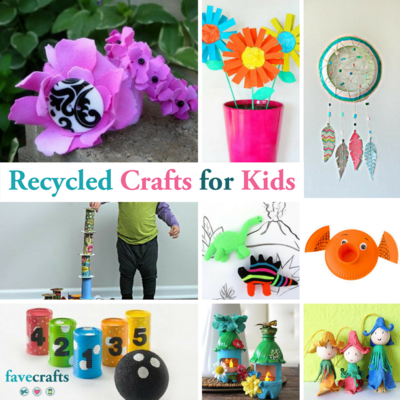 Recycled crafts for kids can be a valuable tool of entertainment and distraction after a long school day. These crafts cost almost nothing to make and you can use materials from around the house, like oatmeal containers, toilet paper rolls, aluminum cans, and more!.

If you're looking for recycling projects for kids that are perfect for Earth Day, this is a must-have collection. Save up those drink cartons, plastic bottles, and even paper plates; you can use all of these items for these projects.

Even if Earth Day is nowhere in sight, save this collection for a rainy day and have kids get creative on a gloomy afternoon. If you're a teacher, you'll find great school projects made from recycled materials below as well. Kids will love making their own games, organizers, and even birdfeeders.

----------
If you love these projects, be sure to subscribe to our newsletter to get amazing craft projects like these delivered to your inbox every day!
----------
Table of Contents
Mason Jar Crafts for Kids
Start with a classic material! Use jars that pasta sauce came in or you can even splurge and pick up a few Ball jars from the local craft store. These adorable projects are too cute to pass up!
Tin Can Crafts for Kids
With the tutorials below, you and the kids can make all sorts of exciting projects from cans. Create a funny cow, pig or bear using empty soda cans, paint and felt. Recycle crafts for kids are a great tool for teaching kids about recycling. Find more recycled can crafts below.
Aluminum Can Crafts
As with most of the aluminum can crafts below, you'll want to help your kids and supervise since these projects all involve shaping or cutting aluminum cans.
Whether it's raining, snowing, or just a few days off from school, these extra recycled crafts will help keep kids and adults alike occupied and entertained for hours. Get the collection: 1000+ Recycled Crafts
Drink Carton Crafts
You'll find great tutorials below using drinking cartons. For example, make your own bird feeder or gift box using this useful material!
Toilet Paper Roll Crafts for Kids
More Crafts with Cardboard
It's seriously amazing what you can make out of recycled containers. So long as you properly clean the inside of grease, decorate the outside and store anything you like inside. Did you know you can make art out of pizza boxes? At a glance, it's impossible to tell that the lovely artwork came from a pizza box! Scrap paper, CDs, and more make for a fabulous project.
Here you'll find projects that look great and help the planet at the same time. There's never a bad time to use recycled materials, so dip into your discards and gather up supplies. You won't believe how much you can make with so few supplies. View the collection: 70+ Ways to Reuse Materials for Crafting
Plastic Bottle Crafts
You can make all sorts of things out of water bottles. Recycle water bottles into pink flower bracelets for fun green crafting ideas for kids. Find more ideas below.
More Plastic Crafts
You can craft with the most obscure plastic containers. Find more recycled crafts below made from various plastic containers, such as CD cases, bottle caps, and more.
Paper Plate Crafts for Kids
You can craft with paper plates and other paper dishware. For example turn a paper bowl into a turtle! You'll save your trash can from filling up and your kids will get a chance to make a recycled reptile.
More Recycling Crafts for Kids
We have more miscellaneous recycled crafts below. For example, use old newspaper to create big, circular beads. Kids will love painting and decorating recycled paper beads.
If you adore making crafts out of recycled materials, you are going to love reading our full how-to article on how to make sure your recycled materials are ready for crafting: How to Prepare Recyclables for Crafting
Your Recently Viewed Projects
Join our community of 5 million crafters!
Get free craft projects, exclusive partner offers, and more.
Thank You for Signing Up!
There was an issue signing you up. Please check your email address, and try again.