Eco Friendly Plastic Cup Flowers
Eco-friendly plastic cup flowers are great easy crafts for kids. They're so easy to make and the best thing is they also count as green recycling crafts since you can use old plastic cups and other materials already lying around the house! This free full tutorial on how to make flowers makes a fantastic afternoon activity for kids on spring break as well as an adorable Earth Day craft. No matter when or where you make these DIY crafts, they are sure to bright up your day. Create them with yellow cups to create sunflowers or paint them pretty pink to make posies.
---
Find more DIY crafts to make flowers and floral accents in our collection of 81+ Free Printable Flower Patterns.
---
Materials:
Plastic drinking cups
Scissors
Hot glue gun
White craft glue
12" dowel or stick
Items to decorate with (beads, buttons, pom poms, tissue paper, paint, etc)
Instructions:
Use a pen (parents please!) or other fairly sharp object to poke a hole into the side of the cup, about one inch from the bottom.

Cut slits halfway up the cup with your scissors. Bend slits outward.

Lay cup on table with bottom of cup facing upward, this is the center of your flower.

Use anything you have on hand to decorate the center. We used pom poms, buttons, tissue paper squares (wrapped around a pencil eraser) and pony beads. Use white craft glue to adhere them to the center of the flower and set aside to dry.

Warm up the hot glue gun.

Insert dowel into the hole you made in the side of the cup earlier. Insert the dowel until the end of it hits the other side of the cup. Hot glue in place.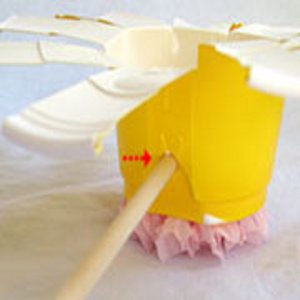 Your Recently Viewed Projects