Make a little pink piggy face on a paper plate in pink! Simple crafts with kids can be so much fun. This Pig Paper Plate is a great craft for kids on a rainy day or just because. Animal lovers will especially appreciate this project. Use a small cup to add dimension to the project and give your pig a little nose. Buttons can be glued on to create adorable little nostrils. If you need a fun after school activity or simply want to keep the little ones busy on a Saturday afternoon, lay out some paper plates and a few paint colors. In no time, your little crafters will have a sea of handmade pigs to show off and display.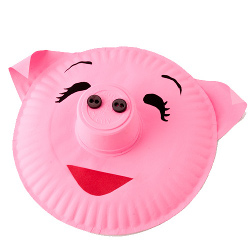 Materials:
FolkArt Acrylic Colors - Parisian Pink 2233, 2 oz. and FolkArt ® Acrylic Colors - Licorice 938, 2 oz.
2 paper plates
1 Styrofoam cup (or recycled fruit cup)
Craft glue
Wax paper
Scissors
2 small black buttons
Red construction paper
Instructions:
Cover work area with wax paper.

Cut pig ears from second plate. Glue on whole plate as shown.

Cut cup 2" up from bottom. Glue bottom onto center of plate. Let dry.

Paint entire project with Parisian Pink. Let dry.

Cut mouth from red construction paper. Glue on plate.

Glue buttons on nose.

Using small brush and licorice, paint eyes and eyebrows.
Your Recently Viewed Projects