32 Easy Rock Painting Ideas for Beginners
Learn how to paint rocks and pay it forward with these darling tutorials.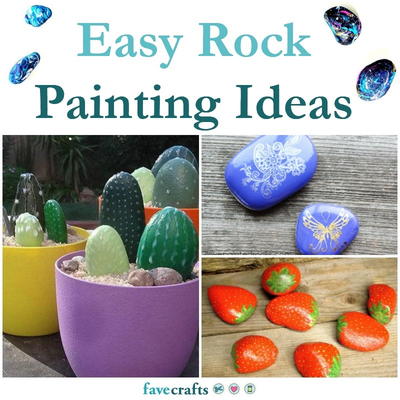 These easy rock painting ideas for beginners are way too awesome to pass up. If you adore the painted rocks trend, it's time you made some yourself.

The Kindness Rocks Project encourages people to paint inspiring messages on rocks, then leaving them in public places to brighten someone's day. You can also paint cute images and clever designs on rocks, too. It's up to you!

How lovely is it to pay it forward by leaving beautiful rocks in public places for people to find? Like finding a sweet note left anonymously, the painted rocks you might find at your local park can spark joy in your day.

Join in on the trend and make these simple painted rocks. These easy rock painting ideas are great for talented painters and beginners alike. The key to many of these painting tutorials is patience, so be kind to yourself as well as others when you complete these projects. Have fun crafting and brighten someone's day with these lovely projects.
Table of Contents
Rock Painting Ideas
Learn how to do a basic design on the rock or try something a little more complicated with some of the pretty galaxy designs below! You can also decoupage on the rocks for a lovely unique effect, and even apply temporary tattoos to the rocks.
Your Recently Viewed Projects