The kids will really get into the spirit of recycling with this fun project made on a pizza box, compliments of Heidi Borchers of Inspired at Home. The pretty egret is made with pieces of CDs and old cereal boxes are used for the grasses.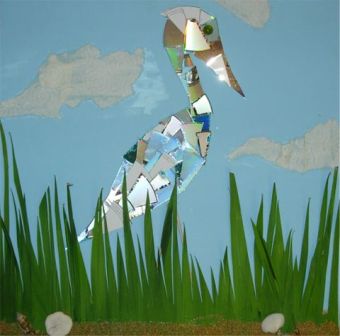 Materials
Cardboard pizza box for base
CD's for egret
Cereal box for grasses
Bamboo skewers for legs
Paper towels for clouds
Acrylic paint – Lt. Blue, Dk. Green, Med. Green
Brush- ½" flat
Aleene's Super Thick Tacky Glue™
Sand and shells - for decoration
Large rubber bands or string (to hold box while glue is setting)
Hair Dryer (to soften CD's for easier cutting)
Scissors

Instructions
To reinforce the cardboard pizza box, glue flaps in place. Wrap rubber bands around to help hold box together while glue dries.

Paint entire pizza box light blue. Let paint dry. Draw egret or bird lightly onto top of box with pencil.

Use the hairdryer to help soften the CD's to cut them. (The CD's will cut without heating, but they tend get cracks in them if you don't heat them slightly before cutting.). Cut immediately while warm into pieces.

Starting at the tail and work up to the head, glue the CD pieces onto box, just overlapping over the pattern line. Continue until the entire area is covered with the CD pieces. Glue bamboo skewer legs into place. (Cut to adjust length if needed.]

Cut grass from cardboard cereal box. Paint with two shades of green acrylic paint. Let dry. Glue into place along front edge of box. Brush on glue at the bottom edge of grass area. Sprinkle sand and glue shells into this area. (You can shake off excess sand when the glue dries.)

For the clouds, rip several pieces of the paper towels. Brush on small amount of glue in sky area, and immediately place paper towels into the wet glue. If desired brush a thin coat of glue over the paper towels.

Heidi's Designer Tip: This is a great project to get the kids involved with. Have them start collecting the supplies as you finish off that pizza dinner or pour the last of the cereal. This helps them to become more involved in the create process!
Your Recently Viewed Projects