How to Prepare Recyclables for Crafting
Learn how to clean recycleables for your creative endeavors in this full-length tutorial on green crafting.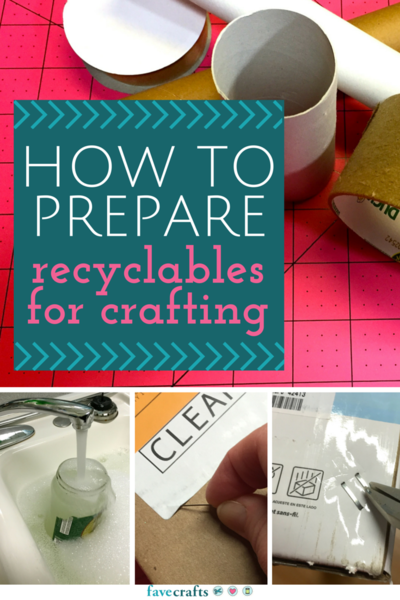 How to Prepare Recyclables for Crafting
From the Editor: So many of the craft project ideas we offer here on our site are recycled crafts. This type of craft is one of our faves because it allows us to keep the earth happy and healthy while saving our readers oodles and oodles of money. The problem with these types of crafting tutorials, however, is that they do not always show you how to acquire your recycled materials. Toilet paper roll crafts, for example, are crazy popular! Those tutorials never actually tell you how to clean those cardboard tube craft materials. This can be very frustrating and confusing for brand new crafters! With this in mind, we have decided to ask Ann Strecko Koeman, recycling project extraordinaire, to help us out! Below you will find a ton of tips on how to prepare everything from glass jars to cardboard boxes for creative endeavors. 

Being an artist, I am constantly on the lookout for items and products that will fuel my creativity.

My foray into collecting recyclables began in my youth. To gather supplies I was given a huge cardboard boot box, and instructed I could collect odds and ends for my crafting in it, but once the box was full, I had to stop collecting. The idea was to keep clutter under control and not to encourage me becoming a pack rat. I have followed that method of managing and find it efficient. I still collect all sorts of things now, but my box is a lot bigger. 
Looking for craft project ideas to make with recycled mateirals? Check out our massive list of upcycled and green ideas, 1000+ Recycled Crafts
What Is a Recyclable?
Number one is anything that can hold and contain anything such as bags, bottles, boxes, tins, jars, envelopes and more. They are plastic, wood, glass, metal.

Number two are the recyclables which are anything that can be used to make a new item but does not necessarily have the ability to contain anything such as paper products, pieces of plastic, wood, metal, glass, etc. These can be used as bases for projects or as embellishments.

Finally, number three are the items I categorize as attachments such as rubber bands, bread bag ties, twist ties, string, and more.
How to Clean Glass Jars for Crafting
Let's start with jars. Glass jars come into our home just as I am sure they come into yours, and they contain some very yummy. Or scented, and delightful, not to forget practical consumables.  
Once my family has consumed the contents of that jar, I rinse and scrape out any residues before I place them in my dishwasher along with my dishes. I do make an exception; I do not recycle jars that held unsafe products that could be toxic or contaminate. I am also careful about what goes down the pipes of our house. I do not want to create a blockage or damage the plumbing or cause some environmental disaster!

After they come out of the dishwasher if the labels have come off quickly and the pots are nice and clean, I am so pleased as most of the work is done. I remember to remove any paper pieces from the bottom of the dishwasher so as not to have a clog. As for the jars with stubborn labels still stuck, I decide whether or not they are worth the effort to remove those pieces of stuck on paper.

If so, I  try soaking the pots in some more hot soapy water and try scraping the label and adhesive off with a plastic scraper, or old plastic cards such as a gift or credit cards.

Another option is to saturate the offending papers with an oily substance like cooking or baby oil. Sometimes that is enough to loosen the label.

Finally, if there is still some stubborn adhesive stuck to the jar, I may use a product such as Goo Gone or Lift Off, which is made to remove adhesives, or some rubbing alcohol and a rag or a scraper.  

Or my very final attempt will usually involve using heat from a craft heat gun or a hair dryer along with a scraping tool. Using heat will assist in softening the very stubborn adhesive, and the scraper will help in the removal of the paper along with the glue.

Remember heat melts and can burn, so caution is warranted.  If all of this fails and I am still determined to keep that jar, I may just decide to cover and decorate the part that just won't get clean!  
How to Recycle Plastic Containers
While plastic containers require many of the same clean-up techniques as glass jars, plastic comes with its own set of problems. Since plastic can melt and warp, it isn't the best idea to place it in the dishwasher or use a craft heat gun to remove labels like you can with glass products.Check out these tutorials on how to prepare plastic bottles, containers, and more before making recycled ideas like plastic bottle crafts.
When recycling containers made of plastic such as milk and juice jugs, or plastic boxes from the bakery department of the grocery store I first try to see if I can peel off the labels. Surprisingly more and more companies are using labels with adhesive that peel off. You may have to work a bit at lifting one corner to get started but after that it is easy.

I have also had success by placing the container in the freezer for an hour which can make the adhesive brittle and helps in getting the label off. 

There is also the option of soaking the receptacles and using the same methods as I mentioned for the glass jars. 

Cleaning jugs and such just requires rinsing out the containers with a bit of soap and water.
Preparing Cardboard for Crafting
How about cardboard? There are tubes, reels, rolls, boxes, packaging and more. When it comes to tubes that hold paper products, sometimes we luck out, and as we finish the last sheet on the cylinder, we are left with a clean piece. Other times there are bits of paper still stuck. At this point decide if you want to go through any trouble and how much. 
Personally, I save most tubes by peeling off everything that will come off. After that, I don't mind tearing off some of the cardboard as long as most of the tube remains usable.  

Sometimes there will be a strip of glue left on the cardboard which you can try just rubbing off with your finger. 

Other times you may want to consider if you can still use the tube with some sticky residue left if you intend to cover it.  

Reels from ribbons and those rolls of duct tape are reusable too and require you mainly to use up the product that came rolled around them. I just tear off the remaining stuck on pieces of tape and use those pieces in a collage. I save the rolls and reels for future projects.
Preparing Boxes for Craft Projects
For boxes, once the contents are out you can decide if the box is one that you would reuse. From there take the following steps to clean it out.
Clean out any dust with a brush and perhaps a damp cloth. Make sure there are no sharp staples to get injured. 

If you do find those colossal staples you can try removing them with a pair of pliers.

There may be pieces of tape or labels that you don't want to stay in your box so just peel those off. Use a pin or a blade to wiggle carefully up a corner of the label or tape and then peel it ofF.
Storing Your Recycled Craft Materials
One final tip I have for you is to have an area in your home or crafting area where you keep your cleaned recyclables and once that box or area is full, stop collecting. Try your best to use up your recyclables as you find them, so if you are short on space, you will not become overwhelmed.
Consider using a plastic container like the one below to keep clutter hidden in-between crafts.
Your Recently Viewed Projects
Join our community of 5 million crafters!
Get free craft projects, exclusive partner offers, and more.
Thank You for Signing Up!
There was an issue signing you up. Please check your email address, and try again.