This is a fun Plaid summer craft for kids using easy supplies like paper plates. Create a ladybug or other fun bug for the kids to play with in the garden.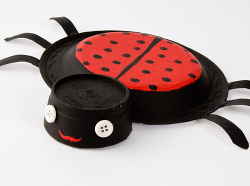 Materials:
2548 - FolkArt ® Acrylic Colors - Apple Red, 2 oz.
938 - FolkArt ® Acrylic Colors - Licorice, 2 oz.
Paper plate
Styrofoam cup
Craft glue
Wax paper
Scissors
2 large white buttons
Instructions:
Cover work area with wax paper.

Cut bottom portion of paper cup to create head.

Cut 6 legs out of remaining portion of cup.

Paint entire project with Licorice. Let Dry.

Paint top side of plate red as shown. Let dry.

Paint mouth red.

Paint black dots on top of red portion.

Glue legs and head on to create bug body.

Clue on button eyes.

Your Recently Viewed Projects