100+ Tie Dye Patterns and Techniques
Find tie dye shirt patterns and other tie dye ideas right here.
Get inspired with this epic collection of 100+ Tie Dye Techniques and Patterns. From t-shirts to picture frames, aprons to flip flops, these tie dye projects and techniques are great for crafters of all ages!

All of the tie dye designs below come with full tutorials that make the ideas presented easy peasy. Whether you want to make tie dye shirts or other items, this list is sure to contain the project for you.

Browse the gallery below! Click on any image to be directed to the project of your choice. Have so much fun making any of the tie dye project ideas featured below!

Start with a video tutorial! If you're a visual learner and you'd love to upgrade that hoodie, watch our DIY Tie Dye Hoodie video.

BONUS: Learn What Fabrics Can Be Tie Dyed with our friends at AllFreeSewing.
How To Get Started: Tie Dye Instructions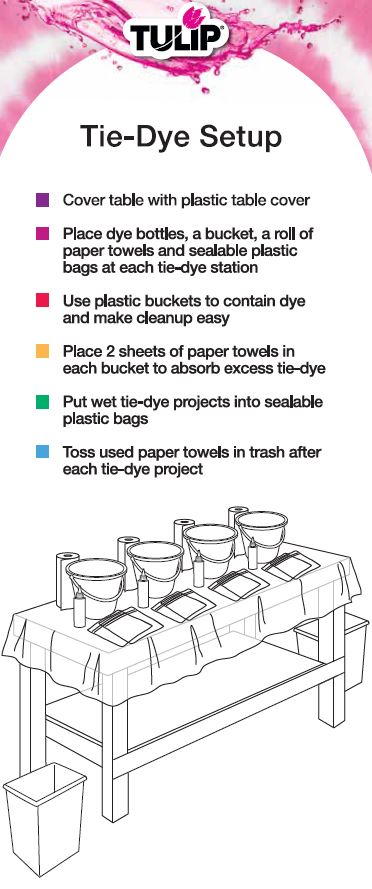 Learn how to tie dye and get started with our helpful infographic! We have the basics listed here and this is a fantastic, helpful checklist. 

1. Cover table wtih plastic table cover

2. Place dye bottles, a bucket, a roll of paper towels, and sealable plastic bags at each tie dye station

3. Use plastic buckets to contain dye and make cleanup easy

4. Place 2 sheets of paper towels in each bucket to absorb excess tie dye

5. Put wet tie dye projects into sealable plastic bags

6. Toss used paper towels in trash after each tie dye project

Download the infographic PDF.

If you're looking for more thorough instructions for how to get started with tie dye, check out our complete step-by-step guide of Tie Dye Instructions.
Tie Dye Techniques
There are so many cool tie dye techniques to learn! Learn how to fold your fabric to create unique and professional looking results. These folds can be used on any project but work really well on clothing, such as tee shirts, or large pieces of fabric, like pillow cases, towels, and blankets.
T-Shirt Tie Dye Patterns
Tee shirts are the most popular tie dye project, so we've collected all of our best tie dye shirt patterns right here. Great for men and women of all ages, these projects are a fun way to show off your personality. Use them as jerseys, fun family reunion tees, or gather your best friends over for a fun night of tie and dye.
Tie Dye Projects for the Home
Who says tie dye is just for clothing? These home decor crafts are all made using easy tie dye techniques and you won't believe what you can actually make.  Beautiful curtains, pillows, frames, and more will help add a bright splash of color to any room in your home. Bring the colors of summer indoors for all to enjoy year round.
Apron Tie Dye Patterns
Great for grilling, cooking, cleaning, or crafting, these tie dye designs for aprons are sure to keep you nice and clean in style! Create a fun-looking apron that's unlike anything else. These make great gifts and housewarming presents.
Dress and Skirt Tie Dye Patterns
Sundresses are so fun and comfortable to wear in the warm weather. Don't limit yourself to solid colored wearables, though - create your very own colorful and fun sundresses with these dress and skirt tie dye patterns. Great for adding a splash of color to your wardrobe, these projects are perfect for those hot summer days.
Tie Dye Shirts and Sweaters
Learn how to make a tie dye shirt or sweater that everyone will want to wear. Hoodies, cardigans, and formal tops can all blossom with color with these fun and easy patterns. Browse to find a style that suits you best and then get ready to reinvent your wardrobe!
Tie Dye Projects for Babies and Children
Take those simple white onesies to a whole new level with these adorable tie dye patterns and projects for babies and children. Kids will love showing off clothing that they made using the simple tie dye techniques you can find in this collection. Tie dye is also a great activity for kids birthday parties, youth groups, and family get-togethers. Have little ones bring their own white tee shirt and help them create a look all their own. Simply master the tie dye techniques needed for these projects and you'll be set.
Tie Dye Ideas for Accessories
From fun friendship bracelets to cute tie dye flip flops that can easily match your bathing suit, these tie dye instructions are great for kids and adults of all ages. You can use any techniques you'd like to create these patterns, from easy to advanced. Try out new and different tie dye techniques for fun and creative looks to your summer accessories.
Bags and Totes Tie Dye Patterns
These tie dye techniques for bags and totes are great projects for kids to work on with their friends. From fun sleepover totes to cute lunch bags, kids will love creating their own bags and totes and will want to show them off to their friends. These DIY tote bags are easy and fun, so they're great for beginners or groups of kids with a wide age range.
Miscellaneous Tie Dye Designs
Check out this grouping of random yet awesome tie dye patterns. From beautiful paper flowers to Peep Pillows that are perfect for Easter, these tie dye project ideas are sure to inspire your creativity...and might even motivate you to try something new!
The Best Tie Dye Fabric
Something important you should know about tie dye is what the best tie dye fabric is to use! Short answer: fabrics that take dyes the best are natural fabrics. Cotton is far and away the most common, but other natural fibers that work well include silk, hemp, and rayon. 

Sometimes it can be challenging to find fabrics that are 100% made from natural fibers. You'll want to get as close to 100% as possible. A 90/10 ratio is fine blended with polester or lycra, but if the blend more like 50/50, the color may become faded.

Your standard tie dye will not work on synthetic fibers. This includes the thread of the tee shirt if the shirt is cotton but the thread is polyester! Your shirt will dye perfectly but the thread will remain white. 
How to Finish Your Tie Dye Projects
When it comes to tie dye, you want to make sure your project lasts forever! Check out our articles on how to properly set your tie dye, ensure it won't fade, and wash it.
Your Recently Viewed Projects