Swirl Tie Dye Technique
Create classic spiral tie dye with 2 colors or more.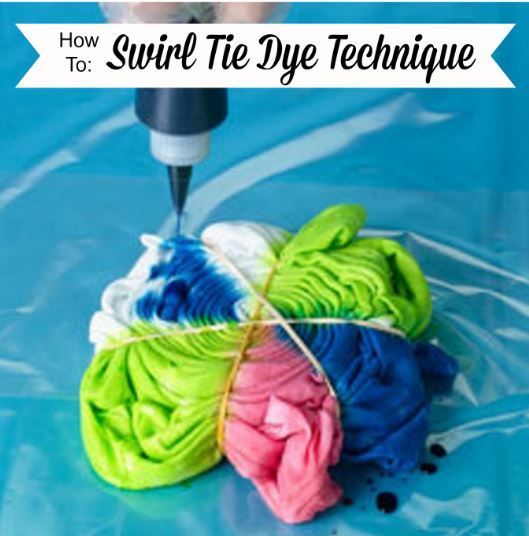 Creating a twisting spiral of bright colors with tie-dye is easier than you might think! Follow this photo tutorial for how to swirl tie dye from I Love to Create. Or, you can watch the video below to create your own swirl tie-dye for wearable items or home decor pieces.

Before you begin a tie-dye project, read the instructions for the Tulip One-Step Fashion Dye or Tulip Permanent Fabric Dye.  Refer back to them for standard steps with using dye.

If you've ever wanted to learn how to tie-dye, this is the perfect project to try. Simply pinch and turn to create the folds and then cover strategically with rubber band. Add dye to your piece - you can pick as many colors as you want. Cool tie dye designs come in all shapes and sizes, so don't be afraid to get creative. Follow these tie dye instructions and you'll be well on your way to designing a one-of-a-kind wearable that's eye-catching and daring. You'll never want to buy new clothes when you learn how to tie-dye clothes you already have.
How to Tie Dye a Shirt
Pinch and Twist
Prewash fabric to remove sizing. Do not use fabric softener or dryer sheets.

Cover work surface with a plastic tablecloth.

Lay fabric flat on work surface. Decide the area on the fabric where you want the swirl to be. Pinch fabric at this point. Twist fabric around into a flat spiral.
Bind
Bind with rubber bands, creating 6 wedge shapes. Use more rubber bands as desired.
Apply Dye
Apply Dye on wedges using as many colors as desired, in the desired arrangement – alternating wedges, connecting wedges, etc. or use a single color.

Cover fabric with plastic. Let set 4 to 6 hours. Remove rubber bands. Fill washer to large load setting with hottest water suitable for fabric and a small amount of non-bleach laundry detergent. Wash and dry separately.

Your finished product will look something like this!
More Tie Dye Ideas and Cool Tie Dye Designs
Looking for easy tie dye crafts that you can work on with the kids? With these craft tutorials, you'll discover how easy it is to find things to tie dye. There are so many cool techniques to try and ways to personalize otherwise boring items like white shirts and socks. You can even create tie dye decor items - it's such a fun way to add color to your space. Discover how to make tie dye crafts that look groovy and cool. It's so easy to take a trip back in time - you only need some cool tie dye designs to get you started.

We also offer free eBooks! Perfect for parents, counselors, and crafters on the go, these printable tie dye collections can also be downloaded directly to your computer or mobile device for free!  Find our very best tie dye tutorials in these free eBooks.
How to Make Tie Dye Designs
Now that you know how to do spiral tie dye, explore another technique! There are so many fun and easy ways to tie dye shirts. Discover cool tie dye designs and get inspired. Soon, you won't have any white clothes in sight because everything will be tie dyed. Whether you try the splatter technique or create a heart using a variety of dyes, you can't go wrong. These techniques can also be used to change the look of boring white home decor items. Now is the perfect time to turn your space into a groovy oasis.
Bonus: How to Spiral Tie Dye Video Tutorial
What is your favorite tie dye technique or project to make?
Your Recently Viewed Projects