Salt Resist Tie Dye Technique
This resist tie dye technique is one of a kind.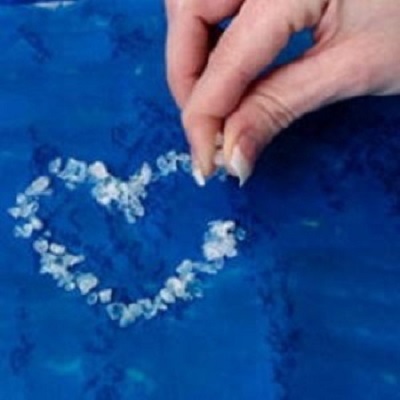 Salt Resist Tie Dye Technique
Use salt to create subtle, textured designs in tie-dye with this salt resist tie-dye technique from I Love to Create. Find step-by-step instructions with photos and a sample tie-dye result.

If you've never tried this tie dye technique before, definitely give it a whirl! Once you've mastered basic techniques like swirl or bullseye, it's time to take your skills to the next level with this excellent tutorial. This method takes a bit more time than ordinary tie dye, but the salt resist medium you'll use creates a really stunning texture for a finished tie dye project.
 
Before you begin a tie-dye project, read the for the Tulip One-Step Fashion Dye or Tulip Permanent Fabric Dye.  Refer back to them for standard steps.
Salt Resist Tie Dye Technique Instructions
Dye fabric
Prewash fabric to remove sizing. Do not use fabric softener or dryer sheets.

Cover work surface with a plastic tablecloth, then layers of paper towels.

Fabric should be damp or wet. If using sheer fabric, elevate fabric from work surface by draping over bowl or bucket. Dye fabric. When dye is poured on fabric it will absorb through and collect inside bowl or bucket.
Sprinkle on salt
Sprinkle on Salt Resist. Let set 4-6 hours.

Wash inside out in warm water to remove Salt Resist.
Create design with salt
You can create designs with the salt.
Sample result
Sample result of broadly sprinkled salt resist.
What is your favorite tie dye technique?
Your Recently Viewed Projects