History of Tie Dye
Want to learn more about tie dye? Keep reading for tie dye fun facts!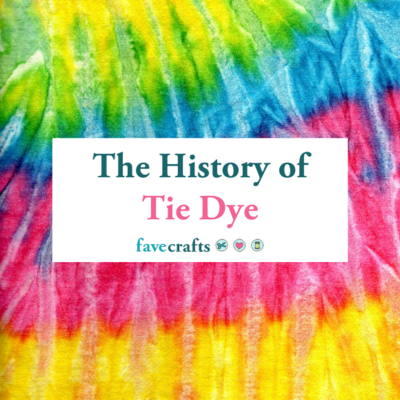 The history of tie dye is a long and storied one. Fabric dyeing has been around since about 4000 B.C. but the first dyeing techniques, similar to what we know today as tie dye, started in Peru during the Late Stone Age.

There were many versions of tie dye which developed in different places around the world. All used natural dyes which came from plants like indigo. In the sixth century and beyond, techniques were created in many Asian and African countries. Some of these ancient techniques are still in use today.

Learn more about the history of tie dye in each region below.

Looking for simple craft tutorials? Get free projects delivered directly to your inbox!

Subscribe to FaveCrafts
 
Table of Contents
Asian Tie Dye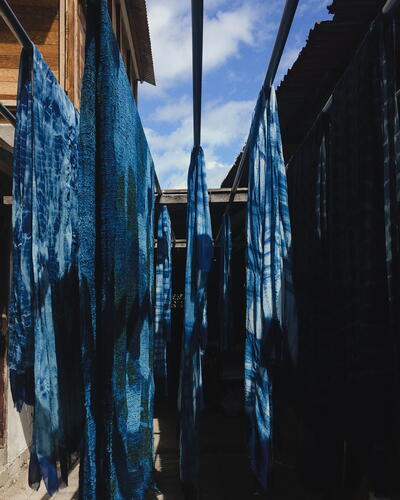 Countries such as Japan, China, India, Malaysia, and Indonesia all had versions of tying and dyeing which created different patterns. Two of the most popular techniques are the Japanese Shibori and the Indian Bandhanis. The techniques are the two oldest tie dye techniques that are still in use today.

Most Asian tie dyes were done in neutral colors with more intricate and controlled patterns. Indigo was the source of the most commonly used dyes. Shibori is traditionally made with only indigo dyes and a variety of resist dyeing methods.

Bandhanis is one of the oldest forms of fabric dyeing, but it was not used to create designs until the 6th Century. The patterns of Bandhanis are formed from collections of small dots.

Malaysia's Inkat technique managed to contain colors by tying yarn around sections of the fabric before dyeing it, very similar to modern tie dye.



African Tie Dye
Most African tie dye techniques were in nearly complete contrast to the Asian techniques from the same time. Where Asian tie dye was full of complex patterns and neutral colors, African tie dye had bold and bright colors with more symmetrical or natural patterns.

A lot of African tie dye contained symbols or motifs which were culturally significant. Most of these symbols were obviously pictographic but not always easily recognizable. African tie dye was meant to display the beauty of unconscious and natural designs.

One major technique which originated in Africa came from the Yoruba people of Nigeria. Adire is the third oldest technique that's still used. It was mostly focused on creating repetitive patterns using dye resisting techniques. Adire was more similar to Asian techniques like Shibori as it used indigo as the dye.

American Tie Dye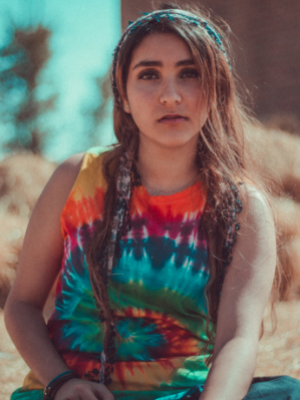 The start of tie dye in Britain and America began with the invention of synthetic dies. This provided an opportunity for the bright, neon colors often associated with American tie dyes. It was not fully taken advantage of for decades, though.

During the Great Depression, tie dye was recommended as an inexpensive option to decorate clothing and add color to their homes. Pamphlets explaining the process were often distributed since most people could not afford more expensive décor options.

Most people associate tie dye with the hippie movement of the 1960s. This was the first time tie dye really took off in the United States. Children of strict WWII-age parents started the movement to reject uniformity. Tie dye was the perfect design style to display their individuality and ideals of peace and freedom. One important factor of tie dye is that your design will always be unique. With each technique comes tiny variances which create a whole new look. The simple nonconforming nature of tie dye reflected the aim of the movement.
 
Modern Tie Dye
There have been breaks and resurgences in the popularity of the tie dye trend. It most notably reappeared in American fashion in the 1980s and again in the late 2000s. If the past few years are any indication, it seems that tie dye is making another resurgence in the 2020s with more minimalistic and pastel designs.

Aside from the trends, the history of tie dye is still important culturally. In Asia, the controlled, intricate patterns are representative of a dedication to hard work and quality. In Africa, bright colors and designs symbolize important aspects of their history. In western countries, tie dye represents individuality and a respect for a fighting spirit.

Overall, cultural significance and simplicity make this a trend which will keep coming back.
 
Your Recently Viewed Projects
Join our community of 5 million crafters!
Get free craft projects, exclusive partner offers, and more.
Thank You for Signing Up!
There was an issue signing you up. Please check your email address, and try again.