How to Remove Tie Dye from Skin
You'll learn how to get tie dye off hands with this article.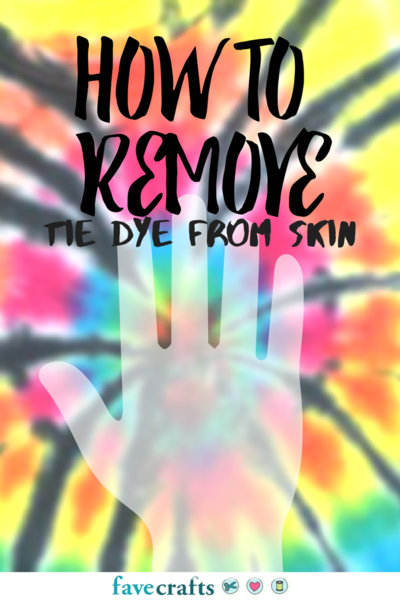 How to Remove Tie Dye from Skin
So, our number one tip for creating tie dye projects is to wear gloves while working with the dye. If you're here, however, this tip is probably a little bit too late. Never fear! We are here to help you with your embarrassing conundrum.

First off, there is no reason to panic. No matter what you do, tie dye will eventually wear off from your skin. So, you will not permanently be walking around with blue, red, or yellow hands whether the below techniques work or not. It is actually relatively easy to learn how to remove tie dye from skin. With the right amount of scrubbing and cleaning, you can make your hands dye-free in less than ten minutes. None of the techniques below are fool-proof, but they will help with how to get tie dye off hands!

Removing tie dye from your skin can be done in a multitude of ways. If you search the web for solutions, you will run into plenty of suggestions. Some make sense. Some seem like a lot of work for a little problem. The list below contains the tie dye removal techniques we have successfully used to remove tie dye from your hands and arms.

If you love what you're reading, let us know by subscribing to our newsletter: Quick and Crafty.
What Gets Tie Dye Off Skin
To start, anything you generally use for cleaning can be used to wash off tie dye after creating tie dye t-shirts and projects. The problem is that some of these materials might not be the safest. If you are desperate to wash tie dye from your hands, a harsher method might be in order, but only resort to these ideas if it is a must! The following methods can be used to remove tie dye from skin.
Remove Tie Dye with Baking Soda
Baking soda is a total life-saver when it comes to cleaning just about anything. Fantastic for getting tie dye stains out of clothes,  learn how to get tie dye off skin by using baking soda, as well.
Wash your hands thoroughly.

Grab a spoonful of baking soda and a splash of water to create a paste in your palm.

Apply this paste to your stained hands before scrubbing. The baking soda should pull the dye from your skin as well as help to scrub it away by exfoliating. 
Remove Tie Dye from Skin with Nail Polish Remover
For especially stubborn tie dye stains on your skin, you can use nail polish remover.
Wash and scrub your hands thoroughly to remove any lingering dye that has not set in.

Just like you would to remove nail polish from your skin, apply some nail polish remover to a cotton ball.

Wipe the tie dye away from your skin.

Wash the nail polish remover from your skin.
Removing Tie Dye from Skin by Exfoliating
This method does not work as well as more intense stain-removal methods, but it can easily help you make tie dye stains on your skin fade.
Wash hands to remove any lingering dye that has yet to set in.

Massage a pumice stone, exfoliating facial cleanser, or body scrub you might have (sugar scrubs work great!) into the skin for several minutes.

Wash any leftover exfoliating soap or scrub away from your hands.
Removing Tie Dye from Skin with Bleach
This tie dye removal method should only be used if you absolutely need to remove the bleach ASAP. Bleach can be very harsh on your skin and is generally not recommended for use on your skin. So, if you accidently dyed your hands a bright blue before a wedding or job interview, go ahead and use this method. If you are just plain embarrassed to be walking around with smurf hands, wait it out!

DO NOT USE THIS METHOD WITH KIDS. While adults can safely understand the dangers of bleach, kids do not. Little ones are way more likely to put their hands in their mouth, meaning removing tie dye from skin with bleach is an absolute no go for kids.
 
Fill your sink with warm, soapy water.

Mix in a small capful (or less) of bleach to the mixture.

Gently scrub your hands with an old washcloth or nailbrush until the die is removed.

Drain the sink and wash your hands several times for a full minute thoroughly to remove any and all bleach.
Washing your tie dye projects and tie dye shirts properly is imperative to keeping colors bright and projects perfect. If you do not care for tie dye properly, the shirts can fade much more quickly than you would like. Find everything you need to know about taking care of tie dye in:How to Wash Tie Dye Shirts and Projects
Let Us Know:
Have you ever had a tie dye stain disaster?
Your Recently Viewed Projects
Join our community of 5 million crafters!
Get free craft projects, exclusive partner offers, and more.
Thank You for Signing Up!
There was an issue signing you up. Please check your email address, and try again.