Crumple Tie Dye Technique
Learn how to crinkle dye with this step-by-step tutorial.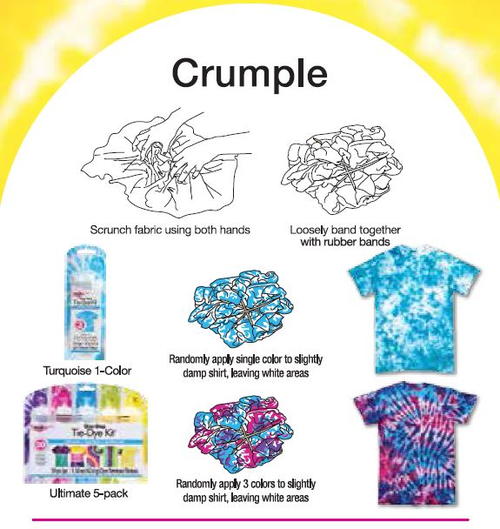 The crumple technique from I Love to Create is a classic and easy way to create tie-dye designs in shirts and other fabrics. Follow this photo tutorial to do the crumple tie-dye technique.

Before beginning this project, read the instructions for the Tulip One-Step Fashion Dye or Tulip Permanent Fabric Dye.  Refer back to them for standard steps.

This free tie dye tutorial will teach you how to tie dye and make a unique design. Kids and adults alike will love crumpling up the fabric and add color in an eclectic fashion. 

If you love what you're reading, let us know by subscribing to our newsletter: Quick and Crafty.

Now It's Your Turn!
Crumple.
Prewash shirt to remove sizing. Do not use fabric softener or dryer sheets.

Cover work surface with a plastic tablecloth.

Lay fabric flat on work surface and crumple with fingertips.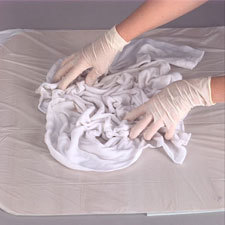 Lift into a tub.
Carefully lift fabric into a baking dish or large tub.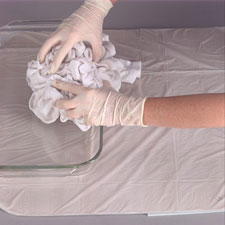 Apply dye.
Add warm water to fill the bottles of dye and shake to mix. Apply first color of dye to fabric in an all over squiggle motion.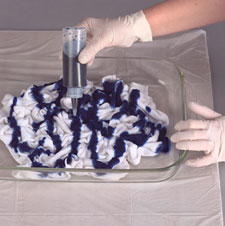 Apply second color dye.
Apply second color of dye in the same way. Turn fabric over and apply dyes on the back. Add more water to the bottle when dyes are halfway down to extend the dye.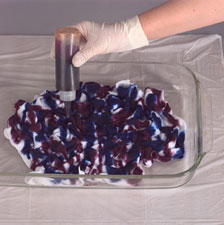 Finishing touch.
Make sure the fabric is completely wet with dye. Do not over saturate fabric. If dye is applied too close together the colors may become muddy.

Cover fabric with plastic. Let set 4 to 6 hours.

Fill washer to large load setting with hottest water suitable for fabric and a small amount of non-bleach laundry detergent.

Wash and dry separately.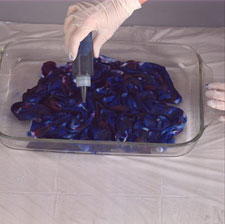 Crumple Tie Dye Technique Video
More of Our Favorite Tie Dye Techniques
Your Recently Viewed Projects