How to Tie Dye a Shirt with Food Coloring
Vinegar and food coloring tie dye have never looked so good!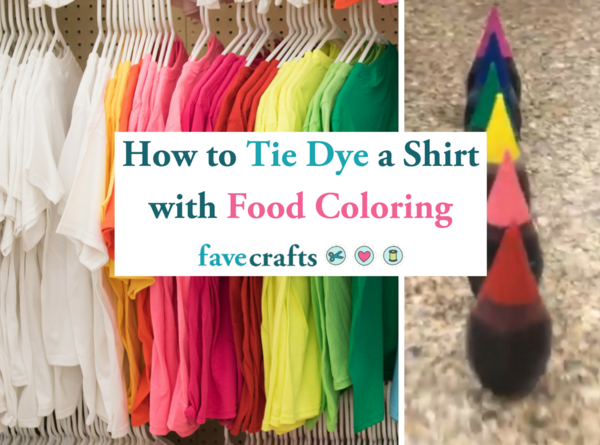 How to Tie Dye a Shirt with Food Coloring
Learn how to tie dye a shirt with food coloring using this step-by-step tutorial. If you're interested in using more natural methods for tie dyeing, consider the vinegar and food coloring tie dye method. You can use items you already have at home, and you only need a few drops of food coloring to make your own tie dye!

If you're interested in unique methods for dyeing clothing, this is a fantastic tutorial to explore. It's easy to achieve a variety of tie dye looks using simple ingredients already in your pantry!

If you love what you're reading, please let us know by subscribing to our newsletter.
How to Tie Dye a Shirt with Food Coloring
Materials List:
Tablecloth to protect your work surface (or do this outside!)
White vinegar
Large bowls or buckets
White cotton T-shirt
Rubber bands
Gloves
Old water bottle with a squeeze cap or condiment squeeze bottles
Food coloring in colors of your choice
Plastic wrap or ziplock bags
Salt
Step 1: Soak in Vinegar
Often with normal tie dye, you soak your fabric in a soda ash solution in order to achieve the most vibrant colors. With this method, we suggest first soaking the shirt in vinegar.
In a large bowl, mix one part water with one part vinegar until there is enough liquid in the bowl to soak your fabric. Soak for one hour.
Step 2: Choose Your Tie Dye Design
Take your item out of the vinegar/water soak and wring it out. Then choose your tie dye design, be it spiral, heart, crumpled, or another method. Scroll down to the bottom for some of our favorites.
Rubber band your item so it is ready to be dyed.
Step 3: Make Your Food Coloring Tie Dye
Use an old water bottle with a squeeze cap to mix your tie dye. In order to make dye with food coloring, fill the water bottle with a 1/2 cup of water and approximately 16 drops of food coloring. Use a different water bottle for each color of tie dye you make.
Step 4: Tie Dye Your Design!
Tie dye your garment as usual!
Step 5: Wrap Your Tie Dye Design
Wrap your design in plastic wrap or enclose in a ziplock bag to let the dye set. Let sit for at least 8 hours, or overnight to ensure the food coloring dye sets.
Step 6: Set the Tie Dye with Salt Water Mixture
You already took one step to prepare your project for tie dyeing and that was soaking in vinegar and water before applying food coloring. Further set your tie dye by soaking your project in a salt water solution.

Mix 1/2 cup salt with enough cold water to cover the shirt until dissolved. Let your T-shirt soak for 15-30 minutes.
Step 7: Wash Your Newly Dyed Item!
Take your fabric out of the bag and take the rubber bands off. Tip: use plastic gloves to avoid staining your hands with the food coloring. If you accidentally get tie dye on your hands, check out our article How to Remove Tie Dye from Skin.

Rinse your shirt in the sink with cold water until the water runs clear. Make sure you wash the shirt separately for the first three washes so the dye doesn't stain your other clothes.

Even with the precautions taken to make this project last, food coloring is not a permanent dye like traditional tie dye kits. Note that food coloring WILL fade over time, but the vinegar and salt soak steps should help the project last longer than it otherwise would have.
Your Recently Viewed Projects