How to Set Tie Dye in Fabric
Before you wear and wash your tie dye projects, use this how to set fabric dye tutorial to ensure that all your beautiful colors do not run.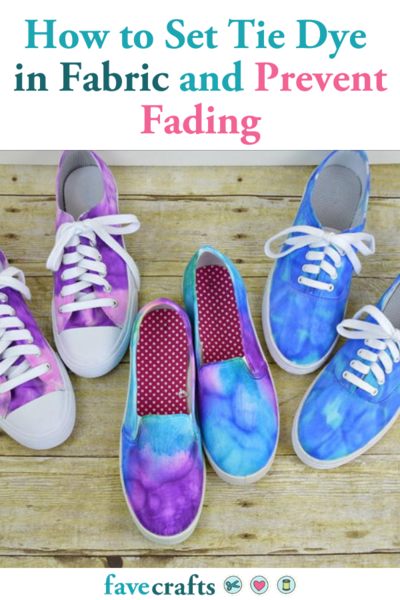 How to Set Tie Dye in Fabric
Since tie dye projects involve lots of wear and tear after the fact, the aftercare of a tie dye project is almost as important of a skill as those crazy, cool tie dye techniques you use to create stunning tie dye designs. If you cannot keep your tie dye from fading, it can be hard to show off those artistic skills. While it is important to learn how to wash your tie dye shirts after the fact (and for the rest of their brightly-colored lives), these techniques can prove fruitless if you do not know how to set fabric dye into your tie dye projects after you've learned how to tie dye.

In general, if you are using quality tie dye product for your projects, fading should not present too much of an issue. Despite this, it is still a smart idea to take precautionary measures. This is especially true if you are creating tie dye projects with kids. Kids can wear out clothing quickly and with gusto. They also become attached to things they created on their own. Using these methods to prevent tie dye from fading can save you some heartbreak down the line.

Luckily for you, this process is insanely easy and takes minimal effort. Follow the instructions below to learn How to Set Tie Dye in Fabric and prevent your tie dye patterns from fading. The full tutorial below tells you everything you need to know about post-tie dye rituals. In addition to setting the dye, be sure to check out some of our favorite tie dye techniques here.
How to Prevent Tie Dye from Fading
Setting tie dye is easy. All you need to do to set tie dye into your projects and prevent your projects from fading is soak the project overnight in vinegar before washing it in the machine. Follow the how to prevent tie dye from fading instructions below to set your fabric dye perfectly.
Fill a large bucket with 1-2 cups of white vinegar depending on the size of your garment and bucket.

Add cool water to the bucket, leaving a few inches at the top.

Swish the water around a few times to make sure the vinegar and water combine.

Place your tie dye project into the bucket.

Allow to soak for AT least 30 minutes. 

Remove the garment from the bucket. Wring out.
Washing Tie Dye Projects for the First Time
Wondering how to wash a tie dye shirt for the first time? Vinegar is your friend here, too. Wash your tie dye project in the washing machine with ½ cup of table salt and 1 cup white vinegar to further set the dye.

Notes:
Wash each and every tie dye project alone for the first time. Do not combine several tie dye projects in the washer in hopes of saving time and money. The projects may run and blend dyes in the machine, causing an unattractive brown shade
In general, if you are using a high quality tie dye like Tulip that is specifically designed for this process, this setting process is simply an extra measure. These dyes are especially designed to set into your fabric chemically and should remain bright and beautiful.
Now that you have learned how to set your dye, check out our taking care of tie dye tutorial. This tutorial tells you exactly how to wash your tie dye projects from first to last wash. If you want to prevent your tie dye from fading, this tutorial is a must-have: How to Wash Tie Dye Shirts and Projects
Your Recently Viewed Projects
Join our community of 5 million crafters!
Get free craft projects, exclusive partner offers, and more.
Thank You for Signing Up!
There was an issue signing you up. Please check your email address, and try again.