Heart Tie Dye Technique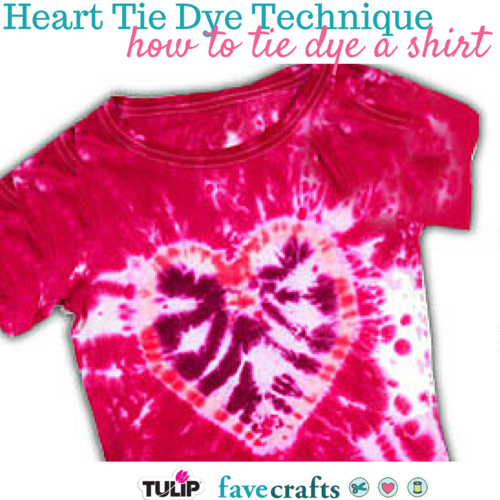 Follow the written instructions below to create a tie-dye heart design on fabric. The heart tie-dye technique from I Love to Create is fun to do and makes a wonderful shirt gift.

Before beginning a tie-dye project, read the instructions for the Tulip One-Step Fashion Dye or Tulip Permanent Fabric Dye.  Refer back to them for standard steps.

After you master these heart tie-dye instructions, be sure to try you hand at making the Crowning Heart T-Shirt.
Fold Shirt:
Prewash shirt to remove sizing. Do not use fabric softener or dryer sheets. Cover work surface with a plastic tablecloth. 

Lay shirt onto prepared surface.  Fold shirt in half lengthwise.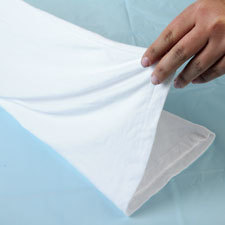 Draw heart design:
Draw half of a heart on fold, using pencil.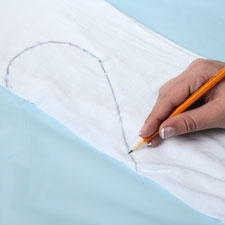 Gather:
Accordion fold fabric along heart outline, forcing it into a straight line.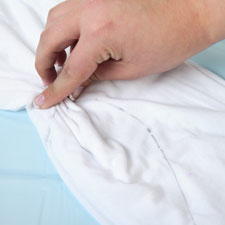 Secure with rubber band:
Secure with rubber band along area of gathers.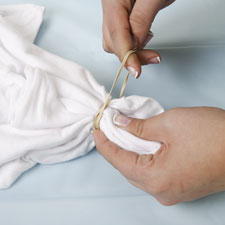 Apply second rubber band:
Apply a second rubber band about an inch away from the first band (towards the body of the shirt).  This is an optional step but allows for an additional color to be applied in the middle banded area.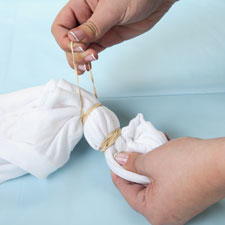 Apply Dye:
Wearing rubber gloves, add water to dye bottles. Replace caps tightly. Shake until dye is dissolved. Use full-strength for intense colors. For a lighter shade of color, add more water using extra bottle if needed.

Squeeze Purple Dye onto center of heart. Squeeze a line of Red Dye around Purple Dye (between rubber bands). Squeeze Fuchsia Dye onto rest of shirt.

Cover fabric with plastic tablecloth. Let set 4 to 6 hours. Remove rubber bands.  Fill washer to large load setting with hottest water suitable for fabric and a small amount of non-bleach laundry detergent. Wash and dry separately.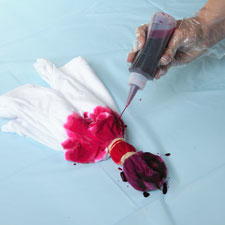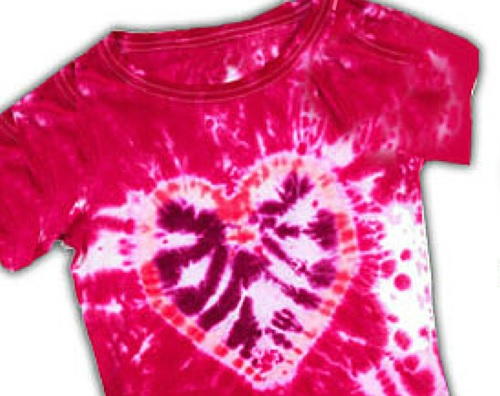 More Tie Dye Techniques
Do you LOVE tie dye as much as we do?  Check out these other awesome tie dye techniques:
Did You Know?
Cool tie dye patterns such as this one may be new and trendy, but tie dye is actually an ancient technique that dates back five thousand years. Although the fabric has long been lost or disintegrated, archeologists have learned that stamps and dyes were used to decorate clothing in India and Mesopotamia. In China, they learned how to fold and manipulate fabric to create designs on fabric, and the only people that could wear them were religious leaders and the wealthy.

The tie dye we know and love (like the one above) was popularized in the 1950s and both natural and artificial dyes were used. During the Vietnam War, people craved freedom and peace and started dyeing everything from t-shirts and pants to tapestries and curtains. They craved an outlet for artistic expression during the war. It sparked as much joy for them as it does for us today!
Your Recently Viewed Projects
Join our community of 5 million crafters!
Get free craft projects, exclusive partner offers, and more.
Thank You for Signing Up!
There was an issue signing you up. Please check your email address, and try again.