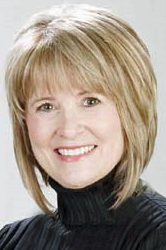 Born into an artistic, entrepreneurial family, it is no surprise that Tiffany has found success expressing her talents in many different arenas. As the daughter of Aleene Jackson, America's beloved "Mother of Crafting" and inventor of Aleene's Tacky Glue, Tiffany's first love is expressing herself creatively. As a child, Tiffany expressed her crafty talents utilizing all of the supplies available at her mother's store. Whether it was simply gluing popsicle sticks together, bejeweling cigar boxes or designing elaborate chenille stem treasures, crafting has been an everyday part of her life.
Her first memories of the television world were accompanying her mother who made appearances on the popular 1960's shows such as Art Linkletter, Tennessee Ernie Ford, Gypsy Rose Lee and the Dinah Shore Show. Her first on-air experience was at the age of 13 when she appeared on her mother's Los Angeles PBS show demonstrating rugmaking. When Aleene started her own Creative Living show in 1986, Tiffany stepped into her new world of television hosting. She wondered however if hosting was the right decision when she showed up for her first day of taping to find out that the first segment was a demonstration on "scherenschnitte" which when mispronounced, with a nervous tongue, could quickly turn into a grand embarrassment. But Tiffany persevered and honed her hosting skills.
In 1993, Tiffany stepped in as producer and host of Aleene's Creative Living and under her leadership, the show flourished and quickly rose to the top as TNN's top-rated daytime show reflected in ratings counts of between 300,000 and 500,000 daily viewers. As producer, Tiffany oversaw the production and hosted over 2,000 1-hour episodes. Concurrently, Tiffany served as the editor for the show's companion magazine. With her creative guidance, the publication grew from an 8-page newsletter format to a 72-page full-color monthly magazine with newsstand and subscription circulation in excess of 300,000.
In April 1998, Tiffany opened her first retail store, Tiffany's Angels located in the charming Danish town of Solvang, California. Inspired by the angels she started painting in 1994, Tiffany's inner-calling to love and support other individuals who are discovering their inner-self could be found at Tiffany's Angels. Through her website, fans connected with Tiffany's vision by reading her monthly newsletter, inspiring stories and shopped for unique gift items.
These ventures nourished Tiffany's passion and unique ability to touch people and through her television appearances as host of Aleene's Creative Living, viewers found a sense of self-esteem through their creative expression. Tiffany spearheaded the "Changing Lives Through Creativity" campaign after reading hundreds of fan letters. She recognized the number of viewer's lives that were being changed through watching the show who opened their hearts and poured out their love through those letters. As host of Aleene's Creative Living for 8 years, Tiffany found that many women seeking to express themselves through crafting were also seeking to grow spiritually. When Tiffany sent out a challenge to her viewing audience in exchange for one of her angel posters, hundreds of response letters poured in from viewers who felt alive and inspired, many for the first times in their lives. Another audience challenge was to raise $25,000 for children's charities. In exchange for a $25 donation to their favorite children's charity, Creative Living viewers and readers were sent an original hand-stamped block angel print created by Tiffany exclusively for this fundraising activity.
Bringing new dimension to her television experience, Tiffany wrote and hosted her first prime-time special, The Magic of Christmas which aired on TNN in late November 1998 and re-aired in early December 1998. This one-hour program featured exquisite holiday decorations, interviews with Crystal Gayle and Suzy Bogguss and cooking and last-minute crafting ideas for the holidays. Also included were over 25 interview clips with top country stars including Tim McGraw, Faith Hill, Steve Wariner, Brooks & Dunn and Vince Gill who expressed what the Magic of Christmas represented for them. At that time, Tiffany also taped a pilot for a new lifestyles show which featured home decorating and repairs, cooking, gardening and self-improvement segments.
In January 2001, Tiffany created InspiredatHome.com featuring a unique collection of inspired ideas for home and heart. Teaming with her sisters, Heidi Borchers and Candace Liccione, InspiredatHome.com focused on today's crafter who is beginning to awaken to the understanding that welcoming and expressing creativity into their lives brings about a sense of balance and well-being.
In September 2003, Tiffany joined Delta Technical Coatings as Director of Consumer Inspiration focusing her creative energies on inspiring and educating consumers to the fun of crafting and creative expression through her on-line Homespirations magazine. In 2004, Tiffany launched an on-line resource for kids painting projects and network for decorative painters to make a difference in their communities by teaching kids to paint.
Throughout 2004, Tiffany made regular appearances on QVC shopping channel demonstrating Texture Magic Dimensional Paint, Spin Color Tool and FabriCraft. Tiffany's hard-bound book, Terrific Texture Techniques, was released worldwide by Sterling/Chapelle in summer 2005, followed by Handmade Paper Jewelry, co-authored with her sisters. Classy Canvas published by Design Originals focusing on canvas wall art was released in 2006.
In October 2005, Tiffany joined with her cousin David Ryan to produce and co-host 922YOU, a community television show serving the Coachella Valley. Produced at CBS 2, this television show highlighted community events and featured interviews with valley business owners, community movers and shakers and fun facts and information.
In 2008, Tiffany moved to the Chesapeake Bay, Maryland. Along with her sisters Candace Liccione and Heidi Borchers, these three "Creativity Sisters" re-launched InspiredatHome.com, an on-line creative community and live talk-show radio program featuring creative tips, project ideas, industry trends, product reviews and creative lifestyle interviews about home, garden, crafts and wellness, plus a lively team of regular show contributors who explored everything from the history of crafting to go-green eco-crafting ideas, and how living, eating and creating in balance nurtures the inner artist. This site also features the popular Aleene Jackson on-line Craft Museum.
In October 2009, Tiffany launched Inspired at Home LIVE a unique, fun new way for the creative community within Facebook to connect, share and chat LIVE through interactive TV from anywhere in the world! Pajama Party LIVE was broadcast LIVE weekly on this channel.
In January 2010, in response to listener feedback and editorial staff recognition, Tiffany was named as a Feature Host on BlogTalkRadio.
In January 2010, Tiffany was named as a recipient of the 2010 Plaid New Horizons Award in recognition of craft industry achievements and professional goals.
In January 2010, Tiffany launched the Cool2Craft website, blog, Facebook Fan Page and Cool2Craft LIVE TV. Airing LIVE on Facebook and the web every Monday at 12 noon EST/ 9 am PST, this lively format features guest designers who share live craft demonstrations. Viewers can watch the show via Facebook log-in or via the internet log-in.
March, 2010 was a busy month for Tiffany as she joined with FaveCrafts.com to launch FaveCrafts Radio on BlogTalk Radio. This creative live craft talk radio show aired live on Sunday nights and was promoted weekly to the 650,000+ FaveCrafts.com subscribers. Each week's broadcast featured guest interviews, reporters and the popular creative roundtable segment. Additionally, Tiffany launched Craft it Forward where crafters share their creativity on Facebook by creating five handmade items for other Facebook members who also agree to Craft it Forward.
In November 2010, Tiffany announced the expansion of the Cool2Craft channel with the launch of 4 new LIVE shows which will premiere in January 2011: Inspirations by Julianna Hudgins, Linda Peterson LIVE, EcoHeidi and Inspired at Home with Tiffany Windsor.
In December 2010, Tiffany announced the launch of the Cool2Craft Newsletter on FaveCrafts.com.
Links:
Media:
Inspired at Home announce Aleene Jackson Craft Museum
New Inspired at Home Radio Show
Tiffany's Projects at FaveCrafts:
Homemade Sugar Scrub and Embellished Bath Jar
Removable Shrink Plastic Lettering
Washable Shrink Plastic Lettering
Burnt Bag Butterfly Plant Stake
Inspirational Mix and Match Canvases
Tea Light Flowers Napkin Rings
Forged Foil Photo Frame and Glass Bottles
Style Stone Water Bottle Bracelets
Faux Mosaic Heart on Glass Video
Tie Dye Paper Towels Plaque Video
Die-Cut and Embossed Tea Card Video
Embossing on Aleene's Look of Metal Burnt Brown Bag Video
How To Emboss Glassine Envelopes Video
Shabby Chic Grunge Frame With Burned Glue Technique Video
Tattered Flowers and Water Bottle Bracelets Video
Vintage Aleene's Look of Copper Enamel Earrings Video
Decoupage on Mache Signs Video
Gratitude Chalkboard Paint Bottles Video
Vintage Inspired Eggshell Mosaic Bracelets
How to Make an Eggshell Mosaic Bracelet Video
How to Create Natural Dyes for Easter Eggs
How to Make a Floral Frame from Tea Lights
How to Make a Burned Glue Ring
How to Make a Butterfly and Bloom Art Box
How to Make Shrink Plastic Pocket Pals
How to Make Hand Dyed Ribbon Flowers
How to Make a Seashell Plaque from Cool2Cast
Pamper Me Bath Salt Jar Toppers
How to Make Decorative Bottle Stoppers with Wax Resist
How to Make Iron On Glitter Lettering
How to Embellish with Tulip Beads in a Bottle
How to Glam Up Your Favorite Wearables
How to Assemble the Jet Master Display System
How to Make a Graffiti T Shirt
How to Make a Ladybug Spotted Cup
Reverse Painting Technique on Glass
How to Make a Stamped and Stenciled Box
Look of Vintage Floral Earrings and Gift Tag
How to Make Vintage Floral Earrings and Matching Gift Tag
How to Make a Fabric Pumpkin Patch Napkin
How to Make Colorful Layered Fabric Flowers
How to Make a No Sew Gratitude Banner
How to Make No-Sew Lavender Sachets
Reverse Painted Holiday Ornament Plate
How to Make a Reverse Painted Holiday Plate
How to Make a Textured Glue Hearts Frame
How to Make a No Sew Felt Floral Ornament
Scrapbook Paper Looped Holiday Wreath
How to Make a Looped Scrapbook Paper Wreath
How to Make a Wax Resist Design on Cool2Cast
How to Create Aleene's Vintage Burlap Fringe Flowers
How to Make Soda Can Goddess Wall Art
How to Create Scrapbook Paper Candle Sleeves
How to Make a Jewelry Organizer Love Shadow Box
How to Make Photo Fun Personalized Valentine Cards
How to Make Stamped Newspaper Earrings
How to Make a Live Your Dream Charms Bracelet
How to Make Super Easy Ribbon Wraps
How to Make a Cool2Cast Textured Art Doll
How to Tissue Collage on Sandals
Embossed Water Bottle Bracelets
How to Make Embossed Foil Water Bottle Bracelets
Stamped Cards and Floral Push Pins
How to Make Notecards and Floral Push Pins
How to Make Mini Floral Canvas Art
How to Make an Indoor Garden Terrarium
How to Make Polka Dot Bird Magnets and Gift Box
How to Make CD and Glass Cupcake Stands
How to Make Glitter Your Garbage Magnets
How to Make a No Sew Personalized Onesie
How to Make a Weathered Look Beach Tray
Repurposed Patriotic Luminaries
How to Make Patriotic Glittery Luminaries
How to Make a Tick Tock Stenciled Box
How to Make Upcycled Whimsical Yard Art
How to Make Ombre Painted Layered Canvas Art
Mixed Media Butterfly Tablescape
How to Make a Butterfly Garden Tablescape
Girly Pink Collaged Mason Jars
How to Make a Tissue Collage Party Jar
Reversible Cardboard Roll Earrings
How to Make Floral Earrings from Paper Towel Rolls
How to Make Bright Button Clothespins
How to Make Personalized Back to School Glitter Totes
Zebra and Floral Print Desk Accessories
No Sew Layered Tattered Flowers
How to Create the Look of Etched Glass with Contact Paper
Aleene's Felted Floral Headband
How to Make a Bread Dough Timepiece Pendant and Earrings
Spooky Halloween Table Display
Aleene's Make Your Own Repositionable Rhinestone Applique
Aleene's Rolled Fabric Flowers on Grapevine Wreath
How to Make a Halloween Blocks Tabletopper'
Aleene's Restyled Jewelry Ornament
How to Make Vintage Inspired Winter Wall Art
Pumpkin and Leaf Placecard Holders
How to Make Cool2Cast Pumpkins and Leaves
How to Make a Fabric Mosaic on Canvas
Wool Felt Holiday Door Decoration
Aleene's Look of Embossing Snowflake Box
Tissue Paper Collage Angel Canvas
Silver Doily Table Centerpiece
How to Make Glittered Advent Boxes
Aleene's Wool Felt Christmas Trees Wall Art
How to Make Reverse Collage Tissue Angels
Aleene's Silver Doilies Party Decor
Valentine's Day Chalkboard Paint Cubes
How to Make a Mini Floral Sketch Canvas
Decoupage Mixed Media Art Frame
Aleene's Decoupage Clipboard Art Frame
30 Minute Yarn and Wire Jewelry
Celebrate Spring Flower Basket
Scrap Paper Decoupaged Clay Pot
Hanging Fabric Hearts Wall Decor
Casual T-Shirt Rosette Lampshade

Pearls on Wood Bird
Sweet and Sentimental Shadow Box
Patriotic Mason Jar Luminaries
Celebrate Friendship Mini Canvas
Personalized Gift Jar and Body Scrub
Mini Scrapbook Paper Christmas Tree
Holly Jolly Cool2Cast Christmas Wreath
Your Recently Viewed Projects