50+ Felt Crafts for Beginners
Use up all those felt sheets you've stockpiled. It's time to make easy felt crafts for adults and kids alike.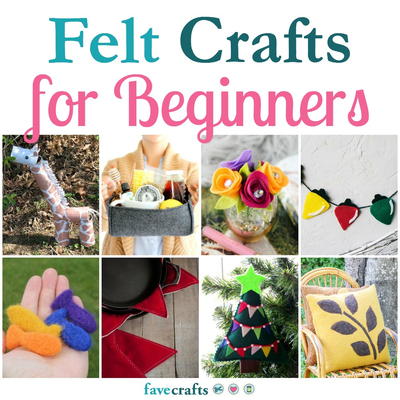 Felt crafts for beginners are some of the most enjoyable crafts to make. Felt is such a wonderful craft material in itself, suitable for traditional crafts for adults as well as very easy kids crafts. You can make a wealth of crafts using standard craft felt, and our easiest projects are at your fingertips.

What are the types of felt? There is craft felt, eco-friendly felt, blended wool felt, 100% wool felt, and 100% wool roving, among others! Craft felt is the go-to for kids craft projects and other inexpensive projects you'd like to create, while wool felts may be used for wearable projects, accessories, and other higher end ideas. You can learn more about the 5 Types of Felt in our handy article.

Felt is such a fantastic material to work with. It's easy, inexpensive, and you can make so many projects! It doesn't ravel out like other fiber arts, and it's so convenient to simply cut the shapes with scissors and go. If you're wondering, can you wash craft felt, yes you can, which is another reason this material is so great.

You can also felt wool that you already have on hand. Recycle materials you have on hand to create felt projects. If you're wondering how to felt wool, we have two excellent tutorials that will teach you how!
Find tons of things to make with felt sheets in our beautiful gallery of projects below. This index of felt tutorials will offer you crafting inspiration for months to come!
Table of Contents
Getting Started Working with Felt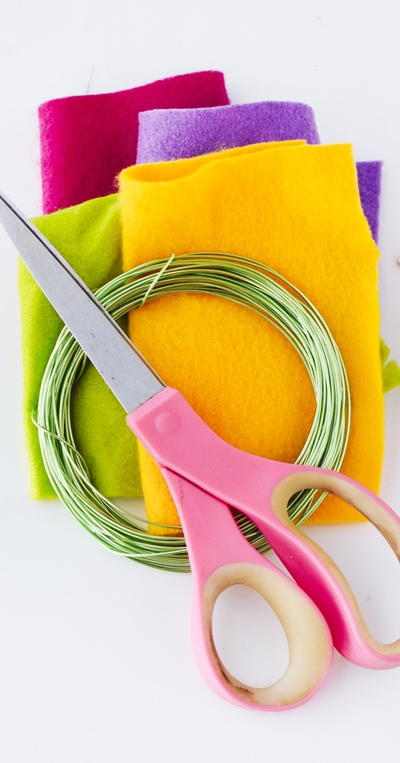 Gather Materials:

Use any and all of the materials listed below as needed for your felt projects.

-Felt sheets in patterns and colors of your choice
-Sharp scissors
-Hot glue
-Embroidery thread and needles
-Buttons
-Snaps
-Embellishments like sequins, pearls, and crystals
-Floral wire
-Pipe cleaners

Before you begin, here are a few great tips for working with felt from our readers:

"Always use a good sharp pair of scissors and be careful felt when stretched breaks easily." - Charlotte K.

"You can use dies to cut out your pieces." - Maryann S.

"I make lil stuffed animals; put a bell inside for your kitty." - Timi M.

Do you have more great tips for working with felt? Let us know in the comments!
Easy Felt Crafts for Adults: Felt Sewing Crafts
Sewing is one go-to project for craft felt, especially when it comes to hand stitching or beginner embroidery. It's amazing what gorgeous projects you can make with felt and a sewing machine. Your home decor needs and other desires will be met by some of the gorgeous felt sewing tutorials below. Check out the gallery of felt crafts for adults; you might have a similar reaction to walking into World Market or any of your other favorite home goods stores.
No Sew Felt Crafts for Adults
No sew felt crafts are even more thrilling than ones requiring sewing for those of us who aren't particularly adept with a needle and thread. These projects might look like sewing projects but they can all be made with other products to keep them together. A little goes a long way with these hot glue gun crafts.
Felt Craft Ideas for Kids
There's something about felt that just seems to represent kids crafting in a way. Explore the gallery below for beautiful felt craft ideas for kids. Find a variety of projects to make for different ages, and enjoy working together with your kids to put together these cute projects! A low-cost craft material like felt is great for young crafters, and it's even enjoyable to touch!
Felt Christmas Crafts
Craft felt has been around for a long time, giving it a sort of vintage feel when it comes to crafting! Nothing goes better with Christmas than traditional crafts, and many beautiful and traditional Christmas crafts include felt! Make felt ornaments, garland, decor, and more this holiday season with felt. Make your own felt Christmas decorations with the ideas in our gallery below.
Needle Felting Projects for Beginners
We couldn't resist adding a small gallery of needle felting tutorials for beginners to our list! Needle felting is a bit of a different skill set than simply felt crafting, but needle felting still works with the same basic raw material: felt! Needle felting is also making a big comeback. If you haven't tried this craft before, check out the tutorials below and give one or more of them a try! Be warned: it's a little addicting.
More Felt Tutorials
Still learning? Check out these other tips, tricks, how tos, and guides for crafting with felt:

What is your go-to project to make with felt?
Your Recently Viewed Projects