24 Hot Glue Gun Crafts + Tips For Working With Hot Glue
Find DIY home decor projects and tips for how to use a hot glue gun.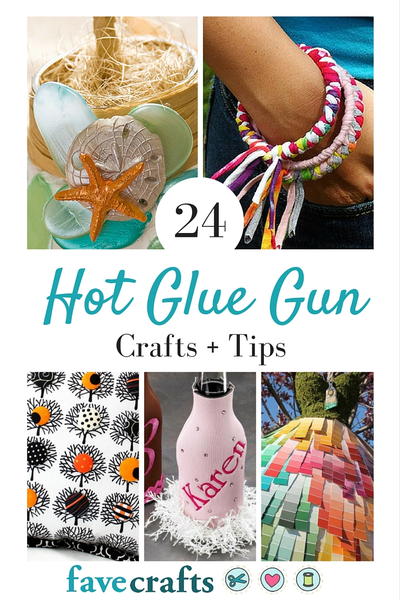 24 Hot Glue Gun Crafts Tips For Working With Hot Glue
When you're hardcore into a crafting project and don't want to mess around with making sure your materials stay put, you know what to use. These hot glue crafts show how amazing this unique adhesive can be. Once you hot glue something, you can be sure that it's not going anywhere. 

Hot glue works especially well at adhering heavier or more solid crafting materials - like buttons, shells, or decorative rocks - to your DIY home decor crafts. The fact that it dries in less than a minute is especially handy when using bulkier items.

If you accidentally make a mistake while hot gluing a project, don't worry. There are a variety of ways to remove hot glue from different types of material, like fabric, wood, and carpet. 

Look below to find 24 gorgeous hot glue crafts - including DIY pillows, an adorable night light, and even a homemade puppet theater - as well as tips for working with hot glue. There's something here that everyone can enjoy!
For more tips on working with hot glue, read about
Tips for Using a Hot Glue Gun
Hot glue is a solid stick of glue that is melted, typically in a glue gun, and applied in liquid form to a surface. As it cools, the glue bonds and becomes solid again. Because of this, hot glue has a more permanent bond than some other types of glue you might use when crafting. Keep reading for tips on how to work with hot glue.
Give your hot glue gun about 10 minutes to warm up before using it. This way, the glue will be fully melted and will give you a cleaner line as you're working.

Note: Glue guns are hot to the touch and should be kept out of reach of children when they're turned on. 

Hot glue usually sets in less than a minute, so be careful when using it. If you accidentally get glue on the wrong part of your project, on your work surface, or on yourself, let it dry before taking action.

If the glue is on your project, you can stick it in the freezer to make it dry more quickly. Then you can either peel off the glue or use rubbing alcohol and a Q-tip to remove it, depending on which type of material it is attached to. Follow these tips to learn how to remove hot glue from any surface.

Keep a bowl of ice water near your workspace to dip your fingers into and prevent scalding from the hot glue gun. Always use the stand to keep your glue gun upright when it's not in use.

A warm or humid work area may cause glue strings. Put the glue sticks in the freezer when you're not using them and remember to keep the tip of the gun clean to cut down on strings. Once the hot glue is dry, you can typically peel off or remove any strings that have formed (see Tip #2).

Smooth surfaces are the hardest to bond. Make sure the surface you want to glue has been cleaned with rubbing alcohol and score it (by adding tiny scratches or cuts) if necessary.

To make the process easier, use a glue gun that fits into your hand. Glue guns that are spring-fed are also easier to work with.

Some glue guns have low and high temperature settings. Use a lower temperature when working with delicate materials, like lace or nylon, to prevent melting or burning. Read more on how to use a glue gun.

Remember that hot glue isn't just an adhesive - you can also use it to add designs to your projects. You can paint it, add glitter, and more!
DIY Crafts to Make with a Hot Glue Gun
A hot glue gun is a very useful tool to have in your house. Whether you want to redecorate your living room or get your child ready for school, hot glue can sure come in handy to make sure things stay together. Look below for some home decor ideas and other hot glue crafts.
 
Your Recently Viewed Projects
Join our community of 5 million crafters!
Get free craft projects, exclusive partner offers, and more.
Thank You for Signing Up!
There was an issue signing you up. Please check your email address, and try again.