18 Crafts with Felt: Simple Craft Ideas, Felt Flowers & More free eBook
18 Crafts with Felt: Simple Craft Ideas, Felt Flowers & More
Looking for a new way to work with an old material? Perhaps you have some felt scraps hiding in your fabric stash and you just don't know how to proceed. You just need a quick project idea for a quiet afternoon. No matter the situation, you can't go wrong with simple craft ideas involving felt. Before you object or begin extolling your skills as a mature crafter, take a second look at the projects listed in this free eBook. There are plenty of felt craft project ideas that are age-appropriate and mature. Plus, they're so much fun to make and don't always require a sewing machine, needle or thread.
Felt is one of the most versatile, easy-to-use materials for crafting. If you're looking for felt ideas, look no further than this eBook, which features tutorials for felt flowers, purses, crafts for children and so much more. You never know when crafty inspiration might strike, so be sure to print out a copy and keep this as your resource for easy craft ideas. Whether you have a few scraps on hand or a couple feet of felt on hand, there are so many great crafts with felt to stay busy. Your creativity will never dry up when you have access to this free eBook.
Felt flowers come in all shapes and sizes and can be made by pretty much everyone. You don't need to be an expert for the craft project ideas feature in this eBook. Instead, try your hand at the variety of projects offered and see what you can accomplish. You'll also find that in this eBook, no two felt flowers are the same. Some projects require you to simply create circles and layer them on top of one another. Other projects, like Felt Floral Plastic Bottle Bracelet, require you to use a die cut machine to create delicate little petals.
You can also make a craft entirely out of felt and add a flower to the overall design. This is the idea behind one of the tutorials featured in this eBook, Felt Flower Needlecase. In this case, you aren't making a felt flower, but rather a case with a flower design on it. This eBook is full of projects that will change the way you think about felt flowers and easy craft ideas. Try a few and see which kind of tutorial for felt flowers is your favorite.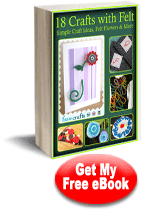 Download your free copy of 18 Crafts with Felt: Simple Craft Ideas, Felt Flowers & More today!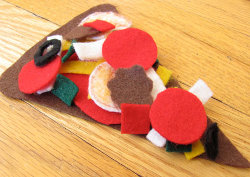 Hungry? Cut down on your calories and create some crafts with felt instead. You can make so many food crafts with felt and they always look appetizing. Whether you have a sweet tooth or love a big slice of pizza, there are plenty of craft project ideas to keep you satisfied. Best of all, you can create these projects with the whole family and enjoy the process together. What's better than bonding over a juicy bowl of fruit? Creating the fruit, first! Try not to salivate as you check out the easy craft ideas featured throughout this eBook.
Start your crafty meal with a bowl of Felt Strawberries and move on to the main course - Felt Pizza Pieces! Because the pieces are large and easy-to-cut shapes, kids can join in on the fan and add on their favorite foods like pepperoni and olives. Finish the meal with a felt cake - just don't try to eat it when you're done. Felt ideas don't get more fun than this.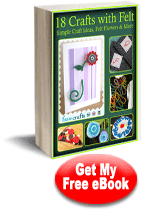 Download your free copy of 18 Crafts with Felt: Simple Craft Ideas, Felt Flowers & More today!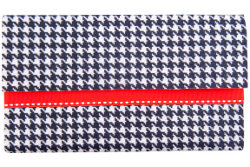 Show off your stylish side and check out some of these fashionable yet simple craft ideas. Did you know you can create an entire wardrobe using felt? You don't have to look dumpy or dowdy, either. Follow along with the tutorials for felt crafts in this free eBook and discover how easy it is to look good on a budget. If you like to make a statement, you can't go wrong with a Felt Tie Dye Dress. The colorful felt and wild design is set again a plain black shirt, making it stand out and look amazing.
From there, you can create your own hair accessories, necklaces and bags. You can even add a pretty felt pin to your shirt or scarf for a fun, playful touch. Crafts with felt can be loud or understated - it's up to you. What matter is that you enjoy the process when making these felt crafts you can wear. Save these handmade pieces and wear them season after season - they are truly timeless!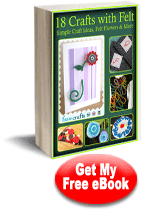 Download your free copy of 18 Crafts with Felt: Simple Craft Ideas, Felt Flowers & More today!
Once you've create felt flowers, clothes and food, you might that that these is nothing left to create. Well, think again! This eBook featured everything from crafts for children to technology cases, so there are still plenty of projects to keep you busy. Best of all, these simple craft ideas can be used for a variety of occasions and appeal to all kind of crafters.
Kids will love playing with the Felt Learning Clock and the Felt Tic Tac Toe Board is bound to provide hours of inspiration. You can also create an iPad case made out of felt and prevent scratches to your precious (and expensive) pieces of technology. The same can be said for the Felt Eyeglasses Case in this section - your homemade creation will keep your glasses safe from dust and sharp objects where you're traveling or just hanging out. You can also add a cute monogram to this project so you'll never lose your specs.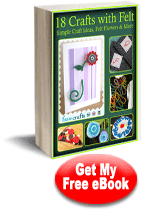 Download your free copy of 18 Crafts with Felt: Simple Craft Ideas, Felt Flowers & More today!
This eBook will certainly convince you that crafting with felt can be fun for all ages. You don't have to be an expert to make fantastic felt flowers or felt food, but you also don't have to be a beginner. Unleash your creativity and enjoy the process - these crafts are so much fun to make. Pick a few simple craft ideas and get inspired to make crafts with felt - you'll never want to work with another craft material. Whether you want to gather up the kids or spend an afternoon alone, you're sure to discover fantastic felt ideas that you can save for yourself or give as gifts. Get crafty and enjoy the experience of working with felt - it's a fun way to reconnect with your creative self and make something practical at the same time.
With your free copy of 18 Crafts with Felt: Simple Craft Ideas, Felt Flowers & More, you can also subscribe to our Quick and Crafty newsletter to become part of the FaveCrafts community. In subscribing to the newsletter, you will receive:
Five weekly emails with free crafting patterns, tips, collection pages, videos and more + a weekly wrap-up.
Chances to win books and products from our weekly giveaways and contests.
New FREE patterns and eBooks made available to you throughout the year.
Access to our free pattern library full of over 1,000 of free crafting patterns.
The opportunity to share ideas and help others in the crafting community.
Filled with tons of easy DIY projects for all kinds of crafters, 18 Crafts with Felt: Simple Craft Ideas, Felt Flowers & More is a great resource for clever and useful homemade gifts and decor ideas. From cute cards to cool jewelry, the projects in this free eBook will certainly help you express your creativity.
Find out more about 18 Crafts with Felt: Simple Craft Ideas, Felt Flowers & More:
Your Recently Viewed Projects
Join our community of 5 million crafters!
Get free craft projects, exclusive partner offers, and more.
Thank You for Signing Up!
There was an issue signing you up. Please check your email address, and try again.