What Glue Works Best on Felt?
Does hot glue work on felt? Fabric glue? Learn the best options in our handy guide.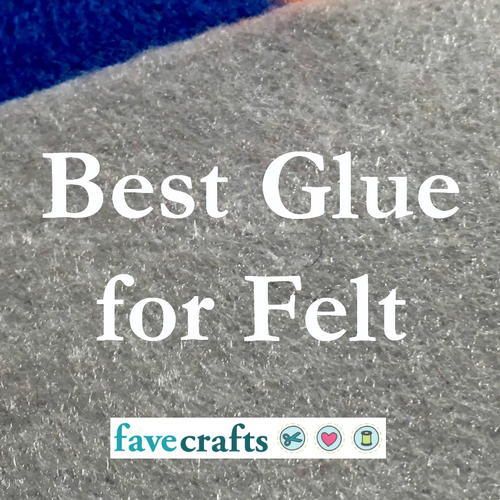 The best glue for felt is tacky glue, hot glue, or permanent adhesive, but there are pros and cons to each adhesive!

Some adhesives take a longer time to dry than others, while some are more kid-friendly. You'll also have to be aware of some of the aesthetic differences between the adhesives available. Last, you might already have some of these adhesives on hand, which might make them more appealing than going to the store!

Read more about our favorite adhesives for felt crafts and what makes them ideal for your project below.

And if you love what you're reading, let us know by subscribing to our newsletter, Quick and Crafty.
One felt enthusiast suggests that different adhesives may work better for different types of felt, but do you know what the different types of felt are? Learn about them in5 Types of Felt: Felt 101
What Glue Works Best on Felt?
Tacky Glue
Tacky glue is a tried and true classic for gluing felt. It's excellent for gluing felt to felt, and for any other general crafting. You do want to make sure the glue has some tack and is a bit thicker than your ordinary white glue. Aleene's even makes a tacky glue specifically for felt and foam! This option is the most kid-friendly, which is wonderful, but it does take longer to dry than the other methods listed below. To summarize:

Tacky Glue Pros
Kid friendly
Non toxic
Dries clear
Dries flexible
Tacky Glue Cons
Long dry time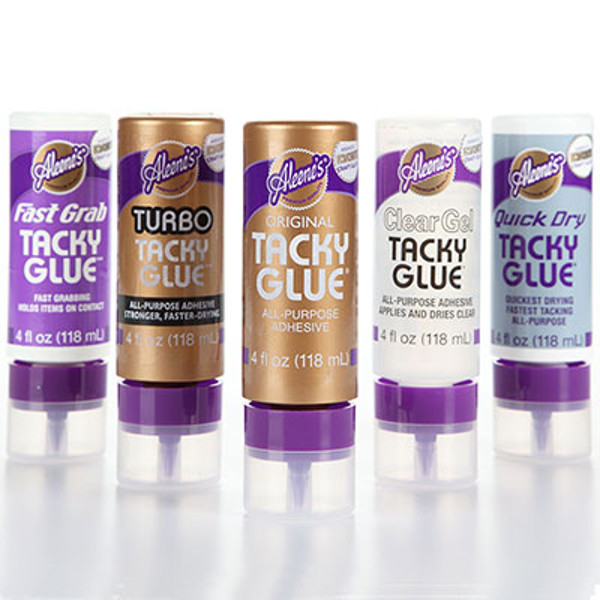 Hot Glue
Hot glue is the top choice for many crafters. It adheres to the felt easily and dries the fastest of all adhesives covered in this article. It's also so versatile for many craft projects. If you want to choose one adhesive to keep in your craft drawer, hot glue is the ideal choice. Just keep in mind two drawbacks: this option is not kid friendly, and a high-temperature glue gun may melt the felt! Opt for a low-temp glue gun instead.

Hot Glue Pros
Fastest drying
Strong hold
Versatile for a variety of other crafts
Hot Glue Cons
Not kid friendly
Stiff when dry
May melt the felt if the glue gun temperature is too high
In the image below, crafting expert
Allison Cooling
of Quiet Lion crafts a gorgeous felt flower bouquet using hot glue as her adhesive of choice. View the whole tutorial here: 
Rosebud Felt Flower Bouquet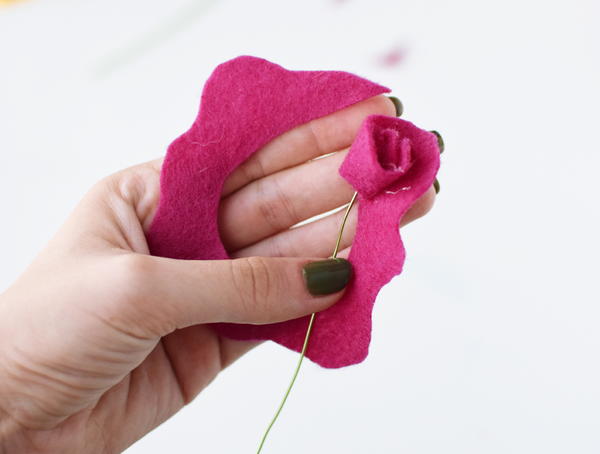 Permanent Glue
A permanent glue like super glue or E6000 is another option for adhering felt. This will give you the strongest hold of the options listed, but there are a number of cons when it comes to this adhesive. It smells strong and often has warnings on the packaging suggesting you work in a well-ventillated area. This glue is also not kid-friendly.

Permanent Glue Pros
Strongest hold
Fast drying
Permanent Glue Cons
Not kid friendly
Strong odor
Fabric Glue
Any fabric glue is bound to be a wonderful option, and this comes very highly recommended by many felt enthusiasts! Anything marketed as a fabric adhesive will bond well with felt fibers. It sticks hard and dries fast. Applying fabric glue may take finessing: too little and the felt won't stay adhered, too much and the glue may soak through the felt and harden it.

Fabric Glue Pros
Fast drying
Strong bond
Fabric Glue Cons
Not kid friendly
May have a strong odor depending on brand
May soak through felt and harden it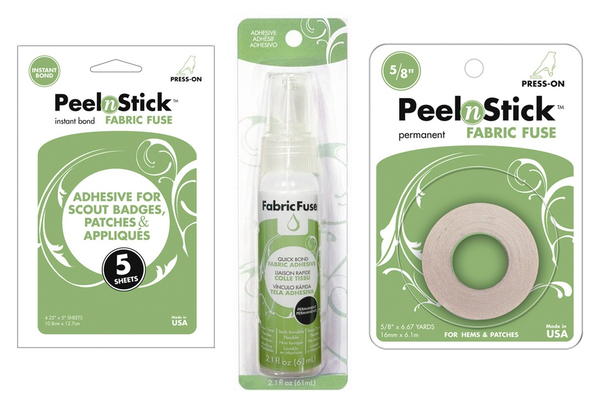 Adhesives to Avoid
The number one adhesive to avoid is ordinary white craft glue. This is because the glue is runnier, making it difficult to stick because it will soak through your layers of felt. This also does not make your project aesthetically pleasing because you will end up with darker, rough patches where the glue soaked through. You'll also want to avoid glue sticks which will not have nearly a strong enough bond. As mentioned above, a high-temperature glue gun may melt your felt. Opt for a low-temp glue gun instead.

Adhesives to Avoid
Ordinary craft glue
Glue sticks
Potentially a high-temp glue gun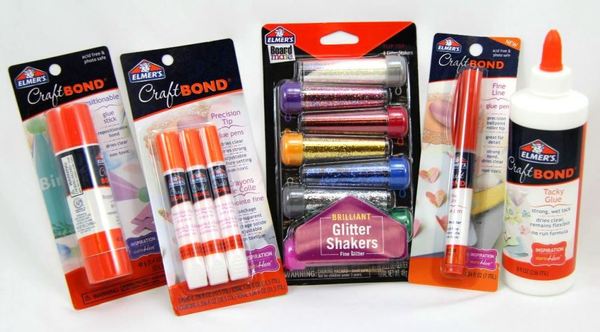 Alternatives to Adhesives
If your project doesn't necessarily require an adhesive, you might want to try another method of holding the pieces of felt together. If you're a sewist, adding a bit of stitched detailing or a simple cross stitch to hold the pieces in place could give the project an artistic look. You could try using a brad, button, snap, eyelet, or even staples depending on the project. You could also try needlefelting. Some crafters find the act of needlefelting soothing as well as effective!

Alternatives to Try
Sewing
Needlefelting
Brads
Buttons
Snaps
Eyelets
Staples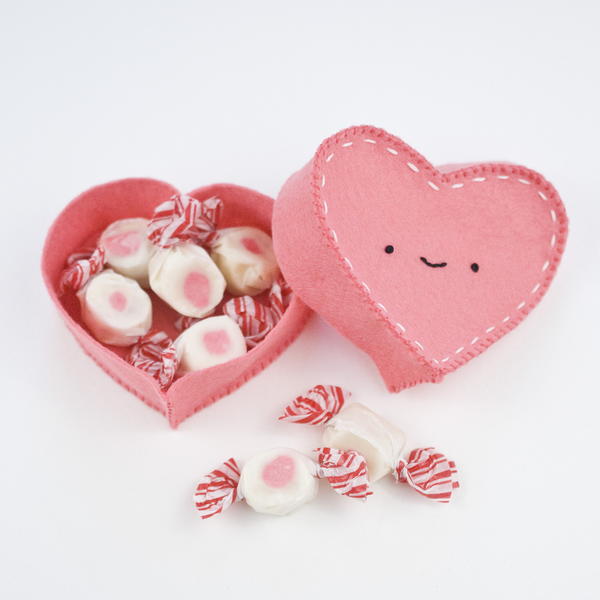 Related Questions
How do you glue down felt?

To glue down felt, simply remove the cap on the glue bottle or warm up the glue gun, apply a small amount to the felt, and place the other felt piece on top. Depending on dry time, you may be able to reposition the felt as needed.

Does regular glue work on felt?

Regular glue might work on felt if you use a lot of it and allow a long dry time. However, a lot of craft glue is more likely to soak through the felt, causing darker rough patches. Tacky glue, hot glue, permanent glue, or fabric glue work better.

Does Mod Podge work on felt?

No. Mod Podge is even runnier than ordinary white craft glue. Using a large amount of Mod Podge might work to adhere felt to felt, but it will soak through, stiffening and discoloring your project. Using a small amount of Mod Podge will not allow felt to stick to felt. However you can use Mod Podge fabric medium to do some crafts with felt.
Dana Nield works for Prime Publishing LLC and is the editor of FaveCrafts.com. She creates and updates site content for the best possible user experience, facillitates FaveCrafts Studio LIVE virtual events, and builds the Faithfully Homemade email newsletter. Prior to working at Prime, she spent 5 years working for Michaels.

When writing for FaveCrafts, she researches great crafting techniques, resources, and expert advice from across the web. Some of her most popular articles are 64 Crafts to Do When Bored and 
How to Clean Hardened Paint Brushes. She has 9 years of experience with SEO, and over 14 years of experience working in the crafting industry.

Learn more about Dana here: Dana Nield
Your Recently Viewed Projects
Join our community of 5 million crafters!
Get free craft projects, exclusive partner offers, and more.
Thank You for Signing Up!
There was an issue signing you up. Please check your email address, and try again.