Wine Bottle Crafts: 30+ Things to Do With Old Wine Bottles
This collection of empty wine bottle decoration ideas will absolutely inspire your creativity.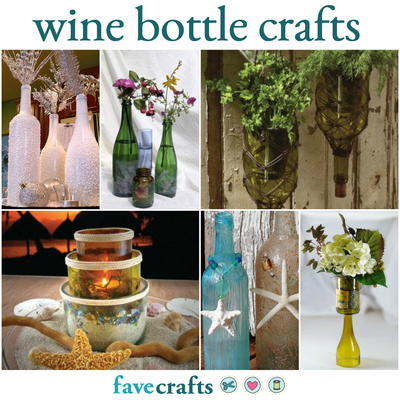 Instead of tossing those old wine bottles, use them in a variety of wine bottle crafts. You can create lamps, decorative vases, and hurricanes, and there are many other things to make with wine bottles. Don't forget to save the corks, too!

This list of 30+ Things to Do with Old Wine Bottles is full of clever, chic, and just plain stunning. You'll adore them almost as much as the wine that comes in the bottles. From DIY home décor ideas to surprisingly simple organizers, these pretty DIY crafts are the wine bottle craft ideas you have been looking for! If you do not have any bottles to use now, simply bookmark or pin this collection for later.

Don't forget to sign up for the FaveCrafts newsletter, Quick and Crafty, for daily crafts and tips delivered straight to your inbox.
Table of Contents
Top 10 Ideas for Wine Bottle Crafts
How can you actually use them?
More Wine Bottle Crafts
But that's not all: If you liked our top 10 ideas for wine bottle crafts, you'll love these bonus projects. It can be difficult to figure out what to do with empty wine bottles, but that's where these eco-friendly and inexpensive wine bottle decorations handmade come in. Check out these easy tutorials and make some crafts for home, garden, parties, and more.
Crafts with Corks
Wait, there's more! Now that you've made some fabulous crafts out of wine bottles, what should you do with the corks you've been saving? These DIY cork projects can be just for fun or totally useful, depending on your needs. You can use wine corks to make pieces of home decor as well as everyday items like keychains. Once you've tried some of these cute crafts with corks, you'll start collecting these bottle stoppers in earnest.
Which do you prefer:
White wine, red wine, or any wine anytime?
Your Recently Viewed Projects