This hemp wrapped wine bottle from Jane Bernard is one of the coolest, easiest things to make with wine bottles. Recycle your empty bottles into stylish home decor using little more than glue and hemp cording.
Find this wine bottle project plus many more in our free eBook, 25 Cool Things to Do with Wine Bottles.
Materials:
Large wine bottle
Hemp rope
Elmers glue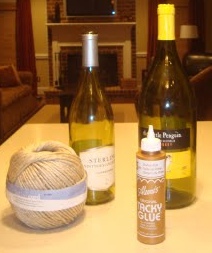 Instructions:
I started this project with tacky glue, but quickly realized that good ole' Elmer's glue works better. It doesn't set up as quick and gives you more time to make any adjustments to your rope. I started the rope at the bottom of the bottle and glued every other time I wrapped the rope around the bottle.



The bottom section of the bottle is where I used the most glue. The middle I used much less. And the top where the bottle gets smaller I used more glue again to keep the rope from gaping and showing the bottle underneath.





Your Recently Viewed Projects