"25 Cool Things to Do with Wine Bottles" free eBook
"25 Cool Things to Do with Old Wine Bottles" free eBook from FaveCrafts.com
Have you ever looked at an old wine bottle and wondered, "What can I make with this?" In an era when recycling and reusing are all the rage, it seems like a waste to toss a perfectly good wine bottle into the recycling bin…but with the help of our free eBook, 25 Cool Things to do with Wine Bottles, you'll find tons of great DIY wine bottle crafts that are decorative, useful, and earth-friendly!

From your living room to your garden, these wine bottle crafts can help add beauty and charm to your décor. Turn wine bottles into colorful vases, wind chimes, and even colorful tea light holders. There are tons of uses for empty wine bottles in this eBook, and you may find it hard to even consider tossing a glass bottle into the recycling bin after you see all the awesome wine bottle craft projects we have in store for you.

So whether you're looking for some unique home décor accents or looking to add some color and texture to your garden this summer, let 25 Cool Things to do with Wine Bottles inspire you to look at that humble bottle of wine in a new light. Gather up some Mod Podge, a collection of your favorite assorted embellishments, and pour yourself a glass of vino as you browse through this great collection of crafts to make with wine bottles.

Don't Miss Our Other eBooks!
Be sure to check out our entire collection of eBooks. You'll find titles such as:
Crafting with Wine Bottles
Crafting with wine bottles is a great way to reduce, reuse, and recycle. You can turn empty wine bottles into beautiful vases, candle shelters, decorative centerpieces, and so much more. If you're really feeling brave and creative, you can cut wine bottle glass with the proper tools and techniques to make small tea light holders, wind chimes, and even cute little charms.

In 25 Cool Things to do with Wine Bottles, we've gathered 10 great wine bottle crafts that are both decorative and fun. Several of these projects are great for both indoors and out, and also make great gifts if you're looking for something to give to a party hostess or something to bring to a housewarming party. These Tissue Wine Bottle Vases, for example, are so easy to make and even more fun to show off. With some Mod Podge and a few paper scraps, you can create these beautiful wine bottle vases that are great for holding flowers (both real and fake) or just sitting as they are. Decoupaged wine bottles like this also make beautiful wine bottle centerpieces for weddings, parties, and small social gatherings. You can find this wine bottle craft, as well as many others, in our free eBook, 25 Cool Things to do With Wine Bottles.

If you're looking unbelievably easy wine bottle craft ideas, we have plenty of those, too! This Hemp Wrapped Wine Bottle can be made in 2 easy steps with less than 5 materials. This is an inexpensive way to add some decorative home accents to any room in your home…and a great way to literally turn trash into treasure! Embellish these bottles with flowers or use colored yarn to create a different look to your old wine bottle. Crafts like these are what make this eBook so great for crafters…there are projects for all skill levels, and you're bound to find something in this collection of wine bottle projects that suits your style. There are just so many cool things to do with wine bottles…and you won't believe how easy and fun these projects are!

Crafting with Wine Corks
Not only can you make lots of craft projects with wine bottles, but you can also use leftover corks to create cute party favors, home accessories, and even functional bulletin boards to help keep you sane and organized. Since you can't craft with wine bottles until you pop the cork, we've decided to include some clever wine cork crafts in our eBook as well. Even if you don't drink wine, you can find bottle corks at almost any craft supply store…so there's no excuse not to make these cute DIY wine cork crafts!
If you've been saving up your corks for years, hoping you might find some fun uses for wine corks in the near future, you're in luck. These Wine Cork Balls are a great way to not only create fun and unique home décor accents, but it's a fun way to show off all the delicious wine you've sampled over the years! You could even record the type of wine and date you drank it on the cork so you have a fun (and decorative) reminder of all your favorite wines. Arrange these Wine Cork Balls in a large bowl in your living room or you could even hang them near a wet bar as a fun ceiling decoration that is sure to be a conversation piece!
Wine bottle cork is also a great material to use for making bulletin boards. Arrange wine corks in a fun display to make your very own pin board that's great for displaying your favorite photos, recipes, and maps to your favorite wineries. You can find instructions on how to make this project, as well as several other wine cork crafts, in our free eBook, 25 Cool Things to Do with Wine Bottles.

Wine Bottle Accessories
As a little bonus section to 25 Cool Things to do With Wine Bottles, we included some fun wine bottle accessories that are perfect for attaching to a bottle of wine that you may be giving for a gift or bringing to a party. These bottle crafts are easy to make and can help add a little flourish to a nice bottle of your favorite vino.

Great for a retirement party or a birthday celebration, this Better with Age Bottle Cozy is a cute and clever way to accessorize a bottle of wine. Bottle art projects like this are easy and quick to make and help add a personal touch to your gift. The great thing about this project is that you can customize it to suit any occasion. You could even make your own label for bottles of wine served at weddings and parties to make them fit the theme of your celebration. You could even create unique labels for empty wine bottles as well and put them on display in your home or use them as centerpieces for holidays and get-togethers.
If you're giving wine as a gift, it is probably a good idea to also include a stopper in case the receiver doesn't have one. And there's no need to go out and buy one, you can make your very own with the Steampunk Style Wine Stopper tutorial, available for free in our eBook, 25 Cool Things to Do with Wine Bottles. This wine stopper makes a great wedding and hostess gift, and is a great way to use up leftover supplies in your craft stash.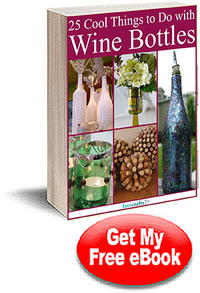 You can find these projects and many other ideas for wine bottles, corks, and more in our free eBook, 25 Cool Things to Do with Wine Bottles. As you can see from these projects, there are tons of uses for wine bottles that are great for decorating, giving, organizing, and more…and you can find all these great ideas and tutorials by downloading this free eBook today.

Want to take your eBook on the go? No problem! You can easily print out your very own copy or download it directly to your iPad, smart phone, computer, laptop, or other mobile device. Save it, send it to a friend, or share it with your book club.

As is the case with wine, crafting is much more fun when enjoyed with friends…so download your free copy of 25 Cool Things to Do with Wine Bottles, grab your besties, pour yourselves a glass, and ponder all the fun projects you can make with the bottle once it's empty!

Sign Up for Our Free Newsletter
With your free copy of 25 Cool Things to Do with Wine Bottles, you can also subscribe to our Quick and Crafty newsletter to become part of the FaveCrafts community. In subscribing to the newsletter, you will receive:
Five weekly emails with free crafting patterns, tips, collection pages, videos and more + a weekly wrap-up.
Chances to win books and products from our weekly giveaways and contests.
New FREE patterns and eBooks made available to you throughout the year.
Access to our free pattern library full of over 1,000 of free crafting patterns.
The opportunity to share ideas and help others in the crafting community.
Filled with lots of wine bottle craft ideas, 25 Cool Things to Do with Wine Bottles is a great go-to guide for using up all those empty glass bottles and unused corks. From creative garden accessories to fun ways to help you organize and decorate your home, these wine bottle crafts are great for anyone who's looking for ways to craft their way through the recycle bin!
You can also download this book for FREE at Amazon.com and iTunes!
Your Recently Viewed Projects