Beaded Bottle
Recycle a bottle and adorn it with beads for a great decorating idea from The Bead Studio.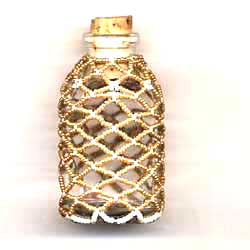 Materials:
Small glass bottle
1, size 12 needle
2-3 colors, size 11/0 seed beads
Nymo, size "B" thread
Instructions:
Thread needle with a length of thread that is comfortable for you. (Usually about a yard.) Tie a knot, leaving a 3" tail. String on enough beads to encircle the neck of the bottle. The number of beads on the base row needs to be divisible by 4. Run the needle back through all the beads, starting from the tail end, to create a ring of beads. Pull until no thread shows, then place the beaded ring around the bottle neck.



Pick up 3 beads, skip a bead and go through the next. Continue all the way around. You are creating the points that become the decorative top and the beginning of the netting. When you get to the last pick up beads, bring the needle through the last bead on the previous row, and exit from the center bead of the row you just completed. This step-down technique is used at the end of each row to position your thread for the next row.



For the third row you will pick-up 5 beads, skip a point, go through the middle bead of the next point. Be sure that the points you skip are turned up. Continue until the row is completed, then step-down to position your thread for the next row. Alternate bead colors as desired.



Continue each row by increasing 2 beads until you reach the fullest part of the bottle. If your bottle has straight sides continue netting repeating the same number of beads all the way to the bottom. If your bottle is round, you will start to decrease at this point.



To finish, subtract 2 beads from each row until you bring netting all the way down to one bead. Run the thread through the last circle of beads. Pull firmly. Weave thread back up through the net and tie off with a half-hitch.



Your Recently Viewed Projects
Join our community of 5 million crafters!
Get free craft projects, exclusive partner offers, and more.
Thank You for Signing Up!
There was an issue signing you up. Please check your email address, and try again.