Do you keep all your old wine corks? You should! Becky Kazana shows us how to turn old wine corks into a fabulous, rustic-looking cork board. If you love the look of this board, but don't drink much wine, you can pick up corks from ebay and other sources. Wine cork crafts are a great way to give you an excuse to drink wine. Wine corks are not an entirely sustainable resource, making it a shame to throw them away. Reuse and repurpose your corks into something you will actually use.
The instructions below show you exactly how to make a wine cork board for your home, giving you the perfect place to pin up notes and reminders. This would make a fantastic way to keep organized in your craft room, as well.
---

Find this wine bottle project plus many more in our free eBook, 25 Cool Things to Do with Wine Bottles.
---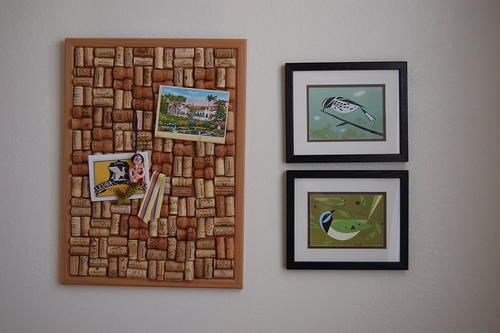 How to Make a Wine Cork Board
Materials:
Wine corks
Bulletin board
Glue gun
Serrated Knife
Instructions:
Making a bulletin board with wine corks is quite simple. You'll need large collection of corks, a bulletin board and your trusty hot glue gun. (My wonderful husband uses a serrated knife to cut these in half so I only need half as many. Be warned- it's a recipe for sliced fingers. You can also find lots of them on ebay if you're impatient!)



I recommend laying out your pattern before gluing it down. I like to do a parquet pattern to make them look more interesting and less messy.



After you have a design worked out, carefully hot glue each cork to the board. (I like to use an actual cork bulletin board so any gaps are less noticeable.)


---

Find even more recycled crafts that allow you to reuse wine corks into brand new DIY crafts in 17 Whimsical Wine Cork Crafts.
---
Your Recently Viewed Projects