Folding Tie Dye Technique
Follow this tie-dye technique from I Love to Create to create an overall pattern with folding and binding the shirt or other fabric. This folding tie-dye technique with photos makes it simple to create beautiful wearables and home accents.

Before beginning any tie-dye project, read the instructions for the Tulip One-Step Fashion Dye or Tulip Permanent Fabric Dye. Refer back to them for standard steps.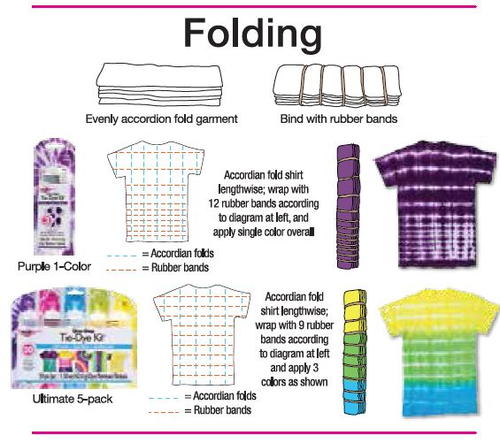 Now It's Your Turn!
Fold fabric


Place damp fabric flat on work surface.

Pleat fabric.

Bind fabric


Bind folds with rubber bands every 1 to 2 inches.

Apply dye


Apply dye to folded edge of fabric. Flip fabric over and repeat.

If desired, repeat with another color.

Continue until all fabric is covered or apply alternative dye colors between banded sections.

Free Craft Video: How To Tie Dye a Scarf with Tulip One Step
Your Recently Viewed Projects