6 Shibori Tie Dye Techniques
From its traditional origins to its place in modern crafting, we explore this fun form of Japanese tie dye!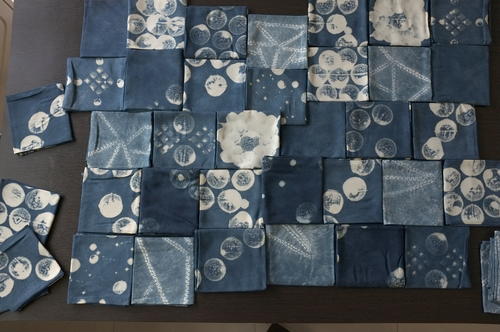 It's been around for hundreds of years, but what is shibori tie dye?
You've probably seen this traditional form of tie dye taking over the crafting world lately, and that's for a good reason; it's easy to do, the patterns are always one-of-a-kind, and it turns your normal, white fabric into a blank canvas for your creativity to take over.

Traditionally, shibori uses indigo dye to get that iconic, deep blue color, but modern, thrify crafters have created their own methods for getting that iconic blue color. You don't even have to use indigo!

Shibori is mostly about the specific pleating and binding techniques, so you can use whatever color you'd like to create vibrant patterns on just about any type of fabric imaginable. Shibori methods do differen in some ways from other, more popular tie dye techniques. The biggest differences between these techniques are the tools used to create the patterns and the appearance of the overall finished product. Many of these techniques are named after the way the final product looks.

If you love free craft tutorials like this one, you can get them delivered straight to your inbox every day! 

Sign up for our newsletter, Quick and Crafty
While there are many different types of shibori, there are six main types.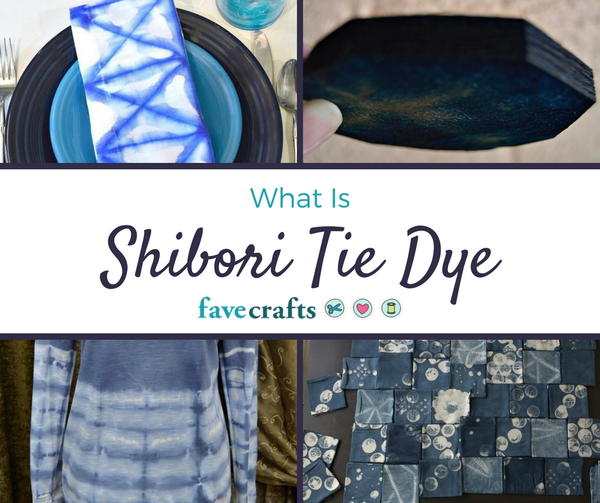 1. Kanoko Shibori (The Bound-Resist Technique)
Kanoko shibori is probably the most popular method of shibori out there because it's very similar to the method of tie dye that many people are used to. This method simply uses rubber bands or string to pinch, bind, and shape the fabric in crazy and unique patterns. Kanoko shibori allows for great flexibility and creativity in the patterns that you make!
2. Arashi Shibori (The Pole-Wrapping Technique)
The arashi shibori technique is a method that involves wrapping the fabric around a pipe -- like PVC pipe -- and binding the fabric with thick yarn or twine. This method will give you a final product with a pattern of diagonal or wavy lines.

The word "arashi" means "storm" in Japanese. This name comes from the way the final pattern resembles rain in a storm or stormy seas. This technique is sometimes referred to as the pole-wrapping technique.
3. Itajime Shibori (The Shape-Resist Technique)
The itajime shibori technique uses folding and clamping methods to give a distinct, geometric pattern. This method is one of the most popular shibori methods out there, and it is what many people think of when they think of classic shibori.

For this method, the fabric is wrapped around wooden blocks. And you can use just about any shape imaginable! The fabric is folded around these shapes and then clamped together to give a repeating, geometric appearance. This method is also sometimes called the shape-resist technique. Below is an example of the itajime method used with an octagonal shape resist.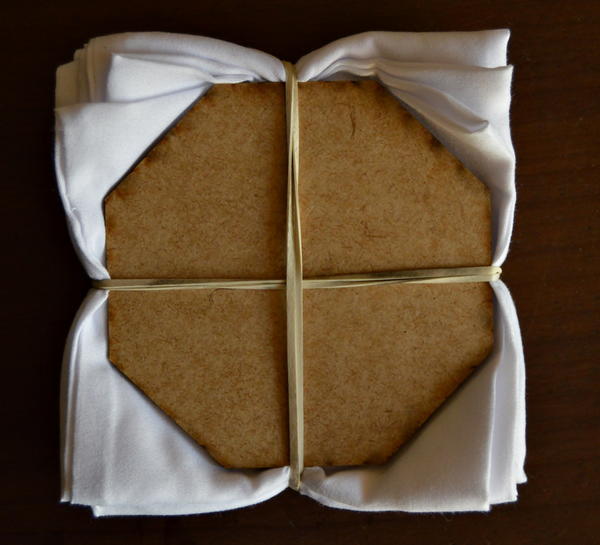 4. Kumo Shibori (The Pleat-and-Bind Technique or The Spider Web Technique)
Like, kanoko shibori, the kumo shibori method is probably familiar to those who have experience in tie dying. This method involves pleating and twisting with rubber bands to give a "spider web" like appearance. The fabric is wrapped around objects, often stones, and held in place with rubber bands.
5. Miura Shibori (The Looped-Binding Technique)
The miura shibori method is unique because it uses a hooked needle to pull sections of the fabric which are then wrapped in string or twine to bind them. Often, but not always, this looped-binding technique is used in rows.
6. Nui Shibori (The Stitch-Resist Technique)
Nui shibori is similar to the kanoko method, mentioned above, in terms of the overall appearance and pattern. The main difference between these two methods, is in the methods used for binding the fabric and creating the patterns. Nui uses basting stitches to create the pattern, while kanoko uses rubber bands.
Other Shibori Techniques
Outside of these main six techniques, there are dozens of other, less popular methods. These methods use everything from pebbles to bricks to give unique patterns and shapes to the fabric. Explore the other methods of shibori to find the one that best suits your project.

There are also newer, non-traditional methods of getting that unique indigo shibori look. The project pictured below for Japanese Tie Dye Shibori Napkins is a great example of an inovative way to get that shibori look with half of the work.

"I looked into the shibori tie dye process but felt a bit daunted by it. I had seen faux tie dye projects using permanent markers and decided to give it a try. I'm a busy mom that loves to craft but need my crafts to be easy-to-make but not look easy-to-make. These shibori napkins are perfect for busy crafters." -Susan Santoro from Organized31.com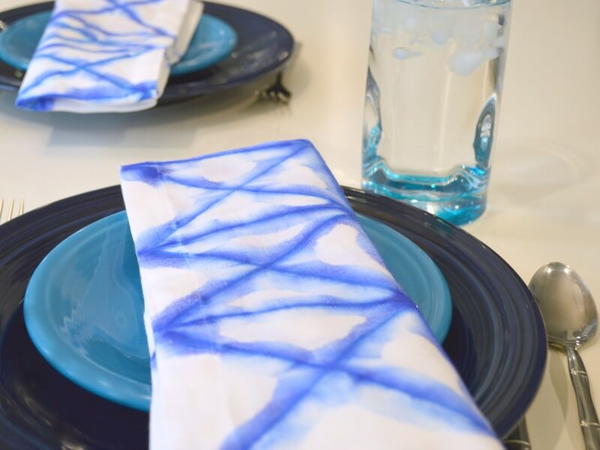 A Brief History of Shibori
8th Century - The earliest examples of Japanese shibori are from about 1,300 years ago. The techniques used in shibori probably came to Japan from China, but the Japanese methods evolved over time into their own unique art form.

World War II - The economic depression in Japan following World War II had an impact on shibori. Because the cost of the materials was high, there was a decline in shibori that wouldn't return until Japan's economic miracle in the mid-20th century.

20th Century - It is around this time that the a wide variety of dyes and fabrics became available, and the opportunities for shibori expanded exponentially.

21st Centry - In recent years, shibori has undergone a kind of renaissance. Crafters around the world have rediscovered this craft and its popularity has taken off!

A great example of a new and innovative way of using this traditional tie dyeing technique is with this shibori tie dyed sofa, pictured below. This project by Claire from pillarboxblue.com is a great way to add new life to your outdoor patio furniture.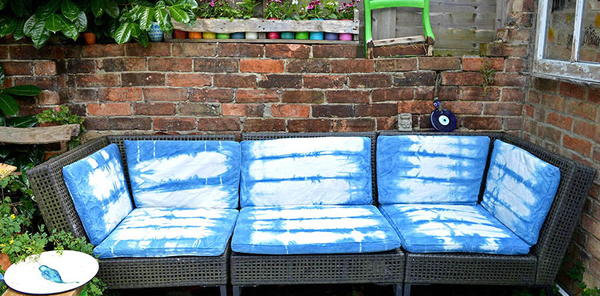 Tips and Tricks for Getting Started with Shibori
Give yourself space:
"Shibori dyeing is great fun but addictive. Once you've tried it, you will be hunting around for more things to dye. Shibori dyeing is best done outside, where you have lots of space, as it can get a little messy." -Claire Armstrong from pillarboxblue.com

Make time for research:
"The most valuable lesson I learned [while trying shibori] is that as a crafter, I need to make time for research, i.e. regularly paging through craft magazines, so that I can stay informed of current trends. As for the shibori, I learned a lot, and wouldn't change anything about the experience itself. ." -Benetta Strydom

Be prepared:
"Make sure you have a good pair of latex gloves with no holes in them, or you will end up with blue hands for a few days." -Claire Armstrong from pillarboxblue.com

Learn from the experts! Check out this article on Lessons Learned from My First Shibori Dyeing Experience by Benetta Strydom.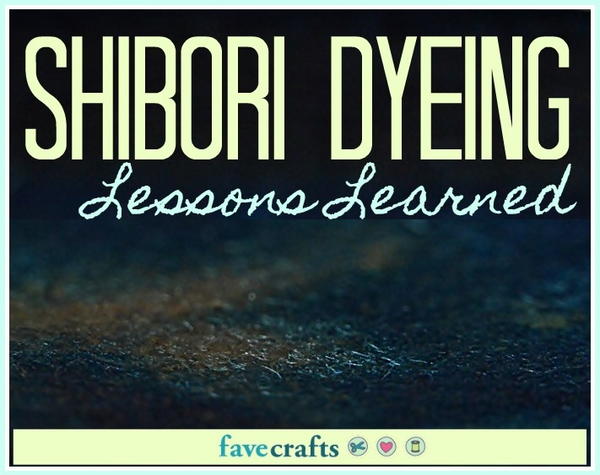 Tell us about your shibori tie dyeing experience!
Your Recently Viewed Projects