31 DIY Canvas Wall Art Ideas
Refresh the look of your home this summer with these unique pieces of DIY wall decor.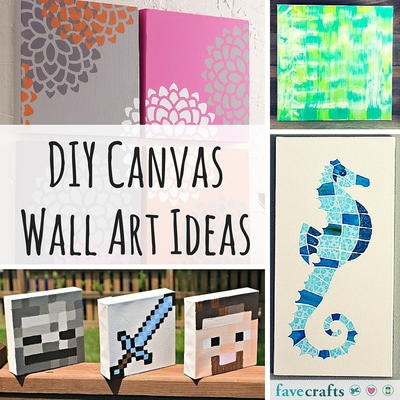 Does your living room look the same as it did when you first moved in? Putting together some DIY canvas wall art could really help brighten up the look of your space. Whether you've been living in your home for 11 months or 11 years, you know that every once in a while, your house could use a change.

Don't waste money on a complete living room makeover. Instead of getting new furniture or new carpeting, try switching out your home decor for something new and exciting. No, we don't mean repainting your nice, neutral-colored walls to match the latest fad. Instead, hang some gorgeous DIY wall decor in your home to give it a fresh feel. 

These 31 DIY Canvas Wall Art Ideas are perfect for helping you create brand-new wall art without spending a lot of money. Many of the projects can be made with craft items that you probably already own. Use paint, mod podge, fabric scraps, and more to give your room a modern makeover.
Table of Contents
Before You Begin: Tips on Decorating Your Canvas
Prior to beginning your first piece of homemade wall art, make sure you know how to work with canvas. Some things to consider before getting started are the size and type of canvas you want to use. You should also know which types of craft materials will work best.
Choose your size: Pick out where you'd like to hang your new piece of DIY wall art in your home and choose a canvas size that would fit nicely in that space. Common canvas sizes are:
SMALL: 4" x 6" or 5" x 7"
MEDIUM: 8" x 10" up to 12" x 16"
LARGE: 18" x 24" up to 36" x 48


Choose your canvas: Because large canvases can get expensive, check out a variety of craft stores and chain retailers - like Michaels, Wal-Mart, and Amazon - to find sales and get the most bang for your buck.
You can purchase pre-stretched canvas or buy rolled canvas and stretch it yourself. Pre-stretched canvas is fabric that is already wrapped around a wooden frame and is ready to be painted or decorated. Rolled canvas comes in a roll and is generally cheaper, but you have to stretch it around the frame yourself, which requires a few extra materials.


Choose your materials: Canvas wall art can be decorated with a variety of materials, including paint, scrapbook paper, mod podge, old magazines, fabric scraps, and more.
Pretty Painted Wall Art
If you plan on painting your DIY wall decor, you'll want to prime the canvas first. Canvas primer, called gesso, looks sort of like white paint. It helps your colors adhere to the surface and also softens the canvas a bit so it's easier to apply the paint.

Acrylic, tempera, and oil paints work best on canvas. You want to make sure you use sturdy brushes when painting canvas. Thicker paints like acrylic apply better with brushes that have longer handles and stiffer bristles. Also keep in mind that acrylic paints dry slightly darker than what you see in the container, so test out the colors on a piece of paper before you start on your canvas.
Mod Podge DIY Wall Decor
Mod podge is another medium that works fairly well on canvas. Apply mod podge to the back of the scrapbook paper, calendar page, or magazine photo that you plan on putting on your canvas. Place it on the canvas and smooth your hands over it for a minute or two to eliminate bubbles. Let it sit for a few minutes before applying mod podge over the front. Place your DIY craft facedown on a piece of wax paper and place some heavy books on top. Leave it this way overnight to make sure there will be no air bubbles.

Note: If your image does not reach the ends of the canvas, you may want to paint the edges a base color first (see painting tips above).
More Unique Canvas Wall Art
Use paint, recycled items, fabric scraps, and more for these one-of-a-kind pieces of DIY wall decor. Most of them are very simple to make. You probably never knew you could do so much with the items lying around your house!
Your Recently Viewed Projects
Join our community of 5 million crafters!
Get free craft projects, exclusive partner offers, and more.
Thank You for Signing Up!
There was an issue signing you up. Please check your email address, and try again.