40+ Fabulous Decoupage Ideas
Discover how to decoupage a variety of items with the ideas in this collection.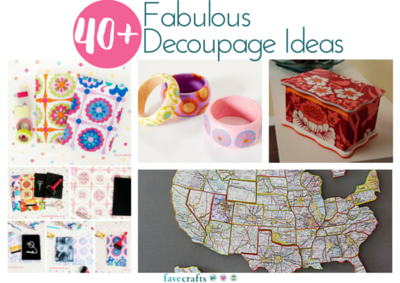 There's a lot to love about decoupage and collage projects. They're simple to make and the possibilities are endless! This set of 40+ Fabulous Decoupage Ideas features decoupage furniture, decoupage wood boxes and so much more! 

Aside from the traditional decoupage crafts, there are decoupage instructions for unique projects like a magazine holder and a birdhouse, not to mention decoupage Easter eggs.  There's even a tutorial that shows you how to decoupage a mailbox! 

No matter what you're looking for, you're sure to find something that inspires you in this collection of fabulous decoupage ideas! Look out below for Mod podge ideas that you are going to love. From home decor ideas to simple jewelry ideas, these decoupage crafts are hard to pass by. Plus, scroll all the way down for some insanely helpful tutorial on how to remove decoupage as well as how to store your crafting supplies, making sure your decoupage materials never dry up.
Table of Contents
If you can't get enough decoupage crafts, then you need to download a copy of our eBook, Quick and Easy Decoupage. This comprehensive (free!) craft collection is filled with fun project that you can make any time of year. Decorate items you already have or create something from scrath - the choice is yours. No matter what, the finished project will be eye-catching, interesting and truly unique. Get the collection: "Quick and Easy Decoupage" eBook from Plaid
Decoupage Furniture
Even though you can decoupage almost anything, decoupage furniture is by far one of the most popular mod podge crafts.  These five decoupage furniture ideas will help you put personal touches on your home accessories and avoid cookie-cutter decor.
If you are considering exploring one of the above decoupage furniture ideas, check out our article for all of your need-to-knows and how-tos:How to Decoupage on Wood
Decoupage Home Accents
These are our favorite decoupage ideas for you to use around your house.  From picture frames to decoupage art, learn how to decoupage cute home accents with these easy instructions!
Decoupage Organizers
Don't you just love when decoupage ideas are cute and functional at the same time?  These Mod Podge projects will help you store your stuff while also doubling as adorable decorations! If you're wondering how to decoupage a box, we have tons of tutorials for decoupage boxes in the collection of storage ideas below!
Outdoor Decoupage
Decoupage ideas don't have to be confined to the indoors!  Make some unique decorations for your yard or garden with these decoupage instructions for outdoor projects. 
Decoupage for Special Occasions
Create a memorable gift for the holidays with these decoupage ideas for special occasions.  From picture frames to ornaments and everything in between, there are so many great things you can create using these decoupage instructions.
Decoupage Projects You Can Wear
If you've ever wondered how to decoupage jewelry, these projects will show you how simple it really is.  This is just a short list of decoupage ideas for accessories, but there is really no limit to what you can create when you use your imagination!
How to Decoupage Tutorials
Now that you've seen all of the fabulous decoupage ideas that we've collected for you, you might be curious about different techniques and tricks you can do with this creative craft.  If we've peaked your interest, below are some great tips and instructions for decoupage craft ideas that you should definitely check out.
Find out all about the basics of reverse collage in this easy to follow instructional guide.
Bonus! Helpful How to Decoupage Tutorials
Whether you are brand new to mod podge ideas or just need some help, check out these super helpful mod podges tips and tricks tutorials and full articles from the editors here at FaveCrafts.
How to Remove Mod Podge and Other Tips
Whether you messed up a project, spilled your mod podge, or just want to redo a project, these helpful hints on removing mod podge are must-knows for any clumsy crafter.
Decoupage Glass
Decoupage on glass with the stunning tutorials in this section. Glass decoupage projects are probably some of the most popular tutorials, and they're so stunning when completed.
Fabric Decoupage Projects
Fabric decoupage projects are so lovely. It's convenient that you can't tear fabric the way you might tear paper, and the results are so lovely and a bit more durable. Fabric decoupage is great for furniture projects and more.
This is the cutest way to dress up a plain book case! Decoupage fabric to the back of the shelves for a cute design.
Fall in love with decoupage projects and discover how versatile mod podge really is. Download a copy of our free eBook and discover why this is one of the most popular craft projects around. In this eBook you'll find jewelry projects, gifts and even crafts for the holidays. There's never a bad time to learn how to decoupage, so download a copy of this eBook and get to work:12 Fun & Fabulous Mod Podge Projects free eBook
Leave a Comment and Tell Us: If you had to decoupage one thing RIGHT NOW, what would it be?
Your Recently Viewed Projects
Join our community of 5 million crafters!
Get free craft projects, exclusive partner offers, and more.
Thank You for Signing Up!
There was an issue signing you up. Please check your email address, and try again.