Does Mod Podge Dry Clear? + What To Do if It Doesn't
Learn how to mod podge perfectly with these mod podge tips on a clear and concise coat.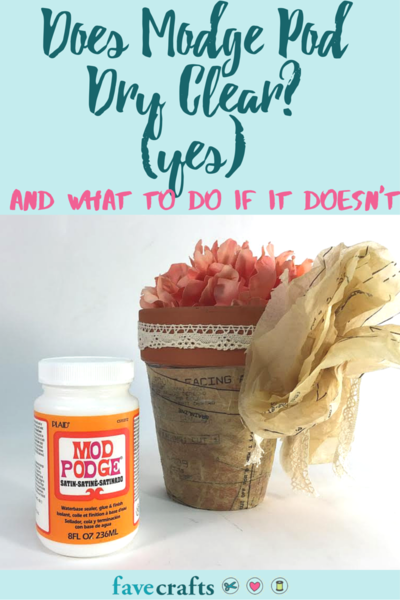 Does Mod Podge Dry Clear
We get the hesitation some first time Mod Podge crafters might have when it comes to using the substance. It certainly looks like it may not dry clear, considering its cloudy white consistency.

Don't worry.

Mod Podge does dry clear, allowing you to fully see any paper or material you have mod podged onto. Mod Podge crafts are ideal for home décor ideas because of the see-through texture of the substance. It allows you to display the beautiful pattern or design underneath while still protecting it with a clear coat of adhesive.

Depending on what type of Mod Podge you use, Mod Podge may dry differently, so be sure to read the label of your product before you begin Mod Podge crafts and decoupage projects.

What does this mean?

Mod Podge comes in a wide variety of finishes for all kinds of DIY crafts and projects. The Mod Podge matte product will dry clear with a matte finish, meaning it is not shiny. The Mod Podge Gloss, however, will add a layer of sheen to your project. Be sure to use the right Mod Podge product for your project to insure that your Mod Podge dries clear with the finish you want for your decoupage idea.
Reasons Your Mod Podge May Not Be Drying Clear
While the Mod Podge product will dry clear nine times out of ten, sometimes it may not. This is usually because of something we like to call user error. Mod Podge always dries clear, but if not used correctly it might not work just right. If you have created a Mod Podge craft and it came out less than perfect, it may be because of one of these reasons.
Your Paper: If you Mod Podge onto some papers, the ink might run or the paper may disintegrate while you are applying coats of Mod Podge. Particles from your paper may then mix into the substance and cause it to cloud the surface of your paper crafts ideas.

It Isn't Dry: You may be a bit too impatient. Mod Podge can take a while to dry depending on how thick of a layer you have been applying. If your project looks cloudy, let it sit overnight and check it in the morning.

Paint: If you are applying decoupage or Mod Podge to a painted or stained surface like furniture, the paint may rub off and into the Mod Podge. As you apply your first coat, be sure to keep an eye out for this.
Note: Mod Podge clouding your painted crafts? Apply a layer of sealant between your paint and Mod Podge layers to prevent it!

Your Mod Podge Is Old: While Mod Podge doesn't expire for years, as far as we know, it can be ruined by other things than time. If you were storing your Mod Podge somewhere dusty, too cold, or too hot, this may have affected the product. If you are going to use an old container, try it on the bottom or unseen corner of your project first before applying your entire first coat.
Your Recently Viewed Projects