12 Fun & Fabulous Mod Podge Projects free eBook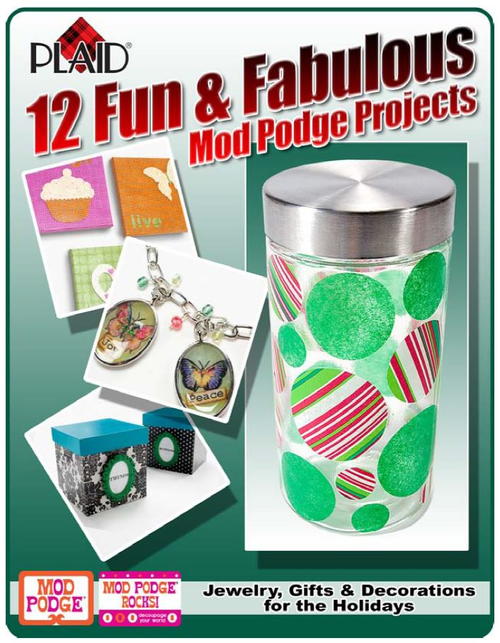 Make your own fast, fabulous, and fun Mod Podge projects this holiday season. From great gift ideas from jewelry and wall art to funky Christmas decorations, 12 Fun & Fabulous Mod Podge Projects- Jewelry, Gifts & Decorations for the Holidays makes it easy to learn how to use Mod Podge. Make your Christmas crafts last by working Mod Podge into your projects! Paper and tinsel are staples of holiday decorating, but sometimes the holiday festivities call for something a little sturdier and longer-lasting than your usual paper crafts.

When you need some sturdy decorations or want to give your handmade gifts a little bit of extra strength, these Mod Podge projects are sure to meet your needs. Since the holidays will mean more commitments and less craft time, you'll want to be sure that the projects you put together for the Christmas season can last. Imagine being able to reuse your Christmas decorations next year! The time you can save with reinforced projects is amazing, and your holiday decorations and gifts will look more polished than ever when you apply some Mod Podge as a finishing touch.

From jewelry to serving trays, Mod Podge has become a staple of crafters everywhere due to its durability and all-purpose abilities. If you're looking for Mod Podge projects that will be useful, pretty, and loads of fun to make and utilize, 12 Fun & Fabulous Mod Podge Projects- Jewelry, Gifts & Decorations for the Holidays is exactly what you need.
12 Fun & Fabulous Mod Podge Projects-
Jewelry, Gifts & Decorations for the Holidays free eBook
Table of Contents
Note from the Editors
Dear Reader,
Whether you are a beginning decoupager or have been making Mod Podge projects for years, it's always great to have some new ideas and inspiration. One of the best things about Mod Podge is that it can be used on a wide variety of surfaces, from wood to tin to paper to glass. Decoupage is such an inexpensive way to "get your craft on," and you are almost guaranteed great results because the process is so simple! We hope this e-book will get your crafting juices flowing with a number of new projects in several categories like budget crafting, gifts and holiday ideas.
For more Mod Podge ideas from Plaid, visit Plaid Online. Also, check out the site Mod Podge Rocks iand discover trendy mod Podge ideas and input from a community. Have a great time decoupaging!
We would like to thank FaveCrafts for helping to create this eBook.

What's in this Free eBook: Mod Podge Ideas



Lots of Dots Treat Jar (p. 11) - This Lots of Dots Treat Jar celebrates the colors of the season – and if you like a little more bling, you can dress it up with added embellishments. So often, chaos can rapidly take over Christmas crafting. Holiday crafts frequently get passed around, thrown from one side of the room to other, knocked over, and sometimes suffer a spill or two. Use Mod Podge to provide a clean finish - it gives your Mod Podge projects the ability to better withstand these holiday hazards. Plus, your Mod Podge projects will have a better chance of lasting through the winter and into the coming years.
Butterfly Inspiration Charm Bracelet (p. 17) - Making jewelry like this Butterfly Inspiration Charm Bracelet is a fun and rewarding way to craft DIY Christmas gifts for the special people in your life. But in the middle of gift wrapping, hiding the presents, and putting the gifts in the mail, it's easy for something as delicate as jewelry to suffer an accident or two. That's why you need these Mod Podge projects. Using a decoupage medium for your DIY jewelry projects, DIY Christmas gifts and accessories will give your jewelry pieces the durability they need to make it through the gift-giving season.


Need Help Downloading?

You can easily download and print out each book for on-hand reference while crafting. For help downloading our eBooks, check out the FAQ here: How to Download our eBooks.
Don't Miss Our Other Free eBooks!
Be sure to check out our entire collection of eBooks. You'll find titles such as:

Sign Up for Our Free Newsletter
With your free copy of 12 Fun & Fabulous Mod Podge Projects- Jewelry, Gifts & Decorations for the Holidays, you can also subscribe to our Quick and Crafty newsletter to become part of the FaveCrafts community. In subscribing to the newsletter, you will receive:
Daily emails with free crafting patterns, tips, collection pages, videos and more + a weekly wrap-up.
Chances to win books and products from our weekly giveaways and contests.
New FREE patterns and eBooks made available to you throughout the year.
Access to our free pattern library full of over 1,000 of free crafting patterns.
The opportunity to share ideas and help others in the crafting community.

If you want go bolder and bigger for some of your gifts, there are even more projects in 12 Fun & Fabulous Mod Podge Projects- Jewelry, Gifts & Decorations for the Holidays that make wonderful presents for family and friends young and old. It might be hard to imagine how something like Mod Podge could come in handy for larger and bulkier gifts, but since the sealant has so many uses, it can be applied to surfaces from wood to paper with ease. There are some Christmas crafts and projects that can't be made to last longer than a few holiday seasons when they're made with standard glue and tape. We've all seen how short-lived paper chains and snowflakes are when the household is full holiday swing.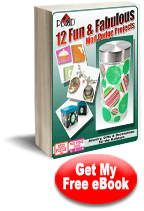 Your Recently Viewed Projects