"Quick and Easy Decoupage" eBook from Plaid
Free Mod Podge Tips and Decoupage Instructions from Plaid and Favecrafts.com: Quick and Easy Decoupage eBook
Want to transform your home decor items instead of tossing them to the trash? Or maybe you want to personalize your items? Our fabulous new eBook from Plaid, "Quick & Easy Decoupage: 12 Fabulous Mod Podge Projects for your Home" is filled with Mod Podge tips, in addition to 5 photo-rich pages on how to use Mod Podge. These decoupage instructions will ensure you great results the first time. With home decor as its focus, the 12-project "Quick & Easy Decoupage" eBook shows you how to decorate everything from a clock to a mailbox with paper, fabric, and more. You can take someone else's cast-offs and turn them into one-of-a-kind decorator items faster than you can imagine.
This 25-page eBook contains all types of projects with Mod Podge, such as bookshelves and canisters for the home, clocks and art for the walls, and even some fun celebration items, including a fun Halloween placecard holder.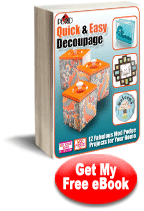 Download Quick and Easy Decoupage + Mod Podge Ideas free eBook for FREE now.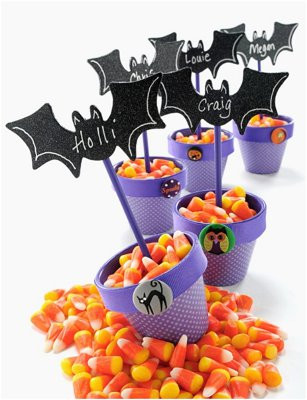 Perhaps the most popular and decoupage techniques are for seasonal crafts. With some a few materials and a little bit of Mod Podge, instructions, and some patience, you can create one of a kind holiday decorations that are unique, colorful, and fun! This first section of our free eBook contains unique and colorful ideas, so you're sure to find something to suit anyone's taste. And don't forget, you can always modify projects to suit your taste! That's the great thing about decoupage crafts…once you've mastered the techniques, you can easily create projects that are unlike anything you've ever seen.

If you've ever wondered how to create decoupage decorations, or you're nervous about decoupaging for the first time, have no fear! With the help of Quick and Easy Decoupage, you can chose from one of several tutorials and styles to create your own holiday decoration. Each tutorial comes with a full list of materials, detailed instructions, and photos of the completed project, so there's no question as to what your project will look like.
Use a combination of Mod Podge and FolkArt Extreme Glitter to create Halloween place card holders that are spook-tacular for your Halloween party.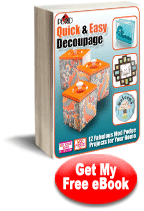 Download Quick and Easy Decoupage + Mod Podge Ideas free eBook for FREE now.
Don't Miss Our Other eBooks!
Be sure to check out our entire collection of eBooks. You'll find titles such as: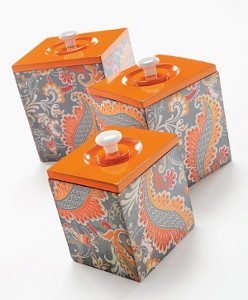 In this section of the eBook, we have gathered some of our best decoupage home décor patterns to help you add color and style into any room in your house. These decoupage instructions are easy to follow and customize, so you can create colorful projects that help accent and highlight your favorite décor. This Decoupaged Canister Set is a vibrant example of all the fun tutorials you'll find in Quick and Easy Decoupage. One or two of these cool decoupage designs would instantly bring an indoor or outdoor seating arrangement to life.

When most people think of decoupage, I'm sure memories of summer camp and crafting with your friends come to mind, but with the tutorials in Quick and Easy Decoupage, you can make patterns and projects that look sophisticated and elegant. With the right techniques and by following these easy decoupage instructions found in Quick and Easy Decoupage, you will be well on your way to creating all kinds of beautiful projects that you'll be proud to call your own.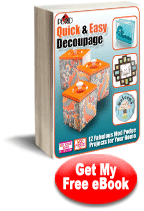 Download Quick and Easy Decoupage + Mod Podge Ideas free eBook for FREE now.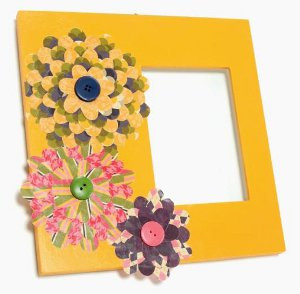 As you browse through your free copy of Quick and Easy Decoupage, you may be surprised to learn that there are several different ways, styles, and techniques for decoupaging. In the Deck Your Walls section of this eBook, you'll learn how to create unique decorations and art for all your rooms in the house. From hearts to stripes to this fun Layered Flower Blossom Frame, achieving a pretty decoupage look is much easier than you think!

Decoupage started in the early 17th century with the layering of papers. The flowers on this frame pay homage to the foundations of decoupage while offering a modern approach.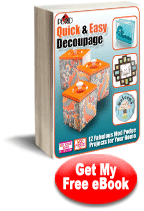 Download Quick and Easy Decoupage + Mod Podge Ideas free eBook for FREE now.
Sign Up for Our Free eNewsletter
With your free copy of Quick and Easy Decoupage eBook, you can also subscribe to our Quick and Crafty newsletter to become part of a helpful and friendly crafting community. In subscribing to the newsletter you will receive:
Six weekly emails with free craft projects, tips, collection pages, videos and more
Chances to win craft books and products from our weekly giveaways and contests
New FREE patterns made available to you throughout the year
Access to our free project library full of over 7,000 more free craft projects
The opportunity to share ideas and help others in the crafting community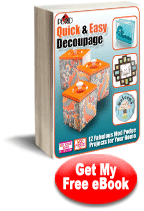 Download Quick and Easy Decoupage + Mod Podge Ideas free eBook for FREE now.
All of these great decoupage techniques and tutorials can be yours, absolutely free, from classic decoration designs to the artistic look of decoupaged wall art. All you have to do is click to download the eBook, and you can save it to your computer, print it out, or just bookmark the page and return as often as you like! You can make hundreds of decoupaged pieces using the patterns and techniques inside this eBook. Refresh your house or make handmade gifts for friends, family members, and loved ones.

And don't forget about decoupage parties! Gather up your friends and family for a night of decoupage fun! Have everyone bring old materials and have fun learning and experimenting with different techniques. And when you download Quick and Easy Decoupage today, you'll have a whole bunch of fun and easy tutorials all in one place…so your party goers can easily pick and chose what they would like to create. Best of all, decoupage is a great activity to help get kids involved in crafting. So gather up the whole family and call over the neighbors and have fun decoupaging and redecorating with all the colorful and vibrant tutorials you'll get in your free copy of Quick and Easy Decoupage!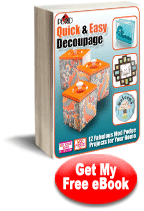 Download Quick and Easy Decoupage + Mod Podge Ideas free eBook for FREE now.
Your Recently Viewed Projects