100+ One Skein Crochet Projects
Discover all the patterns that you can crochet with only one skein of yarn!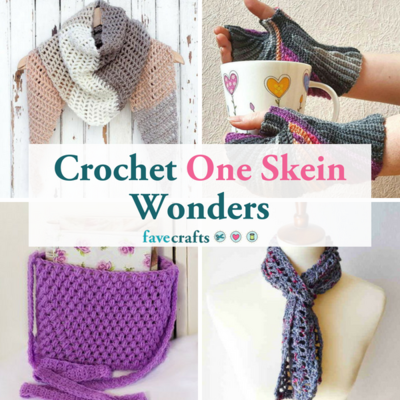 Are your skeins of yarn taking up too much space in your craft room? Or do you need to craft a last-minute gift like a crochet scarf? Well, don't worry because these 25 Crochet One Skein Wonders will do the trick!

If you're a busy person who loves to crochet, it can be difficult to sit down and spend your evening crocheting. When your schedule is packed, any relaxation time is limited, and you don't have the time to start on a new crochet pattern. After all, crochet patterns can be time consuming and a huge commitment to your already-busy schedule. 

So, if you need a crochet fix, then these one skein crochet patterns are perfect for you. One skein crochet wonders are the latest trend because you can create beautiful projects using only one skein of yarn. Yes, you read that right -- just one! These one skein projects consist of lovely patterns that our on-the-run crocheters will love. From cowls to hats to accessories, you'll find all types of crochet one skein projects that will satisfy your crochet needs. Now, you don't have any excuse for not using those leftover yarn skeins! So if you crochet, have one skein of yarn, and are wondering what to make, browse the patterns below!
Table of Contents
What will you crochet with your leftover skeins of yarn? 
Let us know in the comments below!
Your Recently Viewed Projects