Mod Podge vs. Decoupage: What's The Difference?
We've gotten to the bottom of the Mod Podge and decoupage crafts debate!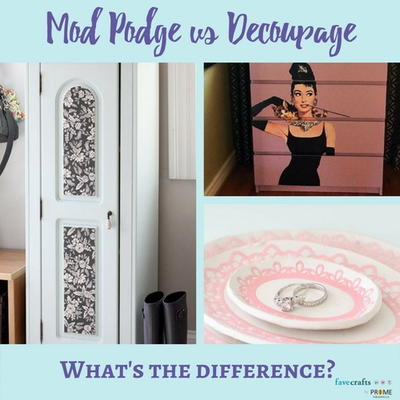 When it comes to the world of crafting, there are many different words we use to refer to all of our amazing projects. On any given day, you may see crafters showcase some of the beautiful works they made with Mod Podge crafts, while other crafters may display a similar project made with what they refer to as decoupage crafts. If you've ever wondered if you were going crazy because both of those crafts look almost like they use an identical method, you're not alone.

In Mod Podge vs. Decoupage: What's The Difference?, we've set out to define these two terms and tell you exactly how each type of crafting differs. In the explanations below, we hope to present you with clear-cut knowledge that will help you more easily navigate the wonderful world of crafting. Are Mod Podge crafts and decoupage crafts one and the same? Wonder no more. The answers you seek are explained below. 
Table of Contents
What Are Mod Podge Crafts?
When someone says that they are making Mod Podge crafts, they could mean a whole host of different projects that fall under the umbrella name of Mod Podge. The reason behind this is because Mod Podge is a type of glue, not a crafting technique. In that vein, there are many different varieties of Mod Podge readily available to cater to a whole host of needs. Mod Podge can be used for decoupage projects (it's famously touted as one of the best decoupage glues), but it can also be used as an adhesive and protective sealer for all sorts of crafts, including fabrics, wood, tile, clay, and more! Some crafters keep a bottle of Mod Podge on hand solely for the purpose of sealing and preserving their favorite puzzles. 

The next time a crafter tells you that they are making Mod Podge crafts, feel free to ask them to clarify what they mean! Furthermore, if you're looking to see great examples of what kinds of amazing projects your fellow crafters are making with Mod Podge, check out these amazing projects below! 
What Are Decoupage Crafts?
Decoupage crafts are a very specific form of crafting that dates back centuries! In its broadest meaning, the art of decoupage is essentially the art of decorating an object with cut outs. These cut outs most commonly involve paper, but they could include a whole host of objects used in upcycling or adding flair to objects. When someone has made a decoupage craft then, that person has taken an object and used a special type of glue (Mod Podge) to adorn it with decorations. As mentioned, paper is the most common material used in decoupage, as it can be sealed with decoupage glue to make it look as if it was originally part of the object it is adorning. To this end, there are a plethora of different decoupage glues available that offer a wide variety of finishes and textures. Mod Podge is one of many available decoupage glues, each with a different consistency and finish. 

When a fellow crafter tells you that they are making decoupage crafts, feel free to ask them what dazzling spectacle they're looking to make! When it comes to decoupage, the sky is the limit! You can transform any ordinary object into an absolutely gorgeous work of art. Don't believe us? Check out these amazing decoupage crafts below. 
Your Recently Viewed Projects
Join our community of 5 million crafters!
Get free craft projects, exclusive partner offers, and more.
Thank You for Signing Up!
There was an issue signing you up. Please check your email address, and try again.