Yarn That Doesn't Itch
What is the softest kind of yarn?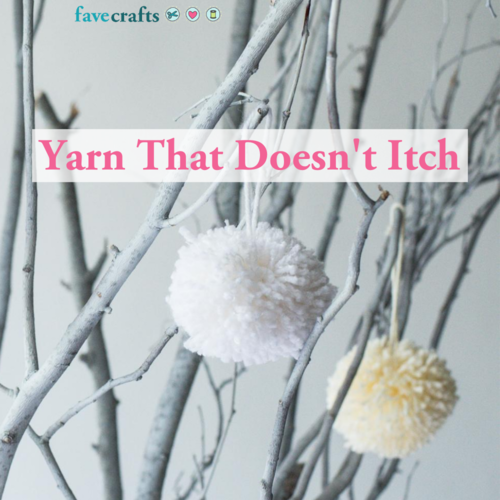 We've curated a list of yarn that doesn't itch! Browse wool, acrylic, and natural fiber options to create the softest knit and crocheted projects.

Yarn for sensitive skin isn't as difficult to come by as you might think! If you're working up scarves, mittens, or other projects that come in direct contact with skin, these sensitive options are an absolute must. After all, you never know if the recipient of one of your beautiful handmade items has a wool allergy!

Here is a quick breakdown of our favorite yarns that don't itch:
Plant-Based Yarns like Cotton, Bamboo, and Linen
Acrylic Yarn
Baby Yarn
Certain Wool Yarns and Other Animal Fiber Blends
Read more below to see why these are our favorites and even some recommended brands that knitters and crocheters love.
Don't agree with one of our suggestions? Please let us know in the comments! Our goal is to create a list of yarns that do not irritate anyone's sensitive skin, but we understand that many factors can influence whether a person has a sensitive reaction to a particular brand or blend.
Plant-Based Yarns
Cotton, bamboo, and linen are great options for yarn that likely won't itch. Why? Many people have allergic reactions to animal-based fibers no matter how soft, and you'll see below that some acrylic yarns can itch depending on the way they're spun.

Plant-based yarns however are not only eco-friendly, but they tend not to create an allergic reaction. Browse some favorite yarns recommended by fiber artists below.

Cotton Yarns
Cascade Pima Cotton
Paintbox Yarns Cotton by LoveCrafts
Bamboo Yarns
Sirdar Snuggly Baby Bamboo
Purl Soho's Burnish Yarn
Linen Yarns
Lindy Chain by Knit Picks
CotLin by Knit Picks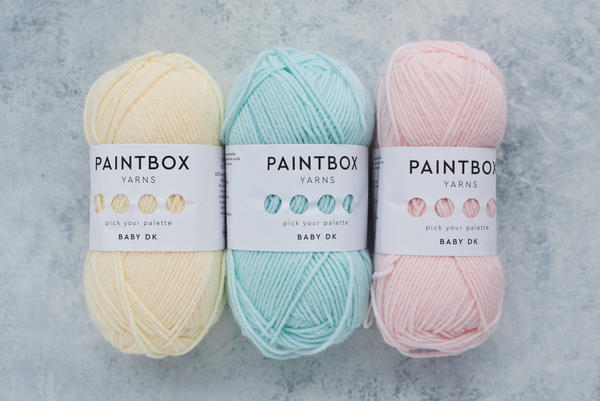 Soft Acrylic Yarns
Whether or not you have a reaction to acrylic yarns will depend more on the way it's spun than the material it's made from. Some acrylic yarns just feel rougher on the skin, and others feel softer! Since acrylic is an artificial material, it's great for people who have allergies or sensitivities to animal fibers. Below are some of the brands other knitters and crocheters recommend for soft, non-irritating acrylic yarns.

Soft Acrylic Yarns
Bernat Satin
Caron Simply Soft
Vanna's Choice by Lion Brand
Red Heart Soft
Bernat Softee Chunky
Bernat Softee Baby
Wool Yarn That Doesn't Itch
Does such a thing exist? Some knitters and crocheters swear that any wool yarn itches no matter what. If you have a wool allergy, or specifically a lanolin allergy, this may be true for you.

However, some of the softest yarns on the market these days are wool yarns and wool blends. Superwash wool is a tried-and-true favorite of so many fiber artists because it is deliciously soft, a natural fiber, and you can wash it!

Last, consider baby alpaca yarns. These are wool-blends mixed with silk, bamboo, cotton, and other natural fibers. Note that if you have VERY sensitive skin, these blends might also bother you.

Here are other types of soft wool yarns that come highly recommended by yarn hobbyests, as well as specific recommended brands:

100% Merino Wool Yarns
Malabrigo Rio
Madelinetosh Vintage
Wool-Acrylic Blends
Patons Shetland Chunky Tweed
Bernat Roving
Lion Brand Scarfie
Baby Alpaca Wool Yarn Blends
Malabrigo Silkpaca
Novena by Lang
Wonderfluff from Knit Picks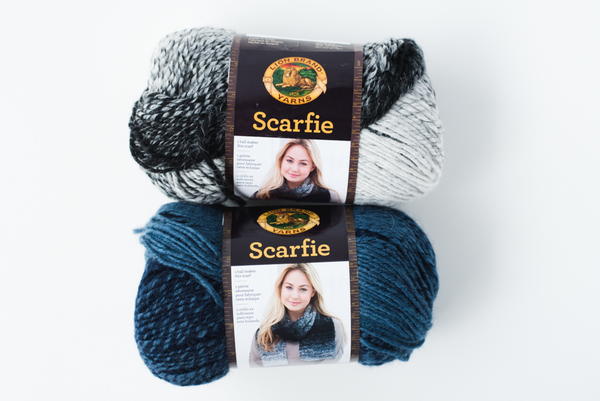 Other Natural Fiber Yarns that Do Not Itch
One major disclaimer here: some people have a reaction to animal fibers no matter what. Their skin is just too sensitive, or they may have an allergy! If lanolin is the issue, these yarns may be a saving grace for you because lanolin is not present in animal fibers other than wool. Here are a few of our favorite animal fiber yarns:
Silk
Mohair
Cashmere
Angora
Mink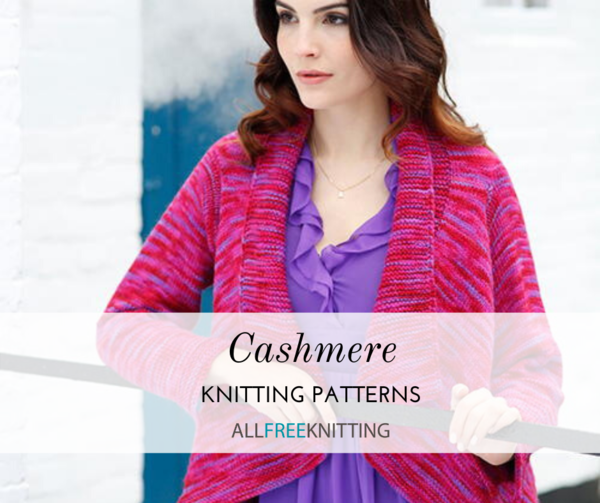 Baby Yarn!
One of my colleagues swears by baby lotion because it is the only moisturizer that does not irritate her sensitive skin. Similarly, baby yarn is engineered for the most sensitive skin of all: baby skin!

If you are truly looking for yarn that won't irritate, venturing into the baby yarn aisle may be your best bet. These yarns are chemical free and deliciously soft.

The drawback? Your color palette might be limited, but not in the way you think. There are so many bright, beautiful colors to choose from when making baby projects! However, you actually might have trouble finding more subdued neutrals if you're using baby yarn to work up a simple accessory to go with any outfit.

Here are our favorite recommended baby yarns:
Red Heart Baby Hugs
Sirdar Snuggly Baby Bamboo
Bernat Softee Baby
Bernat Baby Blanket Yarn
Lion Brand Yarn Feels Like Butta Yarn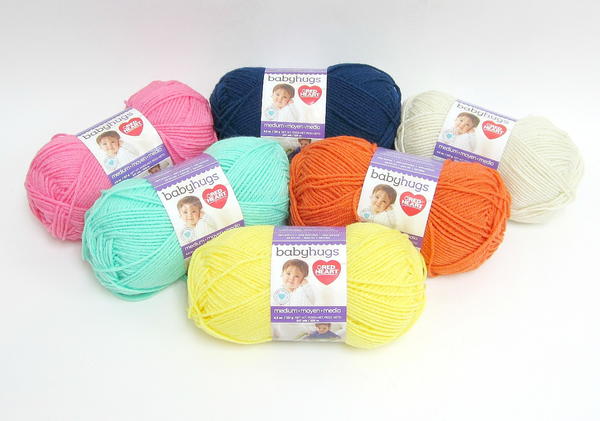 Yarns to Avoid
If you have sensitive skin, the following yarns have been known to irritate:
Red Heart Super Saver
Wool-Ease Thick & Quick
Plarn
Of course, the above yarns are so wonderful and popular for other reasons, such as they're inexpensive, deliciously warm, or come in really beautiful colorways. I personally have made a ton of projects using Wool-Ease Thick & Quick! But if soft yarn for sensitive skin is your goal, you may want to select a yarn mentioned earlier in this article. 
Maybe you've already finished a beautiful project or two using this yarn. Washing the project may be the simple answer to your itchy problem, so give that a try before giving up on one of these yarns.
By the way, plarn is particularly good for making projects 
designed
 to be abrasive, such as scrubbies. Check out the 
Knit Round Scrubbie Pattern from Plarn
below.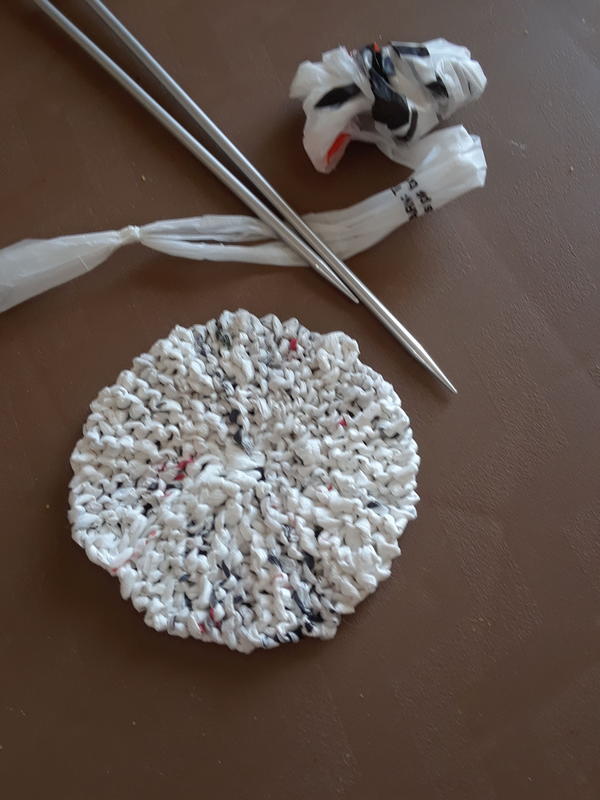 Final Thoughts
One great way to help you decide if a yarn is soft enough and hopefully not itchy is through feeling out the yarns yourself.

What do I mean? Head to your local craft store and feel the different yarns.

See if they TRULY don't itch by conducting the "neck test": rub the yarn against your neck to see if it's itchy. You can also test by rubbing the yarn against the inside of your wrist (another sensitive area).

Once you find a yarn the doesn't irritate your skin, check out what it's made of and take note so you'll have a nice variety of new yarns to try. 
Your Recently Viewed Projects
Join our community of 5 million crafters!
Get free craft projects, exclusive partner offers, and more.
Thank You for Signing Up!
There was an issue signing you up. Please check your email address, and try again.