Glue Gun Not Dispensing Glue? Here's What to Do
Why your glue gun isn't working- and how to fix it!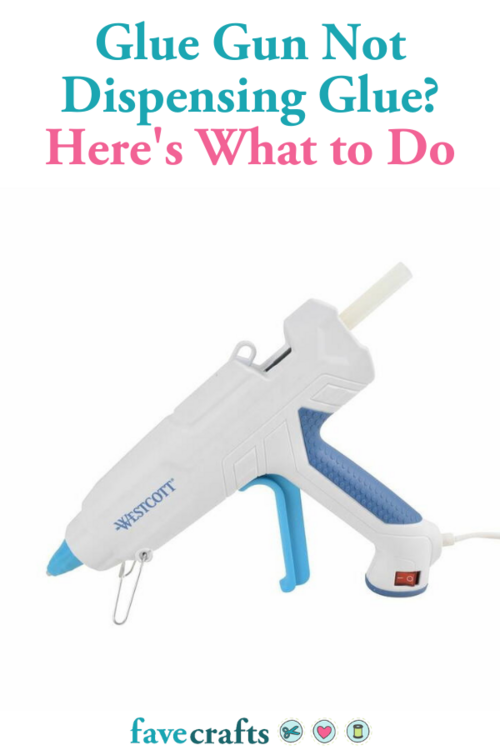 Is your glue gun not dispensing glue? Stuck in a sticky (or not so sticky) situation in the midst of your crafting? Not to fear, FaveCrafts is here! Usually when your glue gun is having problems dispensing glue, it could be due to a clogged nozzle, jammed glue sticks, or a temperature malfunction. Despite being a fairly small appliance, there are a multitude of inner parts that function synchronously so that the glue gun successfully melts the glue sticks and dispenses hot glue with the perfect consistency and temperature. However, in order to figure out the issue, you must troubleshoot and then fix accordingly. Most scenarios require a simple fix that can be done with items or tools found around your home. Below you will find solutions that are organized by the potential cause of the problem. Whether you are working on home improvements, perfecting your latest arts and crafts, or fixing the final touches on a project, stick with us!
Potential Cause #1: Clogged Nozzle
A clogged nozzle is very common due to excessive use of your glue gun. (Too much crafting can sometimes get the best of us!) However, there is a simple solution. 

1. Preheat the glue gun. This helps to prevent any potential leakage issues and avoids damaging the nozzle threads.
2. Once the glue gun is warm, remove the old nozzle. This can be done by unscrewing the old nozzle with a nozzle wrench or a pair of pliers. It is recommended that you wear safety gloves during this step in order to prevent any burns to your hands!
3. Screw in the new nozzle. New glue gun nozzles can be purchased at your local craft store, Wal-Mart, or online.

In addition to these steps, you can also try to minimally increase the pressure of the glue gun. However, GlueGun.com warns that you should not increase the pressure of your glue gun above 80 psi (pound per square inch) for safety reasons.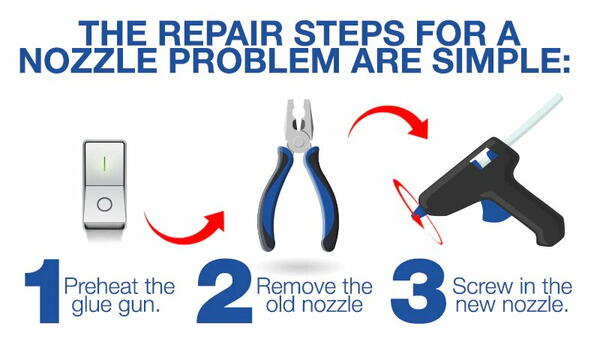 Potential Cause #2: Jammed Glue Sticks
With glue sticks of different sizes and different crafts requiring different amounts of glue, a jammed glue stick is bound to happen. Fortunately, there are techniques to fix this problem.

1. Grab an additional glue stick to push the first glue stick through the tip. This may be self-explanatory, but it is one of the most popular methods and is quite effective.
2. There may be glue buildup, which you can try to remove by heating up the glue gun, unplugging, and then removing the nozzle and using a small item to remove the buildup.
3. Ensure that the size of the glue stick is appropriate for your glue gun. Again, self-explanatory, but this moment of consideration will likely help you mitigate future glue stick jamming. Additionally, the glue stick must adhere to the temperature cababilities of the glue gun. For example, a high temperature glue stick will not melt as efficiently if you have a low temperature glue gun.

Pro tip: put your glue sticks in the freezer prior to use in order to decrease glue strings and to keep your glue gun as clean as possible!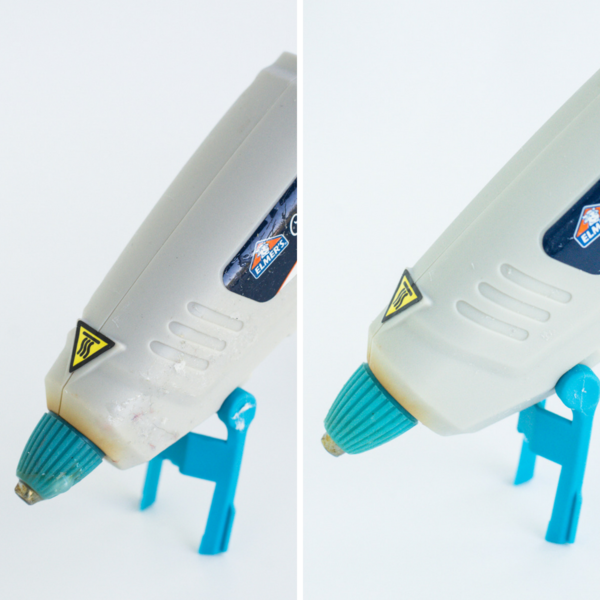 Before you heat up that glue gun, check out these hot glue gun tips and tricks. They will not only help you maximize the benefit of your glue gun but also stay safe while working with such a hot substance.Hot Glue Gun Tips
Potential Cause #3: Temperature Malfunction
The heating element is an essential component of the glue gun that melts the glue sticks in order to dispense hot glue. If you are worried about the state of your glue gun's heating element, or you are wary of future glue gun malfunctions, you can check out the inner workings of the glue gun through proper disassembly. Taking these steps can also prevent you from having to purchase a replacement glue gun in the future!

1. Turn the glue gun off.
2. Unscrew the glue gun. This may require a special tool other than a screwdriver depending on the make and model of your glue gun.
3. Use alcohol to remove the plastic seals. This helps loosen the built-up glue residue that has developed from years of crafting.
4. Remove the trigger of the glue gun.
5. Add power to the heating element carefully to melt the built-up glue residue.
6. Once this is done, you can cautiously remove parts, check the heating element, and ensure that your glue gun is functioning properly.

Oftentimes if the heating element is damaged, it is time to purchase a new glue gun. However, with proper care, you can maintain the same glue gun to last you through years of crafting and home improvements!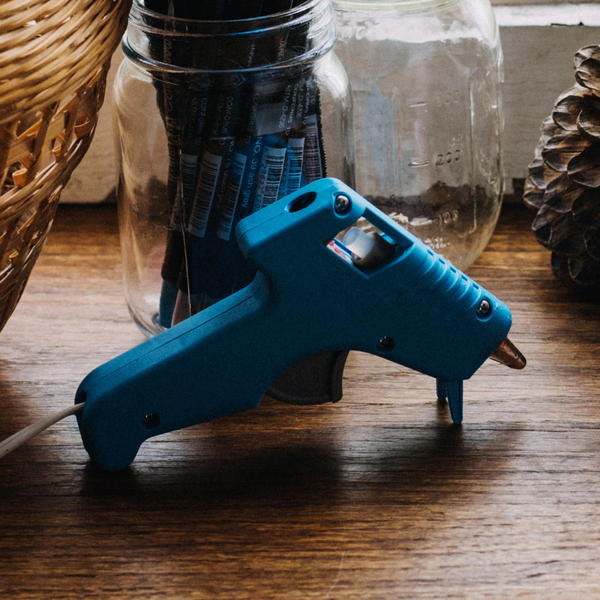 Your Recently Viewed Projects
Join our community of 5 million crafters!
Get free craft projects, exclusive partner offers, and more.
Thank You for Signing Up!
There was an issue signing you up. Please check your email address, and try again.