The Butterfly Haven from Shaunte Wadley for Consumer Crafts is a great spring and summer craft inspired by simple household items. The result is a beautiful, impressive, inexpensive project that adds a special spark to any room. You're going to love the sophisticated look.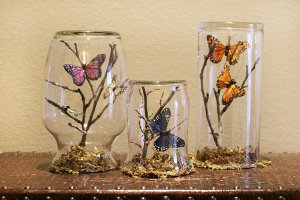 Materials:
2.5″ Butterflies in Various Colors (as desired)
Green Moss
Hot Glue Gun and Glue Sticks
Wire Cutters
Twigs
Chipboard – from a spiral notebook, cereal box or anything else you could recycle from
Glass Jar(s) that you have on hand
Instructions:

I sent my kids outside to gather twigs for my project. They brought in giant branches! I guess I wasn't very specific. (But I had a lot to choose from!)



You will want to choose sections of twigs that have a lot of "character." V's, and knobs and tiny branches for the butterflies to "sit" on. While they were scavenging outside, I was scavenging inside, gathering my jars. You can use any jar that has a wide-mouth opening. You can use canning jars, those clear vases you get with flower arrangements, or old candle jars. I was surprised how many perfectly-sized jars I found in my pantry. Spaghetti sauce, salsa, and jams were a great size.



After you select your jars, remove any labels and wash them thoroughly (Goo Gone is wonderful for removing the sticky residue from labels and stickers.)



Using jars of different sizes and shapes makes your display more interesting.Let's prep those twigs! Trim down the twigs to fit inside the jar. Use wire cutters to give the twigs a nice, clean edge.





Then, select the butterflies you would like to use, and arrange them onto your twig as desired. Glue them to the twig using hot glue. Make sure they are really secure, as you will not be able to make changes once they are inserted into the jar. Insert your butterfly twig into the jar. Do not glue the twig, it should stay fine.



Now, take your jar, flip it upside down, and trace the bottom lip of the jar onto a piece of chipboard. I used the back of a spiral-bound notebook. You need the chipboard to be sturdy. A cereal box would also work well. Whatever you would like to recycle.



Cut out the traced circle.



Adhere green moss to the circle using hot glue. Apply the glue generously, and mush the moss into the glue. (Mush is a very sophisticated crafting term.)



Don't worry if the moss hangs over the edge of the circle.Then take your hot glue gun, and run a generous line of glue around the rim of your jar.



You will need to work quickly here While the glue on the rim is still hot, press your inverted moss circle onto the rim. Press and hold until the glue dries.



Some of the moss is going to fall down into the interior of the butterfly jar. That is okay. It will settle back down to the bottom when you turn it upright.



That's it!


Your Recently Viewed Projects