40 Ways to Design a Tee Shirt + Tee Shirt Crafts
Create your own unique clothing and fashion style with these 28 Ways to Design a Tee Shirt. We've also included some clever ways to reuse shirts you have already with a little bonus selection of 7 Tee Shirt Crafts. Get a jump start on Spring Cleaning with these easy and fun projects that will create space in your wardrobe and give you new wearables all at the same time!
There's something for everyone in this awesome collection of tee shirt crafts. Applique, tie dye, painting, iron on's, upcycles, and stenciled tees are all included here, so no matter what your medium, you'll find projects that you can do with ease...and maybe find a few to challenge and inspire you to try something new!
For those who have tee shirts that are beyond upcycling, we've also included a few projects to help you transform old tees into new wearables, like bracelets, scarves, and headbands.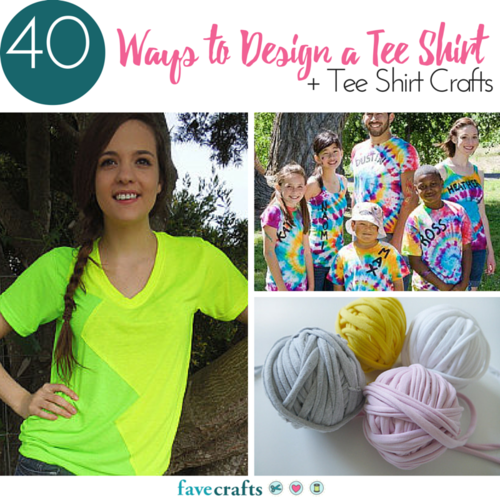 40 Ways to Design a Tee Shirt + Tee Shirt Crafts
Table of Contents
Applique and Embellished Tee Shirts
Add a little something extra to a well loved tee shirt with these Applique and Embellished Tee Shirt ideas. From colorful rhinestones to simple fabric embellishments, these projects can help you transform a solid colored tee shirt into something fashionable and trendy. Create a personalized look for sporting games, family gatherings, or for supporting local bands, schools, and troups by adding names to the tee shirts with rhinestones or applique lettering. These are also great crafts for kids to do in after shool programs, summer camps, or just something fun for a rainy day spent indoors.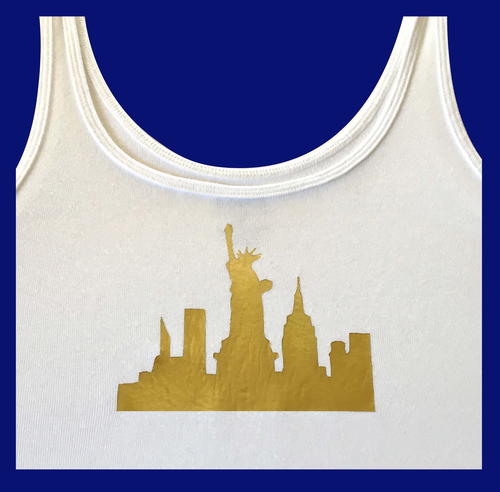 Tie Dye Tee Shirt Projects
What kid doesn't love tie dye projects? With these easy and fun Tie Dye Tee Shirt Projects, you'll be able to transform a plain white shirt into something colorful and fun! This is a great project for the whole family to do together, and with all the tie dye techniques out there to try and experiment with, you're sure to create one unique look after another. These tie dye shirt patterns are easy to do and customize, so you can create a look you'll love. Mix and match colors to make something colorful, or stick with like colors to create a fun ombre effect. You can even use one color to make a striped tee that is great for days spent lounging around the house.
---


Find even more tie dye patterns and crafts in our extensive collection of 100+ Tie Dye Techniques and Patterns.
---
Painting Tee Shirts
Creative minds can easily add color and style to their tee shirts with these Painted Tee Shirt projects and techniques. From simple stamping to elegant designs, these painted tee shirts are sure to have people talking. Adding a little painted flourish to your favorite tee shirts is a fun and creative way to give them a new look. You can even turn a thrift store find into something that looks like it came from a designer shop. With some basic painting techniques and a little creativity, you can create a whole new wardrobe on a budget!
Iron On Shirts
Perhaps the most common way to tranform your tees is to embellish them with iron ons. Iron on's can be purchased at the store or you can make your own with a few simple materials. These Iron On Shirts are fun and quick projects that anyone can do. Since they take such a short amount of time to make and there's no drying time like painted tee shirts, using iron on's is great for those who need a quick tee shirt. This tee shirt decoration technique is great for sporting clubs, school spirit days, or just giving your favorite tee a little something extra.
Glitzy Dog Tee (shown)
Upcycled Tee Shirts
Sometimes a favorite tee shirt is just too worn to wear...or sometimes it no longer fits or is damaged beyond repair. If that's the case, upcycle it to create something fresh and new! These Upcycled Tee Shirts are made from other recycled shirts, so you can clear out your unwearables and create something new all at the same time. Cut up old shirts and use them to make floral embellishments, layered tees, and much more. So don't fret over the thought of tossing your beloved tees, simply rework them into a new design to create a shirt that's sure to become a quick new favorite.
Stenciled Tees
For those of us who aren't as talented with freeform painting, there's always the good old fashioned stencil. These Stenciled Tees are made using handmade stencils, so you can customize your shirt to look however you'd like. Stenciled tees are also great for kids, since they can easily "color in the lines" of the stencil with markers or paint. You can even create a subtle look on tee shirts by doing a simple stencil around the collar or sleeves. Add a little border to the bottom of your tee to add a little color contrast. Stencils can also be used to write names, sayings, quotes, and numbers on the back or front of the tees for easy to make sporting jerseys, school uniforms, family reunion tee shirts, and so much more.
---

---
Tee Shirt Crafts
Unfortunately, there are times when a tee shirt is just beyond repair...for those cases, you can reuse them to create something totally different! These tee shirt crafts are all made with cut up tee shirts. As you'll see with these projects, it's easy to take a once well loved garment and transform it into a new accessory that you can wear and show off. You can even reuse old tee shirts to make home decor, wall art, pillows, and so much more. Let these ideas and projects inspire you as you sort through your pile of old clothes and tee's.
Your Recently Viewed Projects
Join our community of 5 million crafters!
Get free craft projects, exclusive partner offers, and more.
Thank You for Signing Up!
There was an issue signing you up. Please check your email address, and try again.