39+ Tin Can Crafts
Round up all of your recycled tin cans to create tin can decorations and more!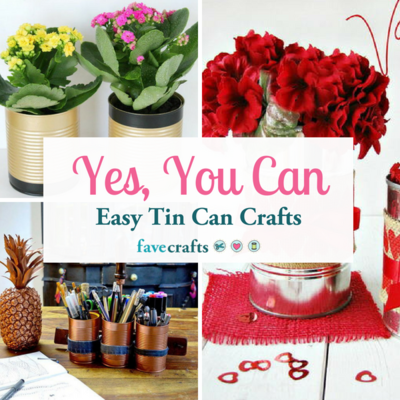 Eating is an art form. At least, the materials you encounter before you eat can be made into art. For example, you can make soda can crafts by bending the cans into animal shapes or hanging them on your wall. An aluminum or tin can also has plenty of practical and decorative uses. You can paint them and use them for organization or you can transform them into gorgeous tin can crafts.

There's no need to spend lots of money on expensive crafting supplies when you can use items that are already at home for your DIY crafts. The next time you heat up a can of beans or chicken soup, don't throw out the can. There are so many possibilities for tin can crafts stored in that small piece of metal!

Did you know that recycling one tin can saves enough energy to keep a TV on for three hours? Holding onto one tin can also gives you plenty of craft project ideas. You could make a container for your crafting supplies or critters for your kids. You could even use these recycled craft ideas to present gifts to your family and friends.

Here are 19 aluminum can projects you can use to recycle what you previously thought was trash.
Table of Contents
What projects have you made recently out of recycled materials?
Let us know in the comments below!
Your Recently Viewed Projects