27 Spoon Crafts: Wooden, Plastic, Metal, and More
Introducing our favorite spoon craft ideas. Have you seen the plastic spoon rose?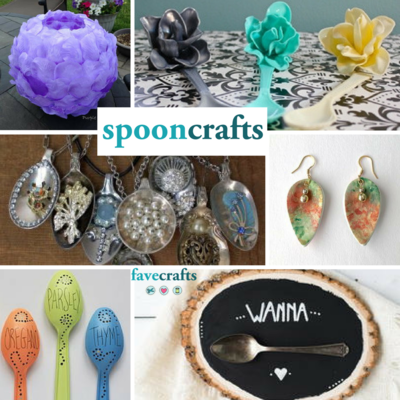 Spoon crafts need to be on your radar. You wouldn't believe what you can make with plastic, metal, and wooden spoons! Create gorgeous wall art, beautiful jewelry, and the most amazing plastic spoon rose. You'll also find crafts that use spoons as an essential supply to making something awesome.

Several of the tutorials below include helpful videos so you can follow along step-by-step. Most of these projects are for adults because they work with heat to warp the spoons into different shapes, but a few of the projects are kid-friendly, too. The crafts with spoons at the very bottom of this list don't feature spoons in the completed project, but spoons are necessary during the crafting process. Whether you want to dress up some drab wooden utensils or you have some vintage spoons to craft with, you'll adore the projects below.

BONUS: Sign up for the FaveCrafts Newsletter
Table of Contents
Talk Back to Us! What's your favorite project to make out of old (or new!) spoons?
Your Recently Viewed Projects