12 DIY Bird Feeders Made from Recycled Materials
Explore our list below to discover plastic bottle feeders, wood projects, peanut butter options, and even a bird feeder made out of a pinecone!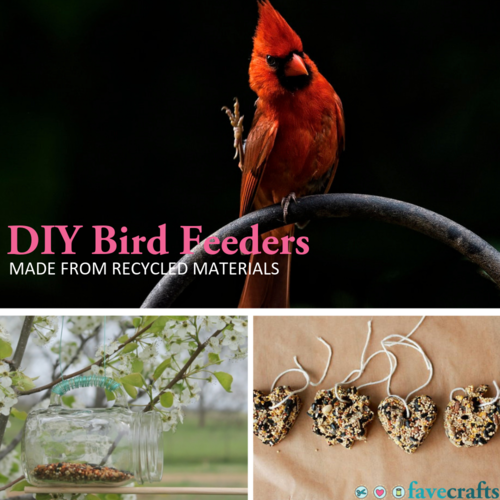 Bird feeders are an excellent way to add some interest to your yard. Not only do these bold and beautiful little projects add style, but they do some good too! No matter where you live, you likely have some chirpers looking for a snack. Whether you're offering a feeder year round or just taking pity on winter birds during blustery wintertime months, we have a homemade bird feeder idea for you!

Unfortunately, bird feeders can be expensive and time-consuming to maintain, especially if you're constantly fighting off squirrels! That is why we thought we would put together this collection of homemade bird feeders that you can create on a budget. All of the DIY bird feeders in our collection are recycled craft ideas, meaning their made out of things you already have at home. There's no need to buy an expensive item. The birds don't mind!

Be sure to scroll down for some tips on where to place your bird feeder and how to help your bird neighbors find it!


SIGN UP FOR OUR NEWSLETTER, TRASH TO TREASURE!
When you sign up, you'll receive brand new recycling craft ideas in your inbox every week.
Sign Up for Trash to Treasure Here!
Homemade Bird Feeders
Explore our extensive list of charming projects and DIY ideas for bird feeders! These recycled ideas are the perfect rainy day craft to create with your kids. Our list includes plastic bottle feeders, wood projects, peanut butter options, and even a bird feeder made out of a pinecone!
Orange Peel DIY Bird Feeders
If you're looking for a super cheap way to make a bird feeder, why not make this completely compostable item? Made out of orange peels this yummy idea is bright enough for birds to see and will add lovely hues to your yard.

Note: We reccomend creating this DIY in the fall or wintertime. Displaying it in the summer may attact bugs.

Get this Project.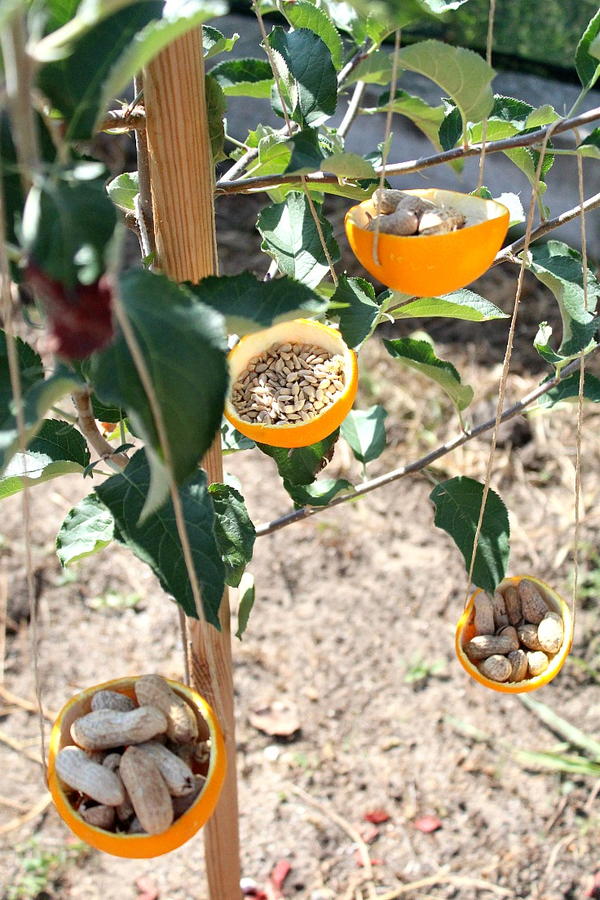 3-Ingredient DIY Bird Feeders
Using just 3 ingredients and some cookie cutters, these festive little bird treats are a quick craft with a big impact. Especially adorable in the wintertime, you could make this decorations as outdoor christmas ornaments for your yard.

Get this Project.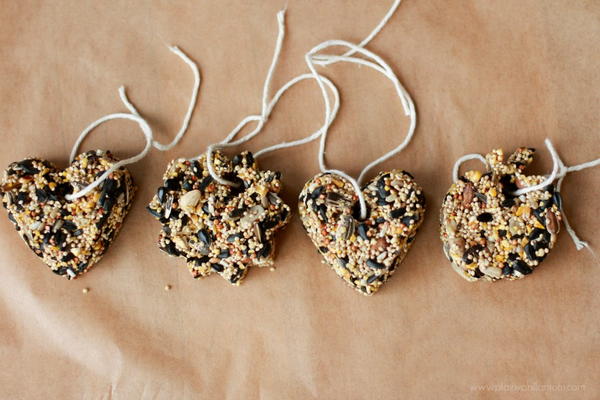 DIY Bird Feeder Wreath
Just because you're making a bird feeder does not mean you can't do it in style! We love this bird feeder wreath because it does double duty! Feed the birds and show off your own personal style. 

Make sure to display this cutie on a door that is not used too often or else the birds might be too spooked to stop by due to the door opening and closing. Consider hanging it on a wall instead.

Get this Project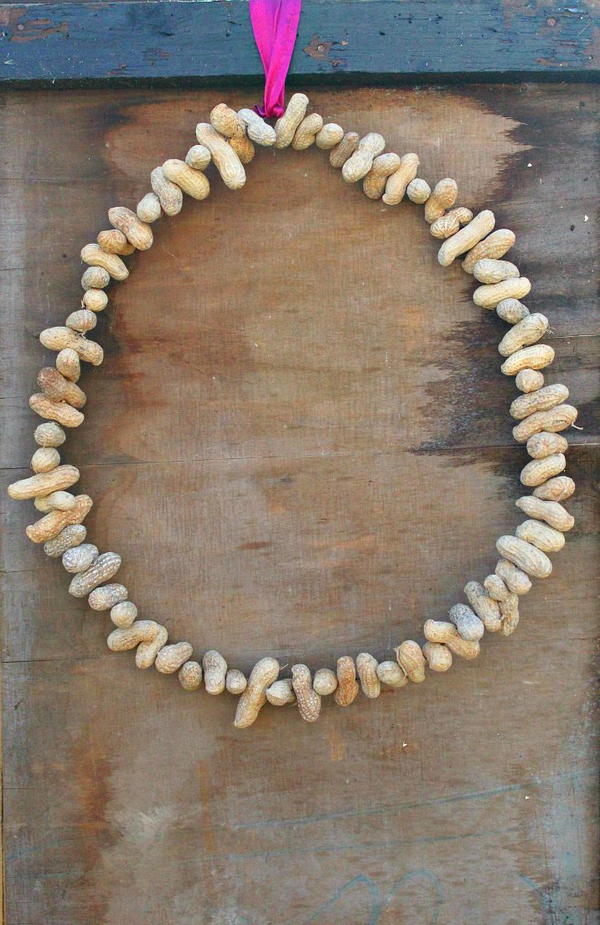 Teacup Bird Feeder
Made out of upcycled materials, this charming little bird feeder is impressive. If you like showing off your style, this is the way to go! Your feathered friends will love joining you for a cuppa.

Get this Project.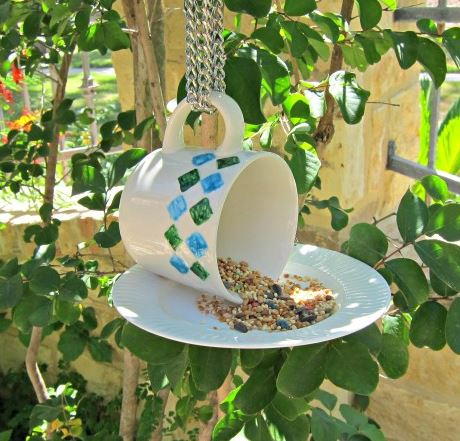 Looking for may ways to show your feathered friends some love? Then check out this adorable idea for a homemade birdbath!

Find it here:Amazing DIY Bird Bath
Chip Tube Bird Feeder
READER SUBMITTED PROJECT Probably the most budget-friendly craft project on this list, this bird feeder is made out of a chip tube! Once you've munched down on a tube of Pringles, make this charming idea. We've got photographic proof cardinals love it (see below).

Get this Project.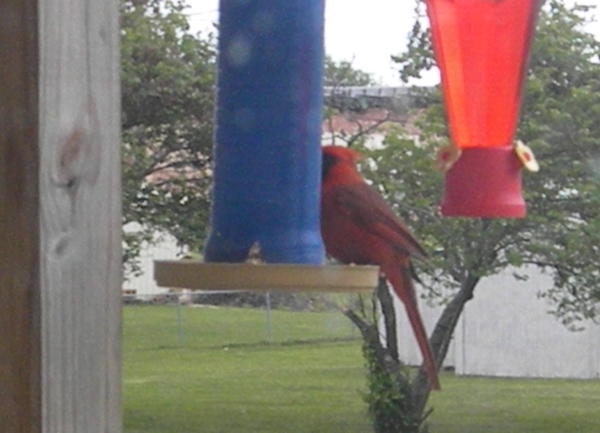 Rope and Can Bird Feeder
The name says it all. This homemade bird feeder is made out of just two things: a rope and a can! If you're looking to be budget friendly, it does not get cheaper than this sweet little idea. This project is perfect for rainy days since it keeps the seeds safe.

Get this Project.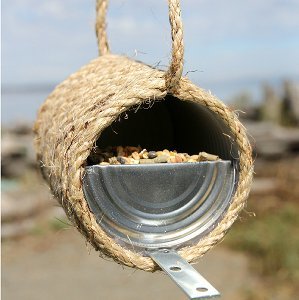 Plastic Bottle Birdfeeder
Home tweet home! This homemade bird feeder is made out of recycled materials, but looks like a million bucks. Fashioned after a bird house, this plastic bottle craft idea is easy to make and easy to personalize for your bird friends.

Get this Project.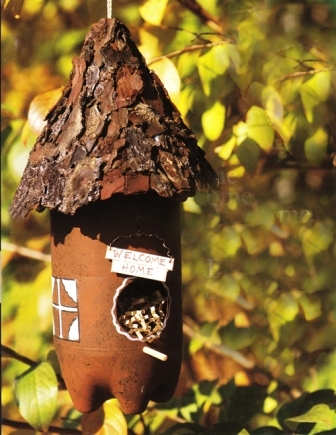 Whimsical Homemade Bird Feeder
Sweet and simple, this bird feeder looks like something you might buy at the store. Made out of a plate and tin copper saucer, this shiny little idea is ideal for those looking for something upscale on a budget. Make sure to follow the directions closely as working with metals can be a little dangerous.

Get this Project.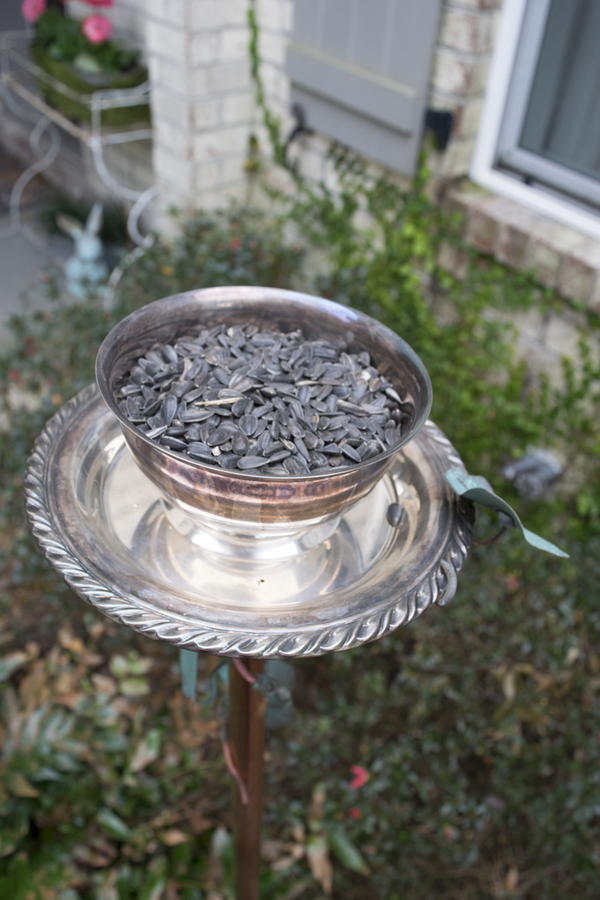 Recycled Plastic Bottle Bird Feeder
This adorable fall craft idea is ideal for migrating birds. Styled to look like a ripe, red apple, this DIY bird feeder is made out of a plastic water bottle. So, next time you enjoy a Coke or Pepsi save the bottle to feeder the birds. 

Get this Project.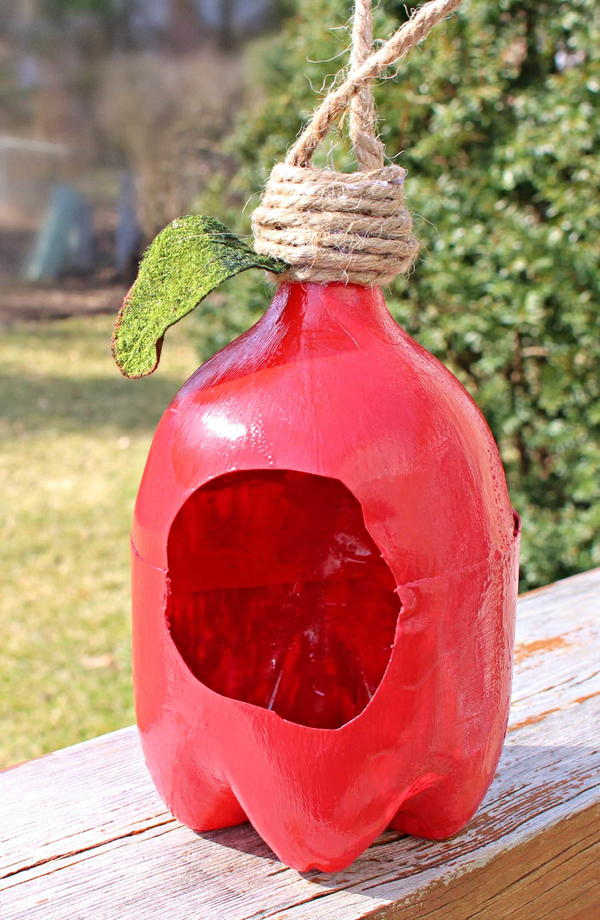 Winter Wonderland Bird Feeder
Not for warm climates, this bird feeder is for brave birds who tough out the snow to stick around all year long. If you're worried about spending money on a bird feeder, this is the project for you! All you need is a pot, some water, and food coloring. If the squirrels break this one, it doesn't matter.

Get this Project.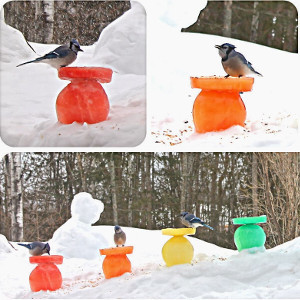 LOVE OUTDOOR IDEAS?

Check out our collection of craft ideas for your yard, garden, and more! This collection includes:

- Homemade Herb Gardens
- DIY Outdoor Furniture
- Succulent ideas (so trendy!)
- DIY Planters
-And So Much More!

Check all the ideas out here:Craft Outside: 84 DIY Garden Ideas
Vintage Lid Homemade Bird Feeder
Transform old lid tops into a bird feeder with this simple tutorial. Loose lids at the thrift store are crazy cheap and comes in all sorts of shapes and sizes. Following along with this how to make a bird feeder tutorial to learn how to make your very own.

Get this Project.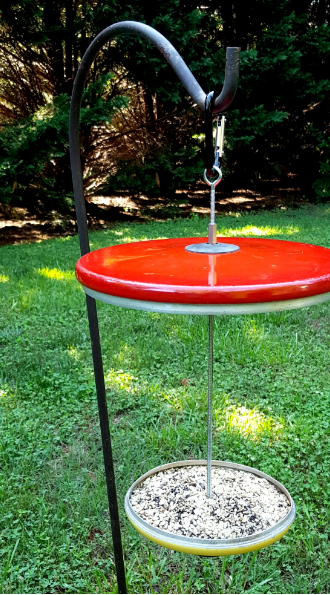 Effortless Mason Jar Bird Feeder
FROM OUR FRIENDS If you mason jar crafts, you're going to adore this charming and incredibly easy bird feeder idea. All you need to make this simple bird feeder is a mason jar mug (with a handle), wire, and a wooden stick.

Get this Project.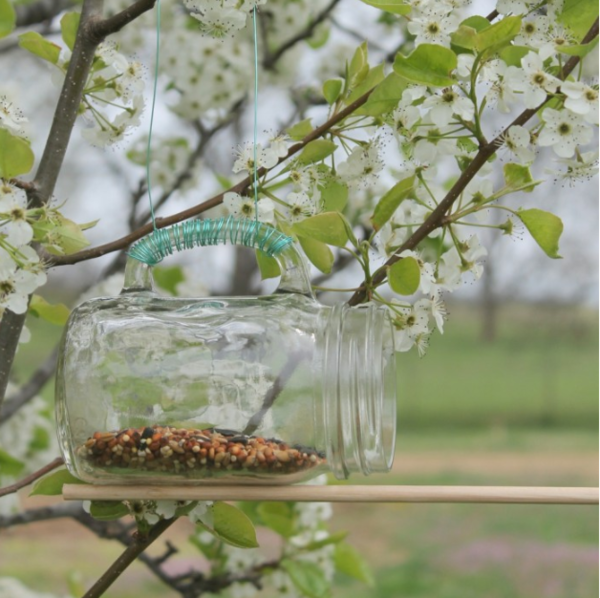 Milk Carton Bird House
GREAT FOR KIDS This recycled craft is made entirely out of things you have laying around the house. So long as you have the glue and twine to hang it up, it will not cost you a thing. Construct this cute bird feeder before letting your kids decorate it. The example uses tissue paper, but you could easily just let them color.

Get this Project.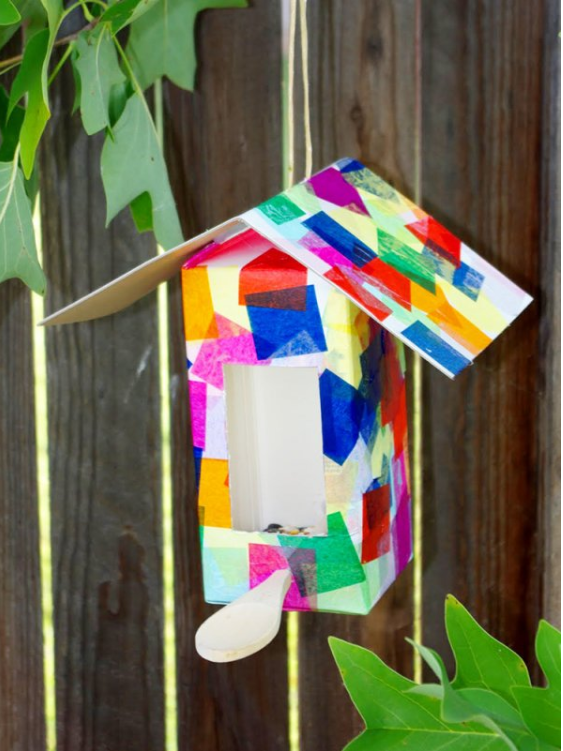 What Kind of Bird Seed Should I Use?
The type of bird seed you use in your feeder really depends on the types of birds in your area and the types of birds you are looking to attract. Smaller songbirds do well with small seeds like sunflowers and wild bird mixes. If you're hoping to feed bigger birds, you might consider another mix. 

Check out this article for a handy guide on what types of bird seed to use. If you're looking to attract a certain type of bird, they have a big chart outlining what you should feed them.
How do I help birds find my bird feeder?
Chances are, if your birds are hungry, they will find the feeder! This is especially true when food is hard to find (like in the winter). Despite this, you can easily take steps to help the winged cuties in your yard find the buffet you laid out. Try the following:

1. Place some bird seed on the ground below the feeder. This is much easier to see that a bird feeder hanging from a tree.

2. Make sure they can land on the bird feeder! Little birds only need a small perch to sit on, but bigger birds will likely need something larger. Often, if a bird doesn't think it can land on a perch, it won't! If your feeder isn't seeing any traffic, consider making some adjustments.

3. Hang it somewhere safe for birds! Bird feeders that are hanging around trees and other obstructions can be hard to land on. You want to make sure birds have plenty of places to land. 
What if there are no birds on my bird feeder?
Birds want to eat just like you and me! So, if they aren't at your feeder, something is probably wrong. Check out the tips above for how to help wild birds find a feeder. 

If that doesn't work, make sure to check your bird seed! It might not be the right type of seed or it might be too difficult to remove from the feeder.

1. Make sure to change out seed regularly as it can get moldy, mildewy, or go bad. If the food is stale, the birds won't eat it!

2. Check the surroundings of your bird feeder. Something might be scaring them off! If your feeder is too close to the road or near a window where your dog is barking at them, they might be too spooked to stop and eat. Consider relocating your feeder if this is the case.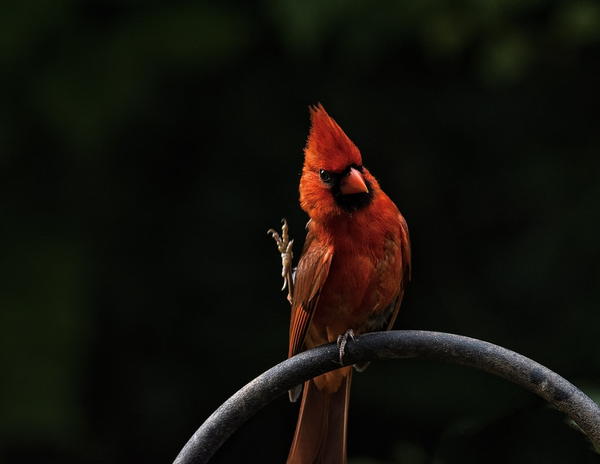 Your Recently Viewed Projects
Join our community of 5 million crafters!
Get free craft projects, exclusive partner offers, and more.
Thank You for Signing Up!
There was an issue signing you up. Please check your email address, and try again.