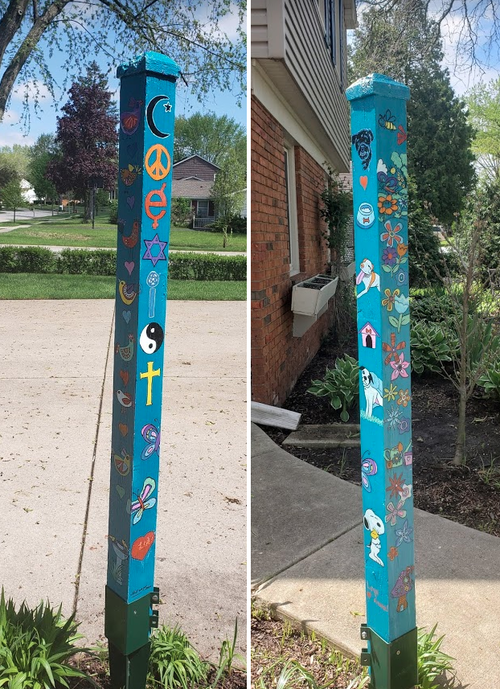 Garden Welcome Post
Take an old fence post and turn it into front lawn decor to welcome friends and family to your home. The 4 sides show what is most important to you!

In this example, the four sides are themed as follows: coexist, hearts, a garden of flowers, birds, and butterflies, and dogs. What will the themes of your welcome post be?

This is an easy repurposing project that only requires a few basic materials you likely already have on hand. You don't need to be an expert at painting to complete the imagery on this project! Oil pens will be the trick to creating detailed images representing what is most important to you.

The parts of this post that are a little worn from use just add to its character! Have fun creating cheerful garden decor that will be a joy to guests for years to come.
Instructions
We took an old fence post. 

Spray painted a solid color. (we love the beat up top / gives it personality!)

Traced different images w/ a black oil paint pen. 

Colored in the images with other oil paint pens.

Finished with a coating of a matte protectant spray.

Place at our front garden. 
The 4 sides welcome guests, friends & family:
COEXIST – we believe this is how the world should be

Hearts – we believe more love and kindness is needed in the world

Flowers, Birds & Butterflies – we now have a year-round garden

Dogs – Top is our dog Pepper, 2nd is our son's dog "Diamond", 3nd is our daughters' dog "Ace" and of course the 4th is Snoopy!
Your Recently Viewed Projects