How to Tie Dye Sweatpants
This tie dye sweatpants DIY includes detailed photos and everything you need to know to make your next garment!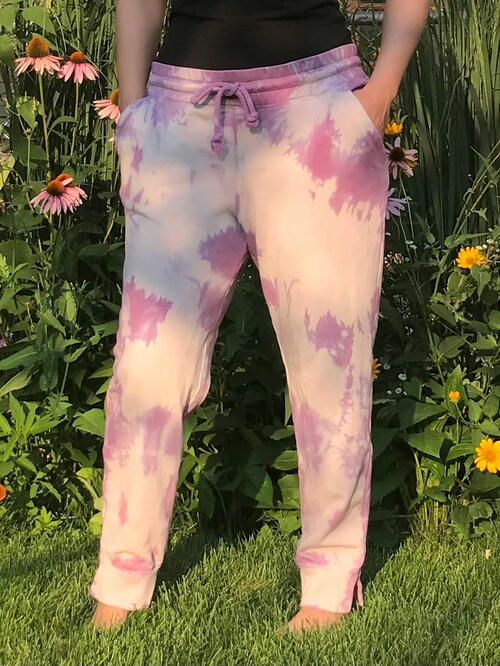 Learn how to tie dye sweatpants with this beautiful step-by-step tutorial from Rebecca George! This tie dye sweatpants DIY would pair perfectly with a matching tie dye hoodie and it will soon be your favorite set of loungewear. You can always buy some cute sweatpants at the store, but it's so much fun to customize your cozy clothes! Get inspired to take your plain sweats to a new level with this unexpected yet lovely DIY.

From the Designer: "Tie-dyed clothing is a fun craft trend that will still be popular this year. Sweatpants are the perfect kind of garment to tie-dye! In a few hours you can easily achieve the comfy-yet-stylish look. Sweatpants are inexpensive and come in a range of colors, sizes, and materials. With a handful of rubber bands and a container of fabric color, you can create a fashionable tie-dyed look at home. Let's go through the steps to make these colorfully-patterned sweatpants!"

Love tie dye tutorials? Subscribe to our newsletter for more free crafts!

Sign up for FaveCrafts
How to Tie Dye Sweatpants
Recommended Supplies
•Sweatpants (white or a light color, preferably cotton or cotton-blend)
•Fabric dye (liquid or powder)
•Rubber bands (or string can be used if you don't have rubber bands)
•Scissors 
•Disposable gloves (recommended)
•Large pots, bowls, or buckets for dyeing (glass works well, but don't use your nice cooking supplies)
•Paper towels
•Water (for rinsing)
•Apron or crafting clothing

Approximate time to complete: 2 hours (not including drying time)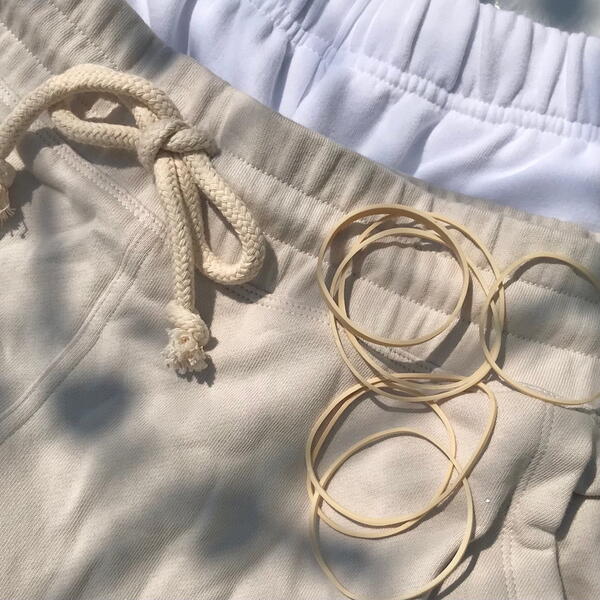 Select the Sweatpants
Pick out a pair of sweatpants that you would like to tie-dye. Lighter colors of fabric (pastels, cream, or white) will show the dye most brightly. Additionally, cotton and cotton-blend fabrics will hold the dye more easily than synthetic materials, so check the fabric content when choosing a pair. If you're nervous about learning how to tie dye pants that are expensive, do an experimental "test" on a pair that are less expensive.
Pre-Wash
Before tie-dyeing the sweatpants they should (ideally) be machine washed and dried. This will remove any lint and starches on the fabric, allowing the dye to absorb more effectively. Wrinkles are okay, so don't worry about ironing them before the tie-dye process (unless the sweatpants are very wrinkled).
Fold the Sweatpants
Lay out the sweatpants on a clean table and fold them whichever way you prefer to tie-dye. They can be bunched up randomly or carefully folded. The end result will vary based on how the pants are banded, how many folds are made, and how much of the fabric is exposed to the dye later on in this project.
Place the Rubber Bands
Now it's time to put on the rubber bands! This is a continuation of the previous folding step. The patterns created in your tie-dye will vary with the rubber band application. They can be carefully spaced out at intervals or randomly placed, and overlap or not overlap. Whichever way you choose, the rubber bands should be tightly attached and secure so they stay on during the dyeing process.

Extra tip: String or cording can also be used to tie-dye, but rubber bands tend to work better. They don't absorb the dye like some string might.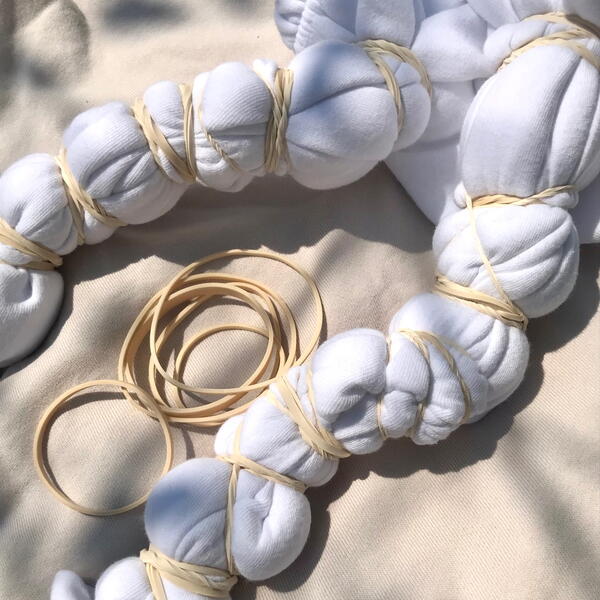 Dye the Sweatpants
The dye bath can now be prepared! Disposable gloves are recommended to keep your hands from becoming colorful as well. Fill a dye-safe bowl or pot with warm water, leaving a few inches empty on top for the water to raise. Add the fabric dye according to the package's directions, and give it a stir with a washable or disposable utensil. The wrapped sweatpants can now be placed in the dye. Timing in 5-10 minute increments, check the bundle often. Lift it out slightly from the bowl or pot, and when it looks like it has taken a good amount of the color from the dye it is ready!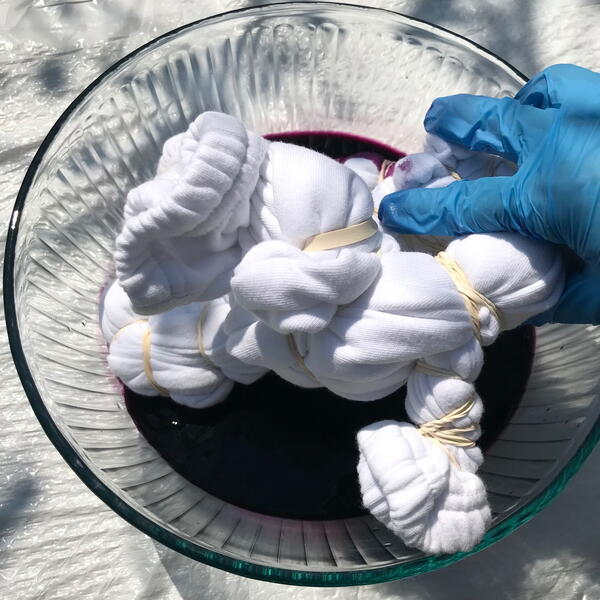 Take Off the Rubber Bands
Once the sweatpants are as colorful as you prefer, hold up the bundled fabric over the bowl to allow the extra dye to drip off. Now the pants can be removed from the dye bath! Place them on a covered work table with your scissors nearby. Very carefully snip off the rubber bands and discard them in the trash. Lay the sweatpants flat to allow the dye to soak in for a few minutes.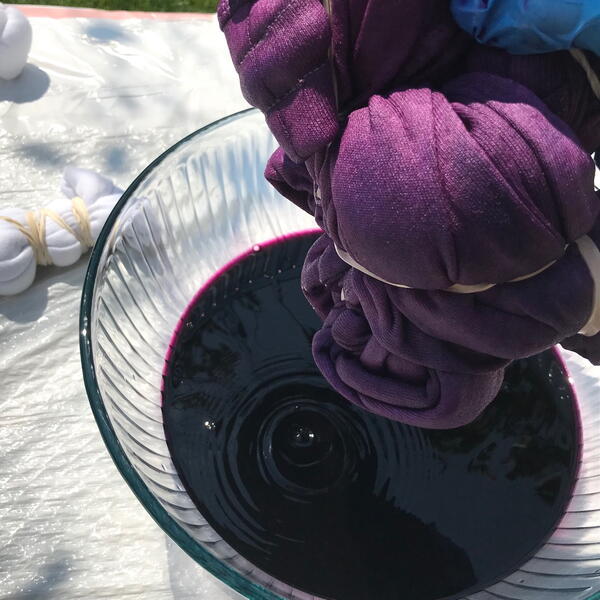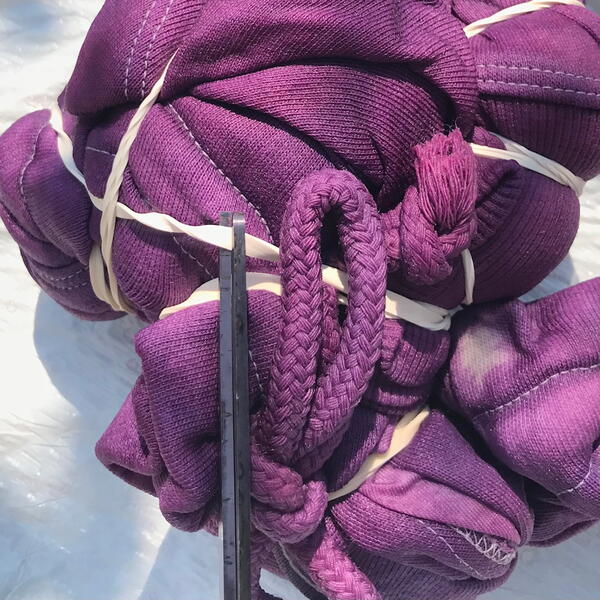 Rinse the Sweatpants
Next it's time to remove the excess dye from the fabric. Gently rinse the sweatpants in water (preferably running water like from an outdoor hose). Working in sections will allow you to keep the dye from running into the un-dyed areas. Also, having paper towels handy will help with any drips and spills from the dye.
Dry and Wear Your New Tie Dye Sweats (!)
After the water runs clear and the excess dye is rinsed out of the sweatpants, gently squeeze out the water. Lay the sweatpants flat on a clean, covered work surface and allow them to air dry. Once they've dried they can be machine-washed on a gentle cycle. Use cold water machine wash temperatures (or hand wash) and medium dry cycles to keep the color vibrant for a long time. Take good care of your newly-dyed sweatpants to preserve the bright colors and patterns.

Extra tip: Be careful wearing your tie-dyed sweatpants on light fabrics in case there is a slight dye transfer.

Enjoy tie-dyeing and wearing your own sweatpants!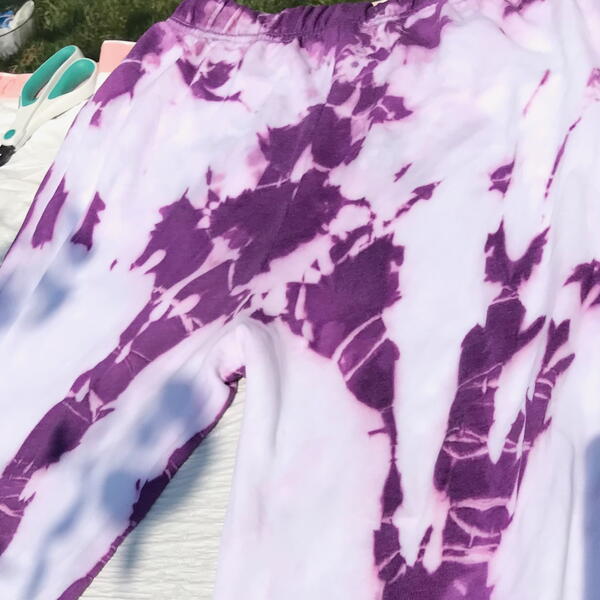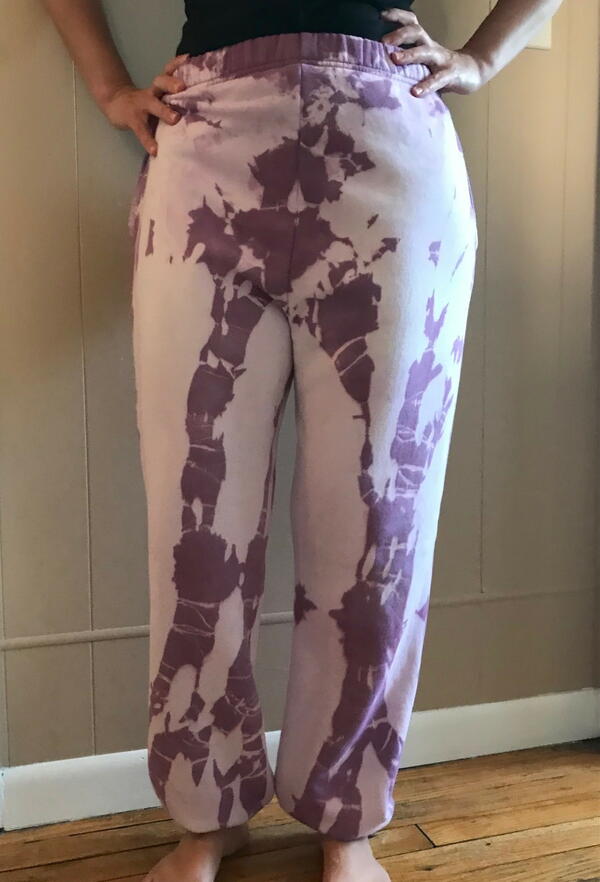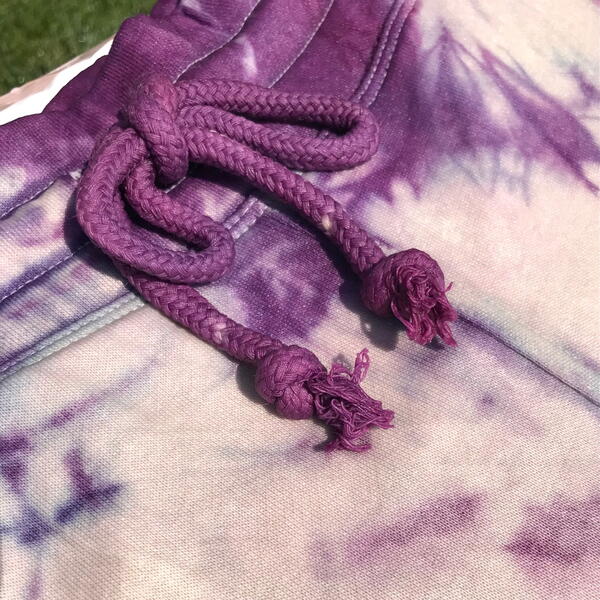 Your Recently Viewed Projects