Counting Autumn Blessings: 18 Religious Thanksgiving Crafts
Delight in the warmth of Thanksgiving and the warmth of God's love with these simply stunning Christian Thanksgiving crafts!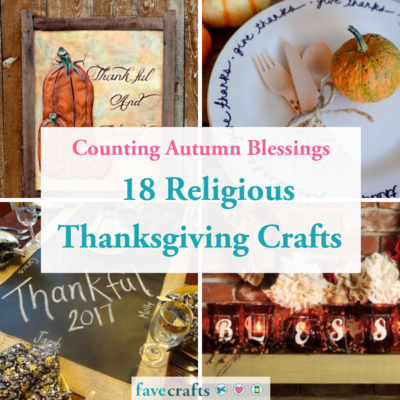 When you think of Christian holidays, you probably think of the basics: Christmas, Easter, and more. Therefore, when you go to make Christian crafts for adults, you probably forget all about religious Thanksgiving ideas.

It's amazing how often people forget just how spiritual the history of Thanksgiving is! Pilgrims came to America to pursue religious freedom, which was denied to them by the Church of England. Their initial settlements served as the new center of their faith, and they were able to practice Christianity in the way they chose.

Furthermore, the actual day of Thanksgiving celebrates a moment in history that truly reflects the giving, selfless, and loving center of the Christian faith: a feast in which colonists and Native Americans shared their goods, foods, and knowledge of the land as friends. These people transcended their differences to celebrate God's gifts.

Even without these historical connotations, Thanksgiving celebrates the bounty of harvest and the plenty of the Earth. What could be more spiritual than communing in gratefulness for what God has given us? 

It's undeniable that Thanksgiving is a perfect example of a religious holiday. It centers upon the infinite gratitude we have for all the land has to give us and, therefore, the infinite gratitude we have for God Himself. So why not celebrate it in the best way possible?

Religious Thanksgiving crafts celebrate the thankfulness we carry in our hearts all year round. Whether you're grateful for your friends, family, food, or even pumpkin spice lattes, there's a gratitude craft for you in this craft-tastic list. There are Bible Thanksgiving crafts and Christian Thanksgiving crafts for kids and even festive autumn decor, all of which keep God in your home and in your heart.
Table of Contents
Religious Thanksgiving Home Decor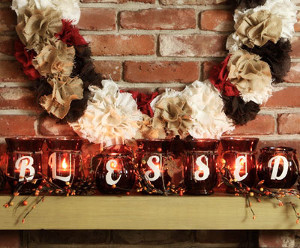 One of the best parts of Thanksgiving is going around the table and saying what you're thankful to God for. Now you can get reminded of your thanks to God by something you'd never expect: the decorations around your home!

For example, with these religious decorations, you can deck your Thanksgiving home with pieces as holy as they are alluring. This Curiously Country Candle Centerpiece (shown) will give a rustic, antique vibe to your autumnal decorations that your dinner guests will thank you endlessly for.
Gratitude Crafts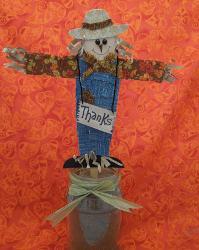 When you celebrate Thanksgiving in the spirit of God, then you're bound to celebrate it in the spirit of gratitude, too! Thanking one another and God for the blessings of family and friends is a ritual that fills your whole home with warm feelings. Now you can add a little extra love to your Thanksgiving this year by whipping up some of these heartwarming gratitude crafts.

For example, you can combine your love for autumn harvest and for praising God in one utterly adorable Autumn Scarecrow Pick craft (shown). Out of all of these Thanksgiving religious crafts, this one is bound to be your dinner guests' favorite. Its endearing smile and beautiful straw hair will make you feel thankful for such a friendly face to have in your food, plants, or centerpiece.
Ensure that the whole family will thank the heavens for your Thanksgiving spread with crafts as lovely as they are festive. For all the Thanksgiving table crafts you could want, check out these 20 Thanksgiving Craft Centerpieces
Christian Thanksgiving Crafts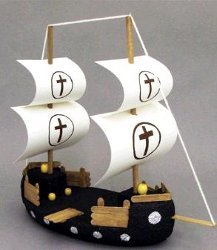 It's true that the spirit of Thanksgiving is the spirit of gratitude for what God has given us. However, there are countless other ways to celebrate this fun fall holiday that reminds us of its first origins. These Christian Thanksgiving crafts include such diverse themes as America, harvest, thankfulness, and even God's planet!

Looking for historical Thanksgiving decor? Check out the Sail the Seven Seas Ship (shown). The Nina, the Pinta, and the Santa Maria are the three ships that took the pilgrims to America, and now you can show gratitude for their first Thanksgiving, your American heritage, and your faith with one craft! You won't need a compass on this ship. God's loving direction will guide you safely to shore.
What's your favorite Thanksgiving tradition? Let us know below in the comments!
Your Recently Viewed Projects
Join our community of 5 million crafters!
Get free craft projects, exclusive partner offers, and more.
Thank You for Signing Up!
There was an issue signing you up. Please check your email address, and try again.