24 Thanksgiving Dinner Recipes and Fall Craft Projects free eBook
Commemorate Thanksgiving and celebrate fall with art projects that enhance the holiday spirit. This year, score your copy 24 Thanksgiving Dinner Recipes and Fall Craft Projects from RecipeLion and FaveCrafts and learn how to create the perfect setting for my Thanksgiving celebration. Thanksgiving would be incomplete without falling leaves, brilliant colors, and of course a gigantic feast, but sometimes we lose sight of the true meaning of this heartwarming holiday.
As the weather cools down, the holiday season begins to heat up. Before you launch into December shopping and decorations, we cannot forget to pause for a moment to appreciate the bounty of the season and all of the good things that have happened throughout the year. Fortunately, the wonderful craft projects in this Thanksgiving eBook are lovely and festive reminders to stop and give thanks before the main event. On the big day, the eCookbook portion of this collection provides the best of the best in favorite Thanksgiving recipes like roast turkey recipes, cranberry sauce recipes, and more!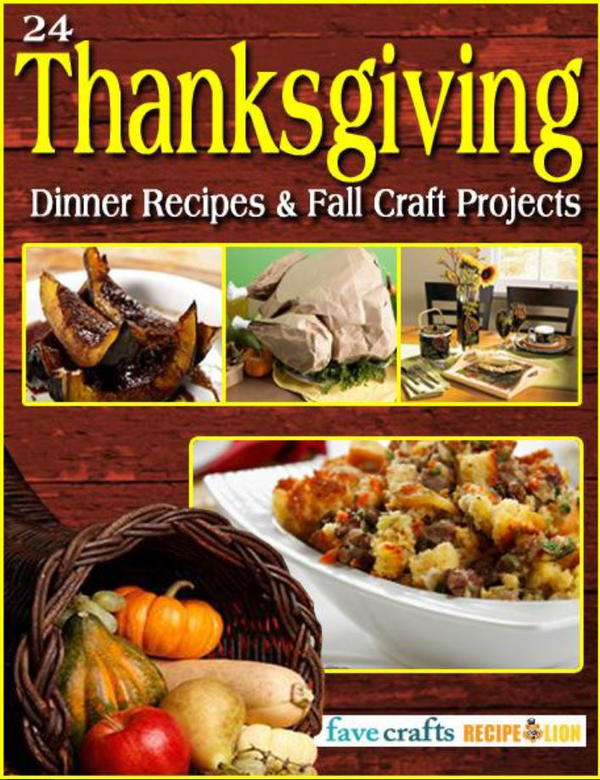 24 Thanksgiving Dinner Recipes and Fall Craft Projects
Table of Contents
Note from the Editors
Dear readers,
Thanksgiving dinner is an essential American pastime. On this monumental holiday, we celebrate the things for which we are thankful by joining with our friends and family in a feast that reflects the spirit of the first Thanksgiving. FaveCrafts and RecipeLion have joined together to help our readers create an exempliary feast and facilitate the comforts of community and family. This eBook, 24 Thanksgiving Dinner Recipes and Fall Craft Projects, will help you establish the perfect autumnal atmosphere for giving thanks with the joy of the holidays.
These 11 craft projects are ideal for setting a festive scene and teaching the kids about the true meaning of Thanksgiving, not to mention commemorating the most crucial and mouthwatering of Thanksgiving traditions—the turkey! Speaking of the bird, 13 recipes for a stunning Thanksgiving feast are included in the eCookbook portion of this guide, from the mouthwatering centerpiece to delicious side dishes to phenomenal desserts. With this eBook, you have all the tools for an unforgettable Thanksgiving celebration!
Remember, Thanksgiving is not only a time of levity and indulgence, but also a time to consider the reason for this joyous season. As we celebrate with festive decorations and delightful dinners, as we listen to the laughter that will ring through our homes, let us examine our wealth—not in monetary terms, but in terms of the love and comfort that warms the heart throughout the holidays—and never forget to welcome those who are less fortunate to share in our bountiful Thanksgiving.
Our eBooks, like all of our craft projects and recipes, are absolutely FREE. We hope you enjoy!
Sincerely,
The Editors of FaveCrafts and RecipeLion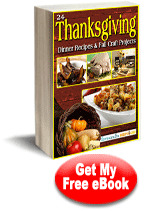 Get your copy of 24 Thanksgiving Dinner Recipes and Fall Craft Projects today!
Don't Miss Our Other Thankgiving Craft eBooks!
Be sure to check out our entire collection of eBooks. You'll find titles such as:

What's in this Free eBook
Thanksgiving Table Decorations

If you're looking for a DIY Thanksgiving centerpiece or other Thanksgiving craft projects, look no further. Put together some Pretty Pumpkin Napkin Rings (pg.33) to add a classy look to your place setting and bring the autumn colors indoors. Complete the picture with Colorful Fall Leaves Dinnerware (pg. 37). Whether you're giving them as a gift or incorporating them into your own Thanksgiving celebration, these self-decorated dishes are sure to impress family, friends and acquaintances.

Thanksgiving Home Decor

Accentuate the joy of the Thanksgiving season with marvelous homemade Thanksgiving decorations for your home. This Natural Gourd Bird (pg. 44) wall decoration project will look beautiful and appropriate from Halloween through the end of November. These Thanksgiving craft projects are the perfect way to prepare for the festivities by bringing the beauty of autumn indoors without the chill. Set the mood with all manner of beautiful homemade Thanksgiving decorations.
Kitchen Crafts and Edible Craft Projects for Thanksgiving

The edible Thanksgiving craft ideas we have gathered in 24 Thanksgiving Dinner Recipes and Fall Craft Projects are fun and educational for kids and adults alike. These precious projects are the perfect blend of feast and festivity. Encourage your little chef's aspirations by wearing Mom and Me Thanksgiving Aprons (pg. 47) while you put together a batch of Candy and Cookie Turkeys (pg. 52). Thanksgiving craft projects like these are beyond adorable!
Thanksgiving Dinner Recipes

Complement your holiday décor with the perfect collection of Thanksgiving turkey recipe ideas, Thanksgiving stuffing recipes, Thanksgiving side dishes, and Thanksgiving dessert recipes—all in one incredible eBook with your Thanksgiving craft projects! Try the Simple Roast Turkey (pg. 5) for a classic taste and traditional charm. But don't let your turkey feel lonely—dress it up with some of the gorgeous centerpieces and homemade table decorations from FaveCrafts.com! Next, stuff the bird with Thanksgiving Chestnut Stuffing (pg. 13), or bake it separately and enjoy. Either way, you'll eat so much that you'll be as stuffed as the turkey!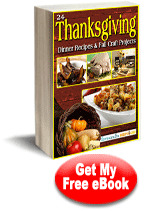 Click here to download your free copy of the 24 Thanksgiving Dinner Recipes and Fall Craft Projects today!
Need Help Downloading?
You can easily download and print out each book for on-hand reference while crafting. For help downloading our eBooks, check out the FAQ here: How to Download our eBooks.

Sign Up for Our Free Newsletter
With your free copy of 24 Thanksgiving Dinner Recipes and Fall Craft Projects, you can also subscribe to our Quick and Crafty newsletter to become part of the FaveCrafts community. In subscribing to the newsletter, you will receive:
Daily emails with free crafting patterns, tips, collection pages, videos and more + a weekly wrap-up.
Chances to win books and products from our weekly giveaways and contests.
New FREE patterns and eBooks made available to you throughout the year.
Access to our free pattern library full of over 1,000 of free crafting patterns.
The opportunity to share ideas and help others in the crafting community.
Thanksgiving represents the best time to relax with a plate stacked high with turkey, stuffing, cranberry sauce and pumpkin pie. Long-absent family members will gather together to laugh and reminisce—even Aunt Mabel's dreaded kisses will be a welcome reminder of the true meaning of Thanksgiving. It's really the perfect holiday because it allows to yo relax and forget the impending madness of gift wrap, crazed Christmas shopping and other frantic holiday preparations. Get ready for a gobbling good time with the latest free eBook from RecipeLion.com and FaveCrafts.com. Part cookbook, part craft tutorials, 24 Thanksgiving Dinner Recipes and Fall Craft Projects is the perfect way for Thanksgiving hosts and hostesses to prepare for the main event.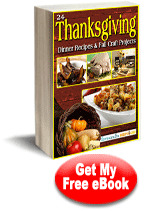 Get a copy of 24 Thanksgiving Dinner Recipes and Fall Craft Projects today!
Your Recently Viewed Projects
Join our community of 5 million crafters!
Get free craft projects, exclusive partner offers, and more.
Thank You for Signing Up!
There was an issue signing you up. Please check your email address, and try again.