Best Yarn for Scarves
Wondering what's the best yarn for scarf making? We have your answers here.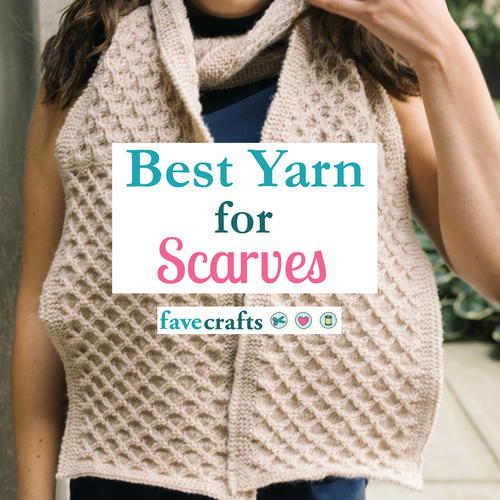 What is the best yarn for scarves? That's a little like asking what is the best yarn for clothing, shawls, or some other wearable craft. While the best yarn for blanket patterns and best yarn for dishcloth patterns for example are a bit more cut and dry, yarn used for scarves is more subjective. 

We've done the research so you don't have to. The best yarn for scarves is a soft acrylic yarn like Caron Simply Soft. But there are so many other yarns you can use depending on your level of crochet or knitting experience, and we'll explain the advantages and disadvantages below.
What's the best yarn for a scarf?
Acrylic: an acrylic yarn that is resistant to splitting is the best yarn for scarves for beginners. This is because acrylic yarn is so cheap, meaning it's lower risk for beginners than trying a first project on an expensive natural fiber yarn, and yarn that splits easily is more challenging to work with. Many acrylic yarns are quite soft, making them comfortable for wearing around the neck.

Acrylic/wool blends: this is my personal favorite for making scarves! A wool blend like Wool-Ease Thick & Quick is great because it is more affordable than 100% wool yarn but still has the snuggly wool feel. According to Lion Brand's website, "It has the feel, warmth and softness of wool with the easy care of acrylic." This is also a super bulky yarn. Though absolute beginners should learn to knit or crochet with a worsted weight yarn, super bulky is great for everyone because you can work up patterns so quickly!

Natural fibers: these are ideal yarns in general in life. They are cozy and easy to work with. They comprise the softest yarn for scarves. Natural fibers tend to "breathe" better than acrylic, making them ideal for any wearable patterns. Natural fibers however do come at a higher price and are ideal for those more comfortable with knitting and crochet.

Cotton: cotton is a fine choice, but there are a few drawbacks. It is an inelastic yarn, so it can be challenging to keep tension consistent and this may affect the drape of the project. It also tends to split easily, and cotton is more slippery than other yarns. Last, some cotton yarns can bleed colors, which of course isn't ideal---you don't want your shirt turning the color of your scarf! Cotton is an inexpensive and breathable yarn, and if you choose a lighter color and are reasonably comfortable with knitting and crochet, this could be an excellent option.

Wool: there are several pros and cons of wool. In general, beginners should shy away from it for a few reasons. First, if you have a wool sensitivity, it's a bad idea to make scarves with wool that will be touching your skin! Wool is also more expensive and more difficult to wash. It does wick away moisture better than acrylic, making it great for keeping you warm and dry! But because it is expensive and difficult to wash, an acrylic yarn or blend may be a better fit for new crocheters and knitters.
What is your favorite yarn for making scarves?
Your Recently Viewed Projects