30 Pumpkin Patterns: Free Projects for Halloween
This collection of pumpkin crafts features adorable ideas for your spooky celebrations.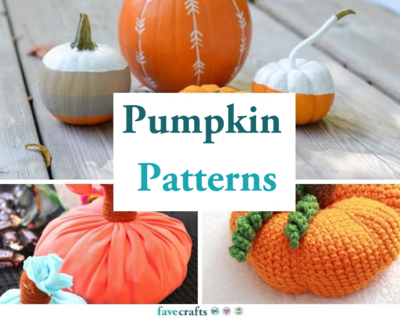 If you're not big on pumpkin guts and carving knives, try a more creative approach to pumpkin decorating this Halloween with these 30+ Pumpkin Patterns: Free Projects for Halloween. These pumpkins will be much more interesting! We've got pumpkin painting patterns, crochet pumpkin patterns, and even some scary DIY pumpkins for the brave crafters out there. Not so brave? Check out our funky and stylish Halloween pumpkins, free to use and make your own!
 
This collection of Halloween craft ideas includes pumpkin crafts of all shapes and sizes. Whether you want no-carve pumpkin ideas or other pumpkin ideas, you will find one you love.
Table of Contents
Scary Pumpkin Patterns
If you're into spookier Halloween decorations, make one of these no-carve Halloween pumpkins, free for you to try! And even our scary pumpkin patterns aren't that scary; just check out Frankenstein! Your friends and neighbors will hardly believe you made these spooky creations from mere pumpkins. Show off your creative painting talents and spooky aesthetic with these scary ideas. You just might scare off some uninvited guests on Halloween night!
Crochet Pumpkin Patterns
These crochet pumpkin patterns (free for anyone to use!) don't actually require any pumpkins. All you need is some yarn and a crochet hook, and you're ready to get started. These crocheted pumpkins are great projects for someone who doesn't have a lot of time or who just wants to whip something up quickly without committing to a larger project. Plus, this is a great way to use up any orange yarn you may have accumulated over the years. Stitch these cute little guys up while watching a horror movie (or maybe a silly Halloween movie, if you're too scared) and sipping apple cider. Nothing says fall like pumpkins, crocheting, apple cider, and a good movie.
Funky Pumpkin Painting Patterns
These pumpkin patterns, free projects, and inspiring ideas are for crafters who don't necessarily want to turn their pumpkins into something scary. You can dress your pumpkin up in a costume too! We have several ideas to choose from, or you can use our ideas as inspiration and come up with your very own idea. Try out these unique ideas for pumpkin painting patterns that will have your friends exclaiming "that is so cute!"
Stylish Halloween Pumpkin Patterns
For the fashionistas among us, these stylish pumpkin patterns, free for the taking, are a great way to keep your home's overall style the same while adding some Halloween flair. I know a lot of people balk at holiday decorations because they make your home seem gaudy and tacky. When you combine your sense of style with the whimsy of a holiday decoration, you truly get the best of both worlds. Try these no-carve pumpkin projects to show off your style and creativity without worrying about looking tacky.
What is your favorite way to make pumpkins?
Your Recently Viewed Projects