30 Upcycled Furniture Ideas
Transform trash into treasure with these upcycling furniture projects that add new life to old pieces!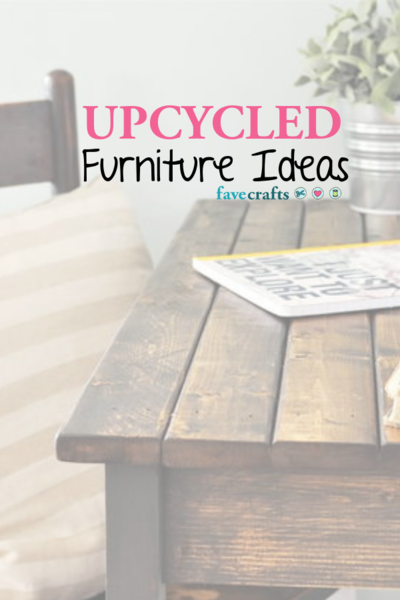 Finding brand new furniture that fits your budget and your style can be tough! Everyone has a unique style and creative spaces can be hard to create on a budget.

If you're looking for ways to add some new practical DIY decor to your home, consider re-doing a piece of furniture you already own for a brand new look. You'd be surprised how new upholstery, a fresh coat of paint, or even decoupage con transform a piece and a room.

There's no need to buy brand new (or expensive) with upcycled furniture ideas. The tutorials below will help you transform your space on a budget! Scroll down to find painting projects, ways to reupholster furniture, unique uses for flea market finds, and so much more. 

Did you know?
Furniture accounts for 4.1% of household waste in the United States! That's 9.8 million tons of furniture being tossed in the garbage annually. If you're looking to make a positive impact on the planet, consider upcycling furniture others might throw away. Plus, make sure to give away furniture instead of tossing it. Even better, list it online and make a few bucks!

SIGN UP FOR OUR NEWSLETTER, TRASH TO TREASURE!
 When you sign up, you'll receive brand new recycling craft ideas in your inbox every week.
Sign Up for Trash to Treasure Here!
Table of Contents
Where to Find Furniture to Upcycle
Upcycled furniture ideas only turn out when you start with a fantastic base! Since the projects below all focus on updating old pieces, you need to right piece to get started. Older furniture is much sturdier than newer, cheaper models, meaning you will probably get more for your money when you transform an old table instead of a new one.

Check out the following places to find furniture to upcycled and re-do.
Thrift Stores! Your local Goodwill and Salvation Army are a fantastic place to find old furniture for your upcycling projects and DIYs. These places have a steady stream of new inventory. Unfortunately, furniture items move pretty fast. Combat this by stopping by these locations frequently. 
 
Garage Sales! Garage sales are a treasure trove of old furniture. Explore local garage sales and keep an eye on postings for upcoming garage sales and estate sales. 
 
Craigslist! Craigslist is the go-to place to sell old furniture or give it away. Check out postings frequently. You can even search Craigslist if you're looking for a particular item.
 
Facebook Groups! Depending on where you live, there are often Facebook groups for your town or neighborhood that act as virtual garage sales. Check these pages out and follow them for fantastic deals.
Upholstery Upcycling Projects
One major ick-factor about bringing old furniture into your home can be the upholstery or other fabric pieces. While old wood and metal can hold up surprisingly well, the fabric is just plain gross after a while. This is why we love learning how to reupholster old pieces. A new cushion or fabric cover works wonders, especially if it matches your color scheme.
Total Transformations & Building Your Own Furniture
While many upcycling projects for furniture focus on updating the original piece, total transformations are also a fantastic way to upcycle furniture. Old furniture made from quality wood offer a chance to get your hands on some raw material that is much cheaper than if you bought it all on its own.

Learn how to disassemble old furniture to make brand new pieces below. We've included some start-to-finish furniture building tutorials, too!
Painting Furniture
We probably don't have to tell you that one of the most popular ways to upcycle furniture is to paint it. Learning how to paint furniture allows you to find furniture in literally any shade you would like for your home.

Whether you want some clean white lines or a bright yellow end table, these upcycled furniture DIYs take the painting to a brand new level. Just make sure to find a high-quality paint that will last and work well on the surface of your project.

Don't skip important steps like sanding off old paint or adding a basecoat or else you may ruin a quality piece of furniture.
Your Recently Viewed Projects